When purchasing unused 19th century stamps with no gum you must be VERY careful. A friend of mine who certifies stamps for one of the larger companies told me that actually less than 20% of 19th century stamps submitted without gum are found to be genuine! Most have "washed out" cancels or very light cancels! For the new beginner I recommend really looking close at the scans of stamps with no gum. Any slight dot of ink probably means a light cancellation. If the stamp has a scuff on the face it can not be considered unused, as a light cancel might have been scraped off. If a stamp is missing a piece it also can not be considered unused, although such stamps are not considered collectible!
Below is shown a 2c pony express issue of 1869 Notice the faint brown lines running diagonally through the #2. This is the tell tale sign of a removed pen cancel. This stamp was sold as mint with no gum! Please keep in mind that a stamp with a removed pen cancel is worth far less than the same stamp that shows the cancellation!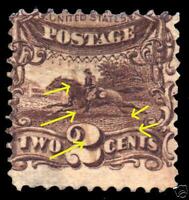 Here is pictured a 3c Washington that was offered as unused with no gum. Notice the faint brown lines running across Washington's neck. Yes, this too is a removed pen cancel!
Shown here is an example that is not so clear, but noticeable if you know what to look for!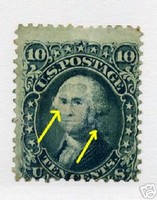 Some of these examples may look attractive to the newcomer, but all are really considered worthless.Take your time and really look at the scans before considering purchasing an unused example with no gum. Ask the seller prior to purchasing if he guarantees the stamp genuine unused and if he allows time to have the item certified. As with any expensive variety, it pays to have the item certified.
I spend my time and write these guides to help the philatelic community. I feel that my guides can help both buyers and sellers properly identify certain issues that I notice have been often misrepresented at online auction. Even If you personally already are familiar with the information presented in this guide please vote "yes" for helpfulness as it allows me to know that people support my effort to help the philatelic community . I would appreciate any emails with questions or comments on how to better help with any of my guides. If anyone is considering buying a stamp that is mentioned in any of my guides and have doubts about authenticity please email me and I will be glad to help Best regards, Mike