Platform Shoes are in vogue again throughout the continental United States and Europe. People wear these shoes as a fashion statement with a fallout benefit of gaining some
Extra Height.
During the disco era of 70s platform shoes were equally popular among both men and women. However, these days, its popularity is confined to women only. For men wearing platform shoes is not so much a fashion statement, but its utility is more like a tool that can give men some extra height.
Men's Platform Shoes VS WalkTall Shoes


Unlike platform shoes that are made of thick wooden or plastic soles from the outside -
WalkTall Shoes
have been specially designed with insoles hidden inside the shoe. This will give men an instant lift. They look like any other regular shoes with the hidden inserts for additional height. People won't realize that you are wearing some special height enhancing shoes. So unless you have a nostalgia of the 70s disco era, you may try wearing WalkTall for some extra inches of concealed height. Men's platform shoes may not be in fashion today, but WalkTall can still make men look taller. To learn more about some other height enhancing techniques you can visit
How to Grow Taller and Increase Height.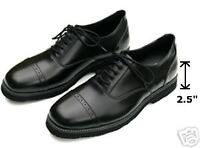 WalkTall Shoes - Height Increasing Shoes for Men
Men's Platform Shoes