Buying Meissen antique porcelain on ebay is very simple, you just log into ebay, search for "Meissen" and here we go, thousands of porcelain pieces with Meissen in the title, but is that all really original Meissen??? Below some examples how you can find out if the piece on ebay is really a original Meissen piece or not, also i will give a list of the markings in this guide, so you can compare if the information of the date is correct or not. If you have any other questions, feel free to send us a mail, go to our feedbacks and click, contact the seller. Have fun ...
The 8 following shown markings are 100% NOT Meissen!!! If you see any of these markings on a piece of porcelain wich someone is selling on ebay as Meissen, DO NOT BUY IT AS MEISSEN. The following markings are from Producers in French and England + China. Look pretty similar to Meissen Mark but be careful!!!

The following blue markings are 100% Meissen Marks, you can take a look to them to find our if the year the seller on ebay wrote down is correct or not. We did not listed all markings, but these markings are the most you will find on ebay.
1722-1725 -->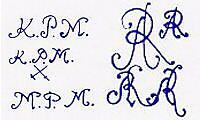 <-- 1720-1740
1722-1763
____________

1763-1773
____________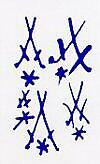 1774-1813
____________

1817-1823
____________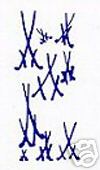 1823-1923
____________
1924-1934
____________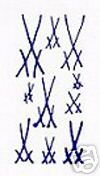 1934 till now.
IF THIS GUIDE WAS HELPFUL PLEASE VOTE FOR IT BELOW, THANKS