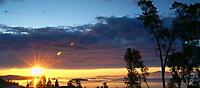 The Legendary Beercan: Minolta Maxxum 70-210mm f/4 Telephoto Lens
Here on Ebay, the Maxxum 70-210 f/4 telephoto is presently the most sought after medium telephoto in the Maxxum line up. It has obtained a "cult-like" status amongst Minolta photographers and is affectionately known by Minoltians as "The Beercan". It's one of my favorite Minolta lenses, and I'm obviously not alone!
There are several reasons for the high demand of this lens:
the move to DSLR's (5D, 7D and now Sony Alpha DSLR's) has encouraged Maxxum/Sony photo enthusiasts to search out higher quality lenses.
the 70-210 f/4 is very reasonably priced for its construction and optical performance, including the relatively fast and constant f/4 aperture.
the lens is well designed with high quality optics and the durable build of Minolta's legendary 1st generation vintage lens line up. I have read that Leica was involved in its design.
the other Minolta lenses available in this focal range that offer comparable (or better) build and optics are the APO's: 80-200mm f/2.8, 200mm f/2.8 and 70-200mm SSM. These lenses are prohibitively expensive for most consumer and prosumer photographers, so the Beercan, with its features and pricing is the natural choice that provides economy without compromise.
believe it or not, the world economy is having an effect as well! With the weakness in the US dollar, European buyers, with their strong Euro have been entering the North American Ebay marketplace and purchasing many of these, and other quality vintage lenses (including many zooms and the 50mm f/1.4, f/1.7 and the f/2.8 Macro) from me.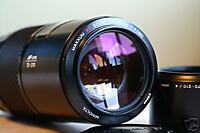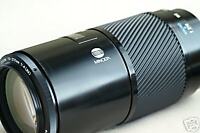 Besides the excellent optical qualitiesof the Beercan, a main feature of the lens that makes it so highly regarded is it's fixed f/4 aperture. Being a static f/4 at any focal length, the maximum aperture is 1 to 1 1/2 stops faster and allowing more light to pass through than most other comparable lenses: a huge advantage, particularly in low light or when extended to 210mm. On an APS-C sized sensor this gives a relative focal length of 315mm requiring faster shutter speeds for sharp imaging. Combine that f/4 aperture with Anti-Shake or Super Steady Shot on the a-mount DSLRs, and you have sharp hand held photos in very challenging lighting. Optically, users claim and bench tests show that the lens is a excellent performer, being very sharp and contrasty with minimal compromise. This model lens is far superior to the follow up versions (f4.5-5.6) produced by Minolta, as well as those produced by Sigma, Tamron and Tokina in the same focal range.
User reviews from Photozone.com rate the three Minolta 70-210's:
70-210 f/4 : 3.60
f/3.5-4.5 : 3.16
f/4.5-5.6 : 1.18
Performance, vignetting, and distortion (wide open and stopped down) as well as color, flare, AF speed and build are all considered. The f/4 is the highest rated non-APO medium telephoto lens in the database, and for the most part, the rest of the available lenses that do rate higher will retail at $1000-2000 US.
A 55mm front thread keeps filter costs down. Unfortunately, the lens does not have internal focusing which would have been nice for CPL use. When you consider the complexity of the lens, IF design back in 1986 likely would have pushed the price point towards the APO lenses considerably. The lens does however have internal zooming, so the front element only extrudes an additional half inch during focusing and not at all during a change in focal length. The photo at the top as well as the three leopard portraits below were taken with this lens.
The build of the "beercan" is second to none. Most newer versions in the 70-210mm focal range sport a smaller maximum aperture and increased use of plastic components, both cosmetically and internally. Inside the f/4 version, die cast metal gears, parts and threads are found and the body is a solid metal casing with a beautiful enamel finish and wide rubber zoom grip. This construction does add to the weight of the lens, but for overall durability and a stable and more distinctive feel, I believe it is a more than fair trade off. The finish on this lens is very durable and withstands normal use/wear and tear quite admirably.
The clip-on hood that comes with the lens performs well, but being plastic does over time show wear more readily than the finish on the lens. Some f/4 lenses do show up in my stock with dedicated metal hoods that were designed specifically for the lens. They seem to hold up much better as they are very resistant to scuffing, scratching and wear. Perhaps they are from earlier in the production run. Too bad Minolta didn't supply a metal hood on all its f/4's as it is definitely a superior version!
Minolta ceased production of this lens in the early 1990's. As consumers continue to move to DSLR's (Sony introduced the new "Alpha" A100 digital body with good success in 2007 and 4 very competitive and feature laden follow up bodies to date to continue the Maxxum "Alpha" mount), I suspect that the price for this lens will only continue to rise as more new Alpha DSLR's are bought by enthusiasts. When shopping for a 'beercan" search for one that is in really nice condition. Camera gear that is in nice condition generally has been well cared for and/or has seen limited use. In either case, it should last a long time if you take care of it - paying a small premium now for a really nice 70-210 f/4 (or any other used equipment) in excellent or better condition will be a wise investment when you consider that the lens will potentially give you decades of use if properly cared for. For helpful tips on evaluating used lenses listed on Ebay, check out my review: "How To Detect Flaws in Used Camera Lenses on Ebay".
Here are a few photos that I took recently using the "Beercan":


The photos were shot at 210mm, 210mm and 90mm, all handheld at f/4 and 1/200s. You can see the 70-210mm f/4 makes a great portrait lens in the right situation! The bokeh (blurred background) is very nice in the first two examples, and is effective in isolating the subject in all three. With its 3x zoom, the lens allowed me to pull back quickly to 90mm for the third "full frame" shot. While difficult to appreciate in a "thumbnail" photo, the leopard's whiskers and fur detail (individual danders are visible) attest to this lens' sharpness. I recently enlarged the center photo to 11 x 17 and the result was phenomenal. If you need further convincing, check out the original on Flickrdotcom/photos/seagr112
To summarize, if you're shopping for a medium telephoto for your Minolta Maxxum/Sony Alpha camera and you want a lens that offers great image reproduction, nice cosmetics and rugged durability, you should seriously consider this lens for your bag. The combination of speed, optics and build for around $200 is, in my opinion, an excellent value for the discriminating Minolta/Sony photographer. This is simply a great lens from the "Mind of Minolta" as they used to say back in the '80's. Nothing like it has entered the market since in terms of shear value and performance.
If you found this Guide helpful and informative, be sure to click on "Yes"!