How to Make Graphics for Dark Colored T-Shirts with a Roland GX-24 Vinyl Cutter
Many hobbyists, small businesses and individuals use heat presses and ink jet transfer sheets to produce high quality personalized T-shirts with a common desktop inkjet printer. The problem was that the standard inkjet transfer sheets only worked well on white or light colored T-shirts. If you wanted to make a transfer for a dark colored T-shirt, you were out of luck. To solve the problem several companies have come out with new opaque T-shirt transfer sheets designed specifically for dark colored T-shirts and apparel. The new opaque (white colored) transfer sheets work well on dark colors but leave unsightly white areas on all unprinted areas of the transfer. The only way to solve this problem previously was to cut away all unwanted transfer material manually with scissors or an xacto knife. This process of manually removing the excess white material can be time consuming, tedious and may produce unprofessional results.
The Roland company has solved this problem with it's new Roland GX-24 vinyl cutter and included CutStudio software. The GX-24 vinyl cutter features an optical eye which can locate registration marks left by the CutStudio software to make fast and precise contour cuts around T-shirt graphic designs and stickers.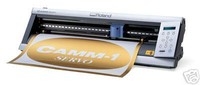 The New Roland GX-24 Digital Vinyl Cutter comes with CutStudio software.
Step 1: Design your T-shirt graphic within the CutStudio program. You can also import existing clipart and files in the .bmp and .jpg formats. Select the PRINT AND CUT feature and make the necessary printer and GX-24 setting adjustments.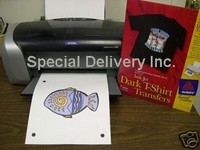 Step 2: Select the PRINT command from within the CutStudio software. The selected inkjet printer then prints the design onto the opaque transfer sheet along with registration marks. We find that a common Epson C86 inkjet printer (less than $100) works well. For our example, we used Avery Dark T-Shirt Transfer sheets which are available at many office supply stores. Professional grade transfer sheets are also available from select resellers for commercial applications.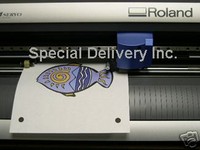 Step 3: Once the printing is complete, feed the printed transfer sheet into the GX-24 vinyl cutter and press the CUT command within the CutStudio program. The GX-24's optical eye turns on and quickly contour cuts the design. Once the cutting is completed, remove the transfer sheet from the GX-24 and pull away all the waste transfer material around the design.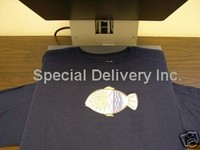 Step 4: Position a T-shirt and transfer on a heat press and press for the recommended time and temperature setting provided by the transfer sheet manufacturer. In our example a Stahl's Mighty Press 16" x 20" heat transfer press is being used.
Step 5: Your new T-shirt is now ready to wear or to sell to your customer!
The same Print and Cut process can be used to make great auto and window stickers also. Just print on standard print receptive sign vinyl instead of the the T-shirt transfer sheet and your ready to go. If you would like more information about the Roland GX-24, please call us 1-888-330-6172 toll-free. We are an authorized dealer for both Roland vinyl cutters and Stahls' heat presses and we can put together a great package deal for you. We offer several heat press models for sale on eBay but the Roland company does not allow their new products to be sold on eBay.
Questions about the GX-24 or making T-Shirts? Please call Specialty Graphics Supply Inc. at 1-888-330-6172 toll-free or visit ShopSGS.com.