Make a Trendy, Dressy, Funky, & Fun Purse. Add your creativity to these basic instructions to make a purse to fit just you- whether you are an adult, a teen or a even a child! Here is a Dressy one that I created.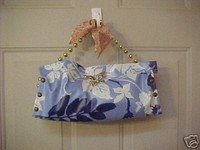 I used a Blue Floral Placemat, some Funky Gold Beads, and a Blue Floral Broach, and a bit of Gold Wired Ribbon.
To start: you will need two pieces of wood and pkg of Upholstery Nails. You can find these two pieces as a kit in my store Craft Stuff at CA Treasures
You can see here that I have sponged the pre-primed wood with OS 460 Navy and then I just dripped on a a gold enamel. I sealed the whole thing with a brush-on sealer.
Next you will decorate your placemat. If your placemat is reversable you will fold down at least 1" on each end to the front. If not reversable, fold down to the inside. You may sew this edge down or use the heat sealed hem strip.
Next, decorate away! I simply attached a Floral Broach.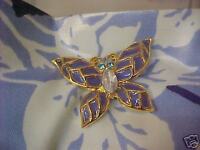 Let your creativity come into play here. You could paint with Fabric Paints or add Lace or Jewels or whatever you think of.
Now the Handle. On this particular purse I glued Funky beads to each piece of painted wood. For tems that need to be glued, use Welders Glue from Walmart. Nothing else works as well. Let it dry for 24 hours before proceeding.
If you use ribbon, braid, or many other items, hammer 2 Upholstery tacks to each side of the ribbon, etc. Do the handle and decorate the placemat before you put the purse together.
To Finish purse: mark the middle of each piece of wood and each side of placemat. Starting in middle of wood, hammer Upholster Tacks to attach place mat to wood forming purse.
It's really easy and lots of fun. Have a great time and check my Crafty Stuff often as I add items very often!