Greeting fellow eBayers!
I've been working with Macs for over 20 years and have been a seller of Macs here on eBay since 1999 and I suspect that I may be the ONLY ONE to have sold Macs so many people for so long without EVER getting negative feedback.
It's not luck and it's not just that I'm good at what I do (although I am :-). I actually read ALL of the rules and instructions when I joined eBay (if you haven't - you should). I then looked around at the very best sellers of Macs back in the 90s and tried to figure out what they were doing right. I also checking in with the sellers that had horrible feedback to see what went wrong.
Doing it right was pretty obvious - have good products, write clear descriptions, take good photos (and MANY of them), be honest. Really, all one needs to do is pretend to be a buyer and imagine what YOU would want to see from a seller.
Then I perused page after page of feedback to see why some sellers were getting negatives. Negatives seem to come in three main categories.
1 - the seller is a dishonest jerk. Obvious! But I also saw many good sellers getting the occasional negative rating. What went wrong there?
2 - mishaps selling outside of the USA. I have NOTHING against people that live outside the US, but I found that many, many negative feedback coming from people that had their packages held up by Customs. Obviously, a seller in the US has no control over customs in Serbia. Often language communication was a problem. I simply opted to make my sales in the US only. I'd love to sell around the world, but there were clearly too many difficulties - I like to keep things simple.
3 - shipping issues: charging too much, damaged while en route and missing packages...
And FINALLY... I get to the real subject of my essay.
Let me state it clearly: DO NOT use USPS Fixed Rate Medium boxes to ship Macbooks or Macbook Pros.
Why not? Easy: because the boxes are too small AND too flimsy.
Then why do people do it? Because the cost is 1/2 to 1/3 of the price of normal USPS Priority. It's very tempting.
But once again... today I was asked why I charge $33 to ship a Macbook (or 13" Macbook Pro) when others charge only $15-$20.
Here's a real life example: I recently sold a laptop for $499 to a buyer in the Chicago area (I'm in Sacramento, CA). The basic rate for a Medium Flat Rate Priority box is $10.85. Ebay (and common sense) demand that the seller insure ALL packages and for packages valued at more than $250, also insist that the package be signed for. Doing so brings the total to $20, but I have found that MOST do not insure and do not pay for signature service even though it is against eBay guidelines.
If I were to ship this package with USPS Priority, I would use my own 16x14x5" box. With insurance and signature service, the total comes to $33.85. It would cost a few dollars less for shorter distances and would cost around $40 to ship to Maine or Florida.
And why do I go through all of this trouble? Well, a picture is worth a 1000 words...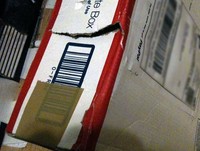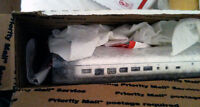 [Larger pictures would be nice, but this is what I'm allowed here...]
What we are looking at is severally damaged Medium Priority boxes and on the right, an opened box.
I suppose that I should mention that these boxes are 13 1/2 inches long. A Macbook/Pro is 12 3/4 inches long. That leaves 3/8 of an inch on each side for padding and protection. This is NOT enough. How well do you think the computers did under those circumstances. Each of the computers above needed to be shipped back to the seller for a refund. YouTube is loaded with video of package handlers abusing packages. Every seller should review these before packing a delicate computer for cross country shipping.
I use corrugated boxes that are no less than 16 inches long and use REAL padding (styrofoam peanuts, bubble wrap - etc) and not just wadded up paper as seen above. This gives me more than 1 1/2 inches of padding on each end. And I pack my computers as if someone was out to destroy the package. The wall of the boxes I use are more than twice as thick and being corrugated, are much more than twice as strong.
I've shipped over 2000 computers since 1999 and not one of them was lost or damaged. So if you are reading this because I sent you here after you asked "Why are your shipping charges so high?" I hope you'll come away with a little more understanding.
hal from halbertmac