Introduction
The purpose of this guide is to show buyers how to easily browse through new auctions on eBay using RSS feeds. I should preface this by saying that I have only tried this using Apple's web browser, Safari. It should work on other RSS readers, but I have not tried it. I am pretty new to this and I don't completely understand how it all works, but I thought I'd share what I have learned so far.
What are RSS feeds?
RSS stands for "Really Simple Syndication" and is a way for you to keep on top of changes made to content of sites that are frequently updated. These are most commonly used to keep up with the latest news headlines. The RSS reader built into Safari will check eBay every half hour for changes, i.e., new auction listings, and return a summary to you. To learn more about RSS feeds,
click here
.
How can buyers benefit from RSS feeds?
There are already a number of guides designed to help sellers use RSS feeds, but buyers can use RSS feeds too! RSS feeds may or may not be useful to you depending on your search habits on eBay. For example, if you collect one specific thing and you browse eBay by performing the same search every day, then it is probably not worth while to use RSS feeds. However, if you collect things that regularly show up in different categories, causing you do constantly perform multiple searches each day for the latest auctions, then RSS feeds will probably be very helpful to you. For example, I have probably 30 saved favorite searches that I check every day for new listings. It is very time consuming to go through each search. You can get an RSS feed of any keyword search that you perform in eBay, including searches within specific categories, i.e., you can use RSS feeds to perform the same function as "My Favorite Searches." You can NOT use RSS feeds to check on the latest listings in a specific category, i.e., you cannot use RSS feeds to perform the same function as "My Favorite Categories". Keep reading to see how you can use RSS feeds to save time when you browse new auctions.
How to set up eBay RSS feeds in Safari
Safari handles RSS feeds like bookmarks. If you have more than one favorite search then I suggest you start by creating a new bookmark folder. This way you can keep all your bookmarked RSS feeds organized. To do this, click on Bookmarks, and select "Add Bookmark Folder". I named my folder "eBay Auctions".
Next, perform a search. If you already have some saved favorite searches just click on one to perform the search. After eBay brings you the results of your search scroll down to the bottom of the page. You will see a small orange button that says RSS.

Click that button. It will take you to a new page that shows a summary of your search results. The right hand side of the address bar at the top of the screen will say RSS in blue letters.

Now bookmark this page. To do this, click the plus button to the left of the address bar in Safari. You will then be able to select which folder to place the bookmark in. Put the bookmark in the newly created bookmark folder, in my case, that would be "eBay Auctions".

Now bookmark as many other searches as you want. Put them all in the same bookmark folder. When you are done, click "Bookmarks" and select "Show All Bookmarks". Now drag the "eBay Auctions" folder to the Bookmark Bar. There will be a number in parentheses next to the name of your folder. This is the number of pages with new content. The first time you do it, all the listings will be new to your browser so the number may be large.

When you click on the arrow next to the number in parentheses, you will see a list of all of your searches. Any search with new content will have a number next to it showing how many new listings there are. Once you check on those new listings, the number in parentheses will disappear. When you have viewed all the new content, the number in parentheses next to your bookmark folder will disappear. The number will come back again once new items are listed.

Changing your preferences

You can change your RSS feed viewing preferences using the bar on the right hand side of the page. You can change the length of the summary that is displayed and the order of new listings. You can also search new content for a specific term.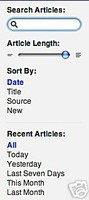 Problems

I have found that this technique saves a lot of time, but I have also had some slight problems. The RSS feeds don't always bring you just new listings. The RSS feeds lets you know when the content of any page has changed. So if a seller revises a decription, this will show up as new content. I am not sure if a new bid is also considered an update. I have had some auctions show up twice in my feeds and I don't know why. I am pretty sure that the feeds show both auctions and eBay store listings. Another problem is if you have not checked up on new auctions in a while, then ended auctions will also show up as new. This can be particularly disappointing.
Please let me know if you learn anything else about RSS feeds. I hope you find this information helpful.
If you found this guide helpful please click "yes" below. Thanks!