Paper types on modern stamps are the new frontier of philately.
Classic stamps have been extensively studied and discussed, but few are aware of the variety in modern papers and gums. It is easy to become enamored with the faces of new stamps. They are colorful and grab us with their subject matter. We carefully inspect the centering and the perforations. Most modern stamps don't have hinges to worry about so we forget about the backs. We want you to turn them over! In this short guide we explore low gloss gum and compare it to shiny gum. Upcoming part 2 will look into modern dull gum paper types.
Definitions
I found good definitions at one of my favorite stamp reference sites - the PNC3 website. If you are a modern plate number coil (PNC) collector this site is a must visit. It has comprehensive information about know plate numbers as well as discussion about new discoveries and upcoming issues, resources, etc. The site can be found by a standard web search keyword PNC3. Check it out!
Shiny gum
Water activated stamp gum (WAG) adhesive having a high light reflective appearance. Sometimes referred to as wet gum.
Dull Gum
Water activated stamp gum (WAG) having no light reflective quality. It is also referred to as dry gum because there is no shine.
Low Gloss Gum
Water activated stamp adhesive that displays a moderate degree of light reflection. Sometimes referred to as Semi-gloss or Satin gum. This falls into the range between dull and shiny gum described above.
Shiny gum is usually a corn dextrin base while dull gum is a synthetic base like PVA (polyvinyl acetate). Low gloss may be a combination? Any chemists out there?
Background
Beginning in the early 1990's a new type of gum began showing up on stamps. It was unlike earlier known gum types, but had a frosted appearance neither dull nor shiny. The collective community was at a loss for name, but eventually settled with low gloss shiny gum. If you know who is officially credited with this term please contact us for a revision.
With that said, not all low gloss gums are equal and there is great variation in their different appearances. The term has come to be a catchall phrase for gum varieties that are not clearly shiny or dull. Sometimes the designation is given when there is any noticeable difference between 2 printings.
The best way to view is to catch the glancing reflection without the light source shining directly in your eyes.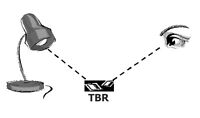 Capturing the appearance of glancing light in an image has proved nearly impossible to photograph. Below is the best we can offer. The left stamp is shiny gum and the right is low gloss.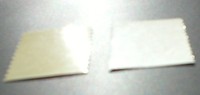 There may be minor tagging differences, but once these stamps are used the gum differences are lost. For all practical purposes they become indistinguishable. In accordance with Scott policy, differences is gum type alone do not constitute number status. Other catalogues like Brookman will often assign the letter "v" for variety. For example, the regular stamp Scott 2913 has low gloss number 2913v. If low gloss gum does correspond to tagging variety like 2194f then it has minor number status. This guide deals with low gloss gum stamps that do not have tagging differences or minor number status. They are different only in gum composition or appearance.
Gum differences
Scans of shiny vs. low gloss stamps reveal additional details. Shiny is always shown left and low gloss right.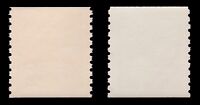 These coils are easy to tell apart. Aside from obvious differences in sheen, shiny gum is yellow in comparison. The low gloss paper (right) is white. Tagging can be a range from solid to more grainy. The shiny and low gloss gum on the coils is nothing like the gum on Flag Over Porch sheet stamps #2897. This inconsistency of description concerns us.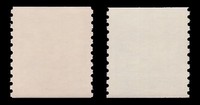 Low gloss precancels that are untagged can usually only be collected in mint state. If unused, the backs can easily be differentiated by their color seen above. Ungummed stamps cannot.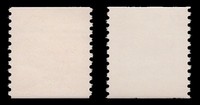 As with most, shiny gum is slightly more yellow than low gloss gum. For this one the shiny gum is a different texture. The "shiny gum" stamp actually has clear diagonal ridges, while the low gloss (right) has typical low gloss appearance. Below is an example of gum ridge detail for the shiny gum type.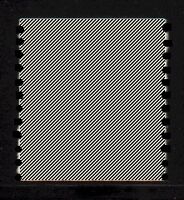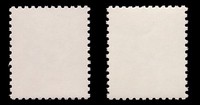 This is another one that is subtle. The "shiny gum" (left) really looks like low gloss and the paper is thinner! The low gloss (right) is slightly less glossy and the paper is thicker and whiter.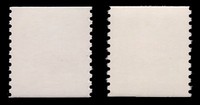 When you can tell this one, you're a pro. This is another precancel so they are untagged and only different in a subtle way. Both varieties look like low gloss gum. The one known as "shiny gum" is more glossy than the one identified as low gloss. This one's tough to distinguish unless you have both for side-by-side comparison. Can you tell them apart?
The list
Definitive stamps that have both shiny and low gloss gum varieties but not a separate number status include:
2225 Omnibus re-engraved
2252 Conestoga Wagon
2454 Red Canoe
2593B Pledge
2603 Eagle and Shield
2604 Gold E&S
2607 USA Presort
2882 Red G (still confirming this)
2897 Flag over Porch sheet
2913 Flag over Porch coil
3260 H Rate sheet
3264 H Rate coil
Now What?
The future of low gloss gum appears strong. Most modern gummed stamps have some form of low gloss gum. Shiny gum on the other hand appears to be an endangered species. Hopefully we'll be able to continue to enjoy some form of gummed stamps. Many people have speculated that self adhesives will be the only kind of stamps in our future.
Congratulations if you're still reading you have just passed LOW GLOSS GUM 101
Please report errors and omissions so that we can improve this article.
Thanks for looking!
-TBR