So you're searching eBay for that fabulous authentic Louis Vuitton Mulitcolore Speedy or other item that you've been eyeing. How do you make sure that you are only getting the real deal? This guide will help you to avoid making a purchase that you will regret- spending hundreds (or any sum of money) on a fakes. If you haven't read my eBay Guide "Top Ten" Tips to Buying Authentic Louis Vuitton- start there... If you're already an expert- keep reading!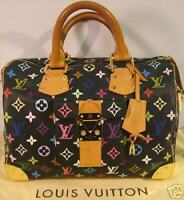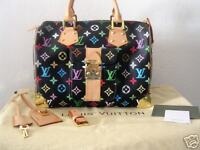 (Which of the two is authentic? You'll be able to tell by the time you get to the end of this guide!)
Buying Authentic Louis Vuitton Mulitcolore

About Mulitcolore...
Monogram Multicolore is a relatively new phenomenon... We can thank Japanese pop artist Takashi Murakami for this splash of color and a twist on the traditional monogram toile. While similar in pattern to it's monogram ancestor, the new canvas is a vibrant pallet of 33 fabulous silkscreened colors! In collaboration with Marc Jacobs, Murakami created a best seller and must have when the Multicolore line hit the racks in the Spring of 2003.
As is always the case, counterfeiters follow the money... and almost as quickly as Louis Vuitton put out each new Multicolore piece, the fakes followed suit. In fact, some counterfeiters were SO quick that they shot themselves in the foot. They'd see a new prototype and would immediately put together a copy- the problem is that Louis Vuitton sometimes changes pieces between prototype and sale. This is the reason you might see pictures from Louis Vuitton where there are red "LV"s included in the mix of colors (when the mulitcolore line actually made production- there were no red LVs to be found).
Here are the questions you need to ask yourself about the bag you are looking at... I'm starting with the more obvious, glaring signs-
(You can ONLY ask these questions AFTER you've looked at my Top Ten Guide to Buying Authentic Louis Vuitton on eBay- to rule out stuff that isn't particular to Multicolore alone...)
1. Did Louis Vuitton ever do that bag in Multicolore? Yes? No?
(If no, it's FAKE- Louis Vuitton never did a MC backpack, Ellipse, Bucket, Cabas Piano etc... if yes, continue to number 2)

2. (If you are looking for a Speedy 30) Does the auction include a "luggage tag" or "luggage loop" (check picture below)? Yes? No?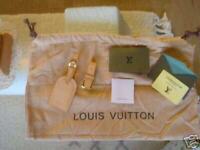 (If the answer is yes, it is a FAKE- Louis Vuitton included these items with the Keepall 45, but NEVER the Speedy 30)
3. Does the item have a bow on it, (check picture below)? Yes? No?
(If yes, the item is FAKE... Multicolore bags NEVER have bows on them (the Eye Love line is different, as is the Cherry Blossom line)
4. Is the interior Raspberry (for white) or Mushroom (for black) alcantara? No? Yes?
(If no, the item is FAKE... all white MC pieces are done in a raspberry color alcantara and all black are in a mushroomy grey alcantara)
5. Does the piece have RED LVs (see picture below)? Yes? No?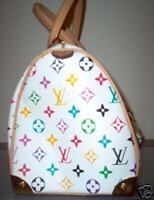 (If yes, the item is FAKE... although Louis Vuitton began with a prototype that may have included red LVs in the monogram, these bags never made it into production.)

6. For white... does the color combination of LVs on the canvas look like this: 1. fuschia, black, green 2. dark yellow, dark pink, dark purple 3. dark blue, chartreuse, light blue

For black... does the color combo look like: 1. fuschia, white, green 2. dark yellow, dark pink, dark purple 3. dark blue, chartreuse, light blue? Yes? No?
(If no, the item is FAKE... you can see all of these colors on the backs of an AUTHENTIC Alma or Speedy- check the pictures below) this is the combination of colors that you will find on all authentic Multicolore pieces. Look for the blues in particular- fakes do a bad job of getting these colors right.)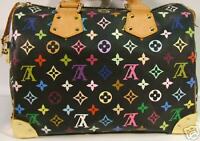 7. Does it have 33 vibrant colors in total (see washed out colors in fake below!!!)? Yes? No?
(If no, it's FAKE- every multicolore piece should include a total of 33 silkscreened colors: 9 different colored LVs, and 24 different colored quatrefoils and fleurs- Of course this will NOT be true on an authentic muliticolore item that is TOO small to include all 33 colors.)
8. (For a Speedy) Does the hardware have 6 Pointed Star shaped hardware on the underside- rather than 4 pointed philips head type screw backs (check picture below to see star)? No? Yes?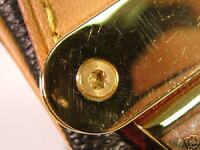 (If no, you are looking at a FAKE- all Speedy bags have the star shaped screw backs, although I've heard better fakes may be knocking them off- so be careful!)
9. (If you're looking for a Speedy) Does it have a "30" under the end tab (see picture below)? Yes? No?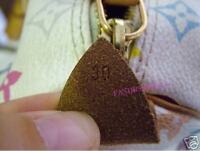 (If no, it's FAKE... if YES it actually means NOTHING because all of the better fakes are doing this now.)
10. Does the date code end in a 3, 4 or 5? Yes? No?
(If no, it's FAKE... the MC line was introduced in Spring of 2003- so all MC pieces will have date codes ending in 3, 4 or 5).
What's the verdict on the Speedy bags at the top of this page?
Although the pics are small (thanks eBay!) and we only have one... I can tell that the bag on the right is fake because of the luggage tag & loop. Could you tell?
Please CLICK HERE to read PART 2 of this guide!!

Hope that helped! Remember, if you need help with shopping for Louis Vuitton on eBay- go to my guide:
Top Ten Tips to Buying Authentic Louis Vuitton on eBay!
And don't forget to check MY AUCTIONS for FABULOUS authentic pre-owned LOUIS VUITTON listed weekly!