Of the elements on the page, the most important are the images. A store page consists of text and images, and everyone's text looks the same, so the difference in production values between good sites and mediocre ones depends almost entirely on images.
Production values are even more important on the Web. Consumers will not buy from an amateurish Web site, same rule applies to your e-Store, A sloppy About Me Page with mis-spelled words, and auction listings.
Many of the people who visit your site will find the idea of ordering online unusual. I have been buying online for a decade now, and I still find it a little unusual at times. So your page, listings, e-Store all need to inspire visitors with confidence. It should say that yours is the kind of company that does things right, and that if I order something from you, it will be a good experience.
Of course there is no direct connection between the quality of your site and the quality of your company. A company could have a brilliant graphic designer and lousy products. But usually there is a connection, and that is what visitors to your site will assume. If your company is unable to put up a good Web site, then it seems natural to assume that your company cannot deliver good products or services.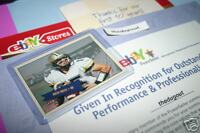 PLEASE VISIT MY E-BAY E-STORE AT TOP RIGHT OF THIS PAGE where I have over 2,700+ great items in 30-to-search listings ranging from hundreds of sports cards , magazines, catalogs, drug rep items, T Maxx R/C hobby parts, clothes, autographs, hats, and MUCH more ! :0)
Thank You,
Scott
thedugout
THANK YOU FOR OUR FIRST 10-YEARS OF E-BAY SALES !!!!!