A strip of 5 of these stamps sold for $15,750!
These are 1998 United States postcard-rate stamps. These stamps were used in Greencastle, Indiana – about 50 miles southwest of Indianapolis.
Another strip of 3 sold for $1,760.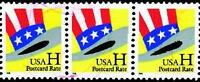 One of the finders discovered the stamps while dumpster diving.
These stamps were printed and shipped in 1997. They are similar to other hat-stamps, but the hat-stamps with the yellow background were never issued.
If you ever find these stamps, don't soak them or remove them from the cover (envelope). These stamps have not been sold on eBay. Feel free to email me if you find some, and I'll give you valuable suggestions to maximize interest and get you top-dollar prices for your top-hat stamps!
You can help me out by clicking the little button that says

YES – this guide was helpful!