Living Positively
Do you know people who, no matter what, have nothing but negative things to say? Have you noticed these people almost never smile? Have you noticed that their eyes seem dull and lifeless? Do you notice that when they walk, they seem to drag - like walking is the ultimate chore?
Do you know people who are almost always upbeat? Have you noticed that they are almost always smiling? Do you see in these people's eyes a twinkle or a spark? Have you ever noticed that these people seem to bounce through life rather than walk?
So, what is the difference between them?
I used to think that people couldn't help it. I found so many excuses and reasons for people to be negative. The main thing I attributed it to was upbringing. I do believe that experience has a lot to do with how people behave, in general. People "learn" how to respond, react, and interact with the world around them. The more you see a behavior, the more likely you are to emulate it. The more you emulate something, the more it becomes your own. In a sense, it becomes a "habit."
The important thing to realize about habits is that they can be altered, replaced, or stopped. With this in mind, it seems reasonable to me to believe that negativity is a choice. I know it may sound rather simplistic. Perhaps, that is because to some extent it is. That does not mean that it is simple to change.
People spend their whole lives developing habits. Habits become so ingrained that they become almost reflexive. People don't even realize they do some of things they do because they become "natural." It can take a very long time and a great deal of practice to change something it has taken a lifetime to develop.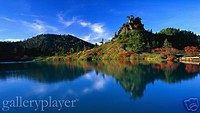 So, with this in mind, I believe that the difference between negative and positive people boils down to decision making. It is directly related to what you choose to focus on. Everyone has a choice. You can decide to focus on the positive or you can decide to focus on the negative.
When you look at this picture, what do you see? Do you see an overgrown lawn that is an eyesore? If it were in your neighborhood, say, across the street or next door, would you get angry and let it affect your mood? Would you curse the homeowner or tenant for not keeping the lawn cut? Would you try to find out why the lawn was overgrown? Would you try to do something constructive to change it? Would you brood over it and do nothing about it?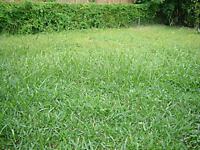 If you can do something about it, then do it. Still, there is no point in stewing over it. Just take care of it and move on. If you choose to do nothing about it or if there is nothing you can do about it, there is no point in stewing over it. Perhaps you could instead take another look.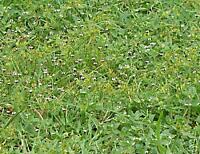 Perhaps you could look at it differently. Perhaps you could, upon closer inspection, appreciate it for its wonderful little floral treasures amidst which butterflies dance and dragonflies sing in the morning sun-kissed dew.
I realize this is an odd example, but I used it to illustrate the point that there is something good to be found in almost every thing, every person, and every situation. I know that there are certain situations and people in which it is difficult to find good. People suffer every day. Bad people do bad things every day. I do not mean to down play any of that. This applies to life in general and the every day - day-to-day.
So, how do you go about becoming more positive? It takes practice. You have to replace your habit of seeing bad with the habit of seeing good. Train yourself to look at the world through different eyes. Remind yourself that you have a choice. Even on some of your worst days, you can continue to be in a good mood, if you so choose. Although you may not be in control of everything around you, you do have control over how you choose to react. You have control of what you choose to focus on.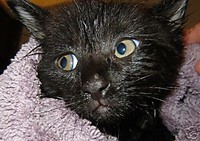 Try some daily exercises. When you get up in the morning, take a moment to sit on your patio and look at the world around you. Find something to look at that you like. Then, move on to the next thing. When I am in a feeling down… negative… I sit on my lanai and observe the world around me. I use as many senses as I can to take things in.
If there is a breeze and the wind chimes are chiming, I let myself get caught up in how relaxing the sound is. If the birds are chirping, I think about a mother bird feeding her babies. I will look into the yard and watch the butterflies, dragonflies, and bees frolicking in the dew covered flowers. I do all of this instead of focusing on the fact that I really don't want to be awake. I drink in the beauty around me.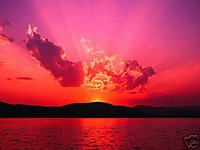 When I am driving in traffic, rather than focus on the fact that I am not moving, I accept the fact that there is nothing I can do about it. Then, I try to focus on nice things. I may see a car I really like somewhere near me. I may listen to my favorite radio station and immerse myself in the music. I may think about how my children smiled at me before I walked out the door. I also remind myself that the time I spend in the car is the only time I really am alone during the day. It is my time to think, sing, or do whatever I want without interruption.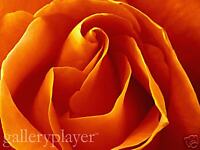 If you remind yourself to do these couple of things, you will eventually find that the process has carried over to other aspects of your life without you having even tried. It will become a habit. Granted, I do sometimes have to remind myself, especially when things get really tough. It is not possible to be positive all of the time. But you can decide to be positive most of the time.
An interesting phenomenon is that the more positive you are, the more positive the people around you will be. Positivism is contagious just as is negativism. You can set the tone for your experiences.
I could sit around feeling sorry for myself all day... basking in negativity. My life experiences have not all been stellar. Not by any stretch of the imagination. Yet, most people who know me think I am one of the most positive people they know. Why? Because that is how I choose to be.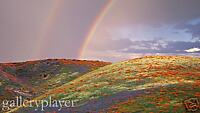 I reserve the right to be human and err. Nothing here was written to intentionally misinform or otherwise mislead.
© 2006 Trina Hoaks