A huge number of very fine cameras, lenses and valuable electronic devices are bought and sold on eBay every single day. These precious gems are precision instruments with complex electronic, optical and mechanical elements and are quite sensitive to a plethora of vulnerabilities. They can get broken or jolted out-of-calibration all too easily. Proper packing is the most cost-effective way to prevent damage during transport. This packing method is also applicable to many small electronic devices like Apple iPods, iPhones, GPS units, PDAs, Cell Phones, Portable Game Devices, MP-3 Players, Digital Video Cameras and other similar items.
High quality cameras, lenses and small electronic personal devices often have a very high monetary value for their relatively small size and weight. (That's why I like to refer to camera lenses as "gems"). These items require some specialized packing and shipping procedures to insure safe delivery into the waiting hands of your eager buyer. Failure to pack and ship these items properly can easily result in serious damage, a lot of unnecessary grief and some very negative feedback comments on eBay.
This guide will attempt to show you how to avoid most of the preventable shipping pitfalls that confront the novice photo and electronic gear seller.
"PREVENTATIVE" PACKING
Rule number one: ALWAYS SHIP IN A STURDY BOX, even if it is a new model in the original retail carton. Padded shipping envelopes are very convenient and look like a great packing option, but don't do it.!!! These containers are not designed to offer the level of protection that photographic and electronic equipment requires
SUPER TIP:
The Post Office kindly provides excellent packing boxes
FREE OF CHARGE!
Most lenses, except for longer telephoto models, will fit nicely in the standard USPS #4 "Priority Mail" box. It measures 7" X 7" X 6" and can be used for the majority of cameras and small to medium focal length lenses,
and it is FREE!
For larger models there is a very nice Priority Mail "Flat Rate" box that measures 11" X 8.5" X 5.5" and can be used to send items of almost any weight to any location within the USA for $9.80, INCLUDING ALASKA AND HAWAII, at no extra charge. This is a GREAT shipping value. Go figure, Uncle Sam takes on the shipping competition, and wins!
UPDATE: AS OF MAY 12, 2008 USPS POSTAL RATES HAVE BEEN INCREASED.
(BUT THEY STILL OFFER THE BEST VALUE I HAVE FOUND.)

The two main vulnerabilities that must be addressed are shock and moisture. You must assume that your package will be dropped at some point on its journey and that it will be raining "cats & dogs" on the day of delivery. If you are lucky, your package will not fall too far and the humidity will be less that 99%, but prepare for the worst, it will pay-off in the long run. You say, "No problem, I will get the package insured". I ask, "Have you ever filed a damage claim?" Trust me, a few minutes of precautionary prevention are worth a ton of insurance "cure"! It could save you a lot of red tape and a very nasty negative feedback.
OK, you have chosen the right box, how do you protect against shock and moisture? Always enclose your item in plastic. Items that are in the original retail carton should be placed inside a plastic bag and sealed with a twist tie. This will keep out moisture and those insidious little packing peanut particles that seem to get into every place that they do not belong. If you are sending a "naked" used device or lens, I very strongly recommend that you securely attach the protective caps and then wrap the item in tissue "gift" paper. This prevents "scuffing" and also holds protective caps and covers firmly in place. Apple iPods and iPhoness are especially vulnerable to those tiny little "rubs" and scuffs on their gorgeous high gloss surfaces. Tissue "gift" paper does the best job of fending off those hard-to-prevent 'micro" scratches that can diminish the pristine "look" of these beautiful devices. Next, you should wrap the item very securely in "bubble-pack" plastic and seal it with special two inch wide packing tape.
If you are shipping to an area with a cold climate (below freezing) you should include a short note to the buyer explaining that the electronic device, camera or lens should be allowed to warm to "room temperature" before being removed from the plastic bag or bubble-pack. This simple precaution will prevent condensation from forming on cold surfaces, especially the hard drive "platters", circuit boards, glass elements, aperture blades, shutters and mirrors.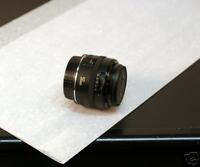 "Gift" tissue paper offers excellent "scuff" protection.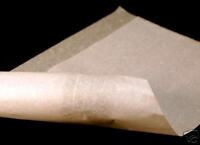 Wrap the item to hold any protective caps securely in place.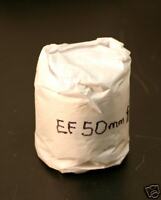 "Scotch" taped and labeled item.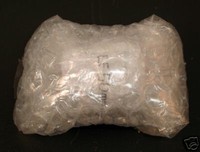 Item in plastic "bubble-pack", sealed with 2" "packing" tape
In the next step, you want to isolate the wrapped item from shock. Place a layer of "packing peanuts" in the bottom of the box. Set the wrapped piece in the center of the box and add more "peanuts" until the item is fully covered. Try to arrange the packing material so that there is an equal space between all of the sides of the box and the merchandise.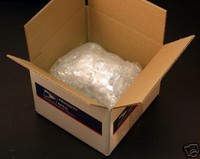 First, add a layer of packing "peanuts" and then the wrapped item.
Add a "packing slip" and completely fill box with "peanuts".
Now is the best time to enclose a receipt or "packing slip" inside the box. Make certain that when you close the top of the box that there is enough packing to completely stop the item from moving around in any direction. Pack it tightly, but not so full that it will make the box bulge. Seal the box neatly closed with special 2" wide packing tape. DO NOT use masking tape, duct tape, cellophane tape or anything other than packing tape! The Post Office might even supply the correct type of tape... just ask.
Use a labeling program, PayPal, UPS, FedEx or the USPS web site to print a good shipping label. If you use an ink-jet printer, be sure to cover the label with clear packing tape, to prevent the ink from "running". This is just in case the package might get damp during its travels. If the ink becomes unreadable, you may have just lost an expensive piece of gear. However, the Post Office requests that you do not place tape over the Bar Code portion of the label. The entire packing procedure takes less than five minutes to complete correctly.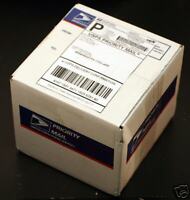 This box is safely on its way to a very happy buyer.
SHIPPING
(This is how I do it... So far, No Problems)
I strongly recommend that you always insure anything of value that you ship. If you leave the insurance choice to your customer via "Shipping Insurance Optional", they might choose to "save a couple of bucks". This places you in a very bad position. Guess who is going to get a nasty "negative" when the package gets lost or destroyed? (Hint: It isn't the Post Office!) It is very easy to include this fee in your shipping charge. Just do it, some day you will be very relieved that you did. In the meantime, your buyer's will see that you really care about their well-being and satisfaction.
I have never received a single complaint that my shipping charge was too high. This is because I carefully explain that the insurance is included in my shipping fee and it protects both the buyer and the seller from an unrecoverable loss.
You may have noticed that I have specifically chosen the US Postal Service as my preferred method of shipment. Obviously, the basic packing procedures described above will apply to any shipper that you might use. You may have worked-out a very good shipping contract with another carrier, if so, I still recommend insuring your items with any service. However, if you do not ship fairly large quantities of goods daily, you probably will not be able to negotiate a favorable shipping deal.
OK, here is my "ad" for the USPS: I have shipped hundreds of items, by every imaginable method. I have found that USPS Priority Mail is still the very best way to get an expensive lens safely to my buyers, anywhere in the country. (Even with the new higher rates.) The package is almost always delivered in just two or three days and it only costs about $8.95. The package can even be delivered on Saturdays, at no extra charge. This service alone can really make a big difference in customer satisfaction.
I recently had a buyer receive her lens on Saturday morning, just in time for a Sunday trip. She was very happy to have the lens in time for her vacation. She told me so in an email (and also with a glowing feedback comment). To have accomplished this by any other shipping method would have been very expensive, almost half of the cost of the lens!
"Flat Rate" Priority Mail is affordable, has a very liberal weight limit and the Postal Service will actually pay-up when an insurance claim must be filed. Choose any carrier you like, but I will be sticking with the good ol' Post Office, for now.
If you follow this advice, rest assured, you will have fewer "headaches", happier buyers and better feedback. Oh yes, you could also have more money left in your pocket at the end of the day.
If you have found this Guide to be informative or interesting, please let me know by clicking the "YES" button below. Your vote is completely anonymous. However, your comments and criticisms are always welcomed. I am more than happy hear about ways to improve my reviews and guides so that more people can find useful information in them. Your "helpfulness" votes are the only compensation that eBay reviews and Guides authors receive for their efforts. Member's "votes" are used exclusively to determine writer's rankings. Encourage us with your votes and we will return the favor by supplying you with a lot more informative Buyer's Guides and honest Reviews.
Copyright 2006 All rights reserved ProfAudio1