This guide is intended to help you choose the right size Kong toy for your dog, which is important for your dog's health and well-being. If you are looking for general information about the Kong Company and Kong dog products, please view my other Guide "Kong: King of Dog Toys! BASIC INFO."

It is very important to have the right size Kong for your dog. Remember, the more your dog plays with Kong, the stronger his or her jaw muscles will become. No dog toy is indestructable! For most breeds, start with a red Kong for adult dogs. Red Kongs are made of a very strong rubber and are best for bouncing. They are available in many different sizes, so choose a size that is appropriate for your dog's mouth.
If you find that it didn't take long for your dog to have his or her way with a red Kong, of ir you suspect that your dog is already too advanced for a red Kong (such as Pitbulls or similar breeds), it's time to try a black Kong. Black Kongs (Extreme Kongs) are made of rubber that is even stronger than the red Kongs. They are next to indestructible!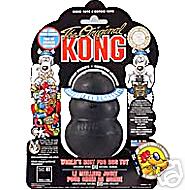 If you have a puppy, Kong also produces a blue/white swirl color Kong that's meant just for little puppy teeth and jaws. It is the softest of Kong products, yet still a very effective and fun toy.

Kong products are easily found on eBay, so you can be sure that a great deal is waiting for you out there! Treat your precious pet to a strong, fun, healthful toy!
If you found this guide helpful, please take a second to rate it a Yes!