There will be a 89 later this year!
There will be a 89 on October 7th, it is still a secret which house it will be.
NEW book on the KLM houses.
I published an e-book 'The KLM house collection visited' with background information on all 88 houses. There was a book by Ken Wilkie on the first 75 houses but this is no longer available in the bookstores. More information on my about me page.
# 87 was presented by KLM in 2006, a new house is added every year in October.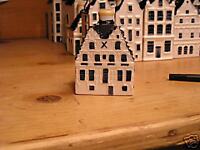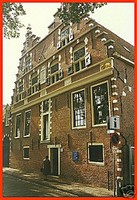 This is the peperhuis in Enkhuizen, this houses was used as the marketplace for pepper from the United East Indies Company (VOC). Currently it is part of an open air museum.
When flying KLM in the business class on intercontinental flights passengers are presented a small delft blue house containing Bols Jenever, Dutch Gin.
KLM started this in the 1950's and still continues the tradition. As KLM is flying for 87 years now there are 88 different models in the collection.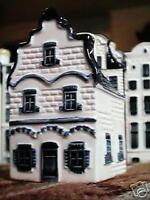 1 and 47 (Anne Frank house)
In the 1950's KLM worked with Rynbende who supplied the Jenever. Rynbende is well known for all kinds of glass and stoneware items filled with liquer. These were birds and other animals or the famous ballet danser with musicbox.
Later Rynbende merged with Henkes and the Jenever was supplied by Henkes. Another merger changed this to Bols the current supplier.
There are many collectors of these houses and some of them have very special display cases. Here is a custom built example.

Earlier this year the USA banned all sorts of fluids on board of airplanes. This caused KLM to present open houses without any content like they have done in the past on flights to muslim countries which do not allow any alcohol.