I love toys, and I am lucky to have four children that provide me the opportunity to play with them! A big benefit of selling toys is getting a chance to play with and test them out! My childrens' favorite pretend play toys, since their first birthday until now as kindergardeners, are play dishes, playfood and a play kitchen! Yes, most play food is rated for ages 3 and up but we started with the soft fabric kind and graduated to more realistic play food at 2 yrs old. We have also sampled many play kitchens in our home! Our current model is a downsize from the Little Tikes Cookin' Fun Interactive Kitchen to the Guidecraft Kitchenette. We also have a less expensive play kitchen from American Plastic Toys, at Grandma's house. Play kitchens still seem to be the toy my kids are drawn to when we visit other children's homes, or go to the toy store ( that and train tables, but that's for another guide!)
As a retailer, I have assembled and tested a variety of play kitchens in a wide price range. I would like to share what I have learned!
Play kitchens range from lightweight plastic to heirloom quality solid wood with hand-painted detail. Their functionality varies as well. Most heirloom quality play kitchens are very realistic without the lights or sounds. You can select from all in one wall units, kitchen islands, or kitchen sink/stove and refrigerator 2 piece sets.
Plastic Play Kitchens
The price point of a play kitchen is directly affected by the materials and funcitonality. The least expensive and less durable are the lightwieght plastic play kitchens usually under $40. There are some nice and fun play kitchen in this category. However, expect that an inexpensive play kitchen is not heirloom quality.
Most require extensive but fairly easy assembly. Once assembled, adults may find them somewhat flimsy, but kids love them! Some play kitchen in this category even have simple electronics for cooking lights and sounds. They are easy to move around. You may wipe the surfaces clean with a damp cloth. When its time to retire the play kitchen, there is no sense of loss because it was inexpensive and well played with.(some are even recycleable plastic) The drawbacks: They can have form and fit problems when assembling, and they don't necessarily blend in with your home's decor!
Some popular models in this category are from American Plastic Toys. One model is an island style, and the other fits against a corner or a wall. These play kitchens are also available in a neutral palette that is nice for boys and girls.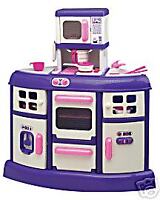 The lighs and sounds play kitchen (also available with lights and sounds)and others like it, require simple but very extensive assembly. Think lots of pieces!. This is not a task to save for Christmas Eve! The doors sometimes have some form and fits problems. Sometimes they stick and or not close properly. Once assembled, they are durable.
The Mid to High price range plastic play kitchens are mostly manufactured by Little Tikes and Step2: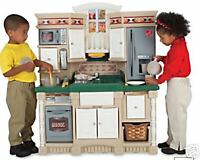 One of the LifeStyles Kitchen by Step2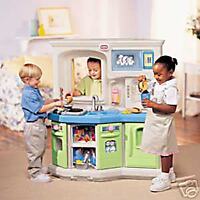 Little Tikes Cookin' Fun Interactive Kitchen
These play kitchens are sturdy molded plastic. They require little to no assembly, except for some small parts and lots of decals to stick on. The molded plastic play kitchens tend to be very durable and virtually indescructible. They are easy to maintain and wipe clean (baby wipes work great at getting dust and guck out of all the little crevices!) Some models come with lights and sounds options. You will need to purchase plenty of AA batteries along with these play kitchens! Little Tikes has a line of interactive play kitchens and play food. The electronics in the play food and the corresponding stove recognize the food and say appropriate phrases like, "Let's make spagetti and meatballs" when the spagetti is placed on the stove!
We had great fun with our Little Tikes Cookin' Fun kitchen! I prefer the wood kitchens for the durability, heirloom quality and style. However, I have to admit we all enjoyed this Little Tikes play kitchen.
The plastic play kitchen style that are designed to fit against the wall do have a sturdy base but multiple children can still manage to tip it over. They also slide around during play if they are on a wood or tile surface. We didn't attach ours to a wall, but some velcro strips on bottom of the play kitchen and on the floor kept it in place for years!
Wooden Play Kitchens
Wooden play kitchens are just beautiful! Some of the manufacturers in this category include but are not limited to Kidkraft, Guidecraft, Little Colorado, Small World Toys. Melissa and Doug also just released a brand new wooden play kitchen this fall.
Kidkraft
The most popular Kidkraft play kitchen is the traditional large play kitchen, and its large. The box weight 85 lbs! This play kitchen is wooden, meaning its made of MDF (medium density fiberboard), and finished with non-toxic paints in pastels. Assembly is straightforward, but can take some time.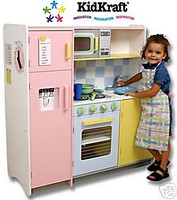 The Kidkraft large play kitchen has an oven, stove, and microwave with counter space and shelves for storing play food and accessories. All the doors open and close well. There is plenty of storage space for all the play food and dishes! This play kitchen fits againt a wall so it only has one playing side. This will take a dominant position in a family room or playroom. Ensure you have the space for it.
Kidkraft also offers a kitchen island model for 360 degrees of play space. This model is as strudy as the large kitchen and has many of the same features. This modle is available in either pastels or bright primary colors. This model does require a large play area. Plan on a perimeter of at least 2 feet all around the play kitchen. the flat wall with the clock and play telephone on it could be placed against a wall, allowing 180 degrees of play space.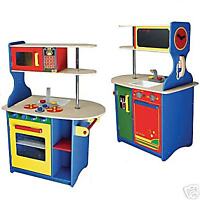 Kidkraft Primary Colors Kitchen Island
Kidkraft is also pre-releasing a bigger and better kitchen and outdoor grill in one! this one definitely needs its own playroom! There is a full play kichen on one side, a window with curtains that looks out to the other side of the the play kitchen which is an outdoor grill area! A grill master's dream! Painted ina faux brick with an outdoor grill top and sink! I want a kitchen like that!
All Kidraft items are under full warranty and come with an 800 number for fast and friendly customer service!
Melissa and Doug
Melissa and Doug have bee well known for their realistic and imaginative solid woo play food. Now they have a play kitchen to match! This play kitchen is similar in concept and design to the Kidkraft large kitchen. however, this one is painted bright white and country blue, with fun whimsical touches. Definitely a country kitchen! Melissa and Doug also warrantee all their items for life.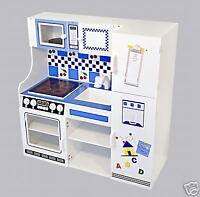 Guidecraft
Guidecraft offers both MDF wooden and solid wood play kitchens. Their smallest play kitchen option is the kitchette. This one suprised me at how small it was. It is great for small spaces and works best for toddlers or young preschoolers whre some of the bigger models can last well into children's early school years. This little kitchenette doubles as a storage cabinet! the doors open on both sides, one stove, one a refrigerator, and hold lots of play food. This little kitchen looks great, but I have to admit, its not holding my 5 yr triplets attention as much as the Little Tikes Cookin Fun did. My 3yr old is getting alot of use out of it though. It is just her size and she enjoys it best when her siblings are not around. This model is not a good choice for sharing with more than 1 or 2 children at a time. This model is available in either a pastel or natural wood finish.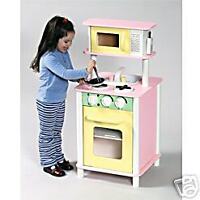 The larger kitchens are a natural wood finish and are island style, requiring a large play area. The island kitchen is great for a play room, daycare, or preschool environment. Its beautifully constructed, heirloom quality kitchen center, with 5 major appliances in one attractive play island. It is ergonomically designed for multiple children to play together. The corners are all rounded and smooth. This play kitchen is solid wood. Definitely worth the price. They even have a large complete kitchen island that is more appropriate for daycare or school environments.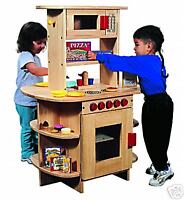 Guidecraft also offers a very pretty painted white Sunflower kitchen and matching refrigerator. Each peice is sold separately and make for a cute little country play kitchen. the front of the refrigerator is also a whiteboard. See Guidecraft Sunflower Kitchen
Little Colorado
Little Colorado offers a kitchen sink/stove combo and a separate refrigerator. This is an old-fashioned style play kitchen center that even blends beautifully with your own home's decor! This kitchen set is available in white or natural wood. The sink is stainless steel! The real cabinet doors have plenty of storage space.
Little Colorado Kitchen Center
If you would truly like to make a family heirloom, this kitchen set is available unfinished. You can create a one of a kind gift that will be treasured for generations!
Small World Toys
This great manufacturer of quality wooden toys has a line of mix and match individual play kitchen pieces. Their play kitchens are sturdy and high-quality.All pieces have rounded edges and smooth finishes. The doors have built in handles. They are a modern contemporary style in natural wood finshes with bright white panels and primary colors accents.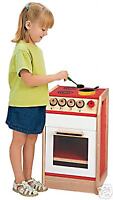 Small World Toys Stove
Summary
If you are in the market of a play kitchen, the first thing to determine is space. Where will the play kitchen go? You don't want to be tripping over it or your kids! You should pick a play kitchen to fit the available play space. With that in mind, you also don't want a tiny kitchen if you have more than one child! The next thing to consider is price and materials. If you are looking for a less expensive, short term play kitchen or a play kitchen for Grandma's house or a summer house, then go for the less expensive plastic models.
If you would like buttons, lights, and sounds, then the higher end Little Tikes or Step2 type play kitchens are a great option.
Woudl you prefer a all in one wall unit, a separate sink/stove unit and refrigerator set, or play around all in one island? Consider the play space needed around the kitchen for the children to comfortably access it.
Prefer wood/wooden to plastic? Then you will not be disappointed with any of the Kidkraft, Guidecraft, Melissa & Doug, Small World Toys, or Little Colorado play kitchens. If you truly want solid wood, the consider the Guidecraft natural finish kitchen island, Sunflower collecton or the more old-fashioned Little Colorado Kitchen center. For a more contemporary look, you may consider the Small World Toys line.
Wooden Play kitchens are usually very durable. Depending on your personal style, you can select a wooden play kitchens that are brightly painted or laminated MDF. The do not offer any lights or sounds. The kids have to provide the sounds! Assembly is fairly straightforward. The pieces interlock. Assembly requires a phillips screwdrive and a handy hex wrench that is usually included with the little packet of screws. Drawbacks: MDF can chip in places and it is very heavy! Onces assembled, that play kitchen usually stays in place!
Solid wood is usually heirloom quality.and blends with your own decor, not detracting from it. You will get what you pay for.
Any play kitchen will offer children lots of imaginative pretend play. A good play kitchens, some play dishes, and some pretend food, and your kids will have a wonderful times cooking up fun for each other and you!