A KEY DUPLICATING MACHINE IS NOT A LOCK PICKING DEVICE!!!!
We tried to sell a use "key duplicating machine." GUESS WHAT: It was "deleted" twice by EBAY's automatic system that considers it a "lock picking device" which violates "Ebay policy!!!." This is the same machine that is used in thousands of hardware stores and in thousands of realestate apartment management offices around the country. Not only that, but we were charged $2.00 each time we re-listed it, only to have it automatically removed. THERE IS NO STATE IN THE UNITED STATES THAT CONSIDERS A KEY DUPLICATING MACHINE AS "LOCKSMITHING": EQUIPMENT AND WHICH CAN ONLY BE SOLD OR USED BY A LOCKSMITH!

THIS POLICY IS ABSURD. Not only is our regular used key making machine, (we just have one), being rejected from Ebay listing, but it is ironic EBAY allows the sale of keys and PARTS "to repair" key cutting machines---can you beat that? Maybe we should take it apart and sell it as PARTS to get it throught Ebay's absurd policy, what do you think? Perhaps we could "pick" the brains of whatever scholar at Ebay decided that a simple key duplicating machine waas somehow used for "locksmithing" and that some state in the U.S. prohibited such a simple machine from ownership by ANYONE, whether a hardware store, real estate company, or your next-door neighbor!
HOW RIDICULOUS CAN YOU GET? On top of that, the people in the Philipines will not even admit IN WHAT COUNTRY they are located!!! When you ask them, they "claim" they are in San Jose but don't even know the capital of California or who the governor is. THEY LIE! How can anyone trust ANY person working for Ebay if the management of Ebay condones and ratifies such NON-ACCOUNTABILITY. When we asked one of the representatives on a "live chat," where he was located, he terminated the chat!!! We had to wait 45 minutes just to reach him in the Philpines!!!! . They don't want to be held accountable and DONAHOE, the President of Ebay, could apparently care less. He should DEMAND that every Ebay rep. announce where they are (Country), their name, and their EBAY I.D. so that they KNOW that they are going to be held accountable for how they act and the information they provide. Many BANKS have automatic systems that announce the city and state of the call center one has reached and further, their reps announce not only their name but their bank I.D. They KNOW they will be held accountable for what they say to the bank's customers--why doesn't Ebay do this????? .
Who is responsible for CHANGING POLICY at Ebay?. We could not find a SINGLE STATE that prohibits the sales of a simple key cutting machine. Anyone who wants to buy one to duplicate keys or keys for others is free to do so. YOU DON'T HAVE TO BE A LOCKSMITH!!!! I challenge EBAY to show us one single state that prohibits the sale of a key duplicating machine TO ANYONE who wants one!.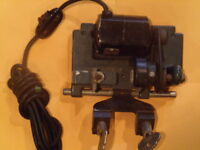 Who is responsible for the ridiculous "policy" that people in the Philipines, India, etc.as a matter of "POLICY" refuse to admit even in what country they are located??. Who is Ebay kidding? Don't they know that EVERYONE knows that Ebay is OUTSOURCING its customer services to people in other country's?. Does the President of Ebay think that nobody knows and will realize this? Is Mr. Donahoe embarrassed that he is not using U.S. Ebay based reps to answer customers using EBAY in the U.S. ?.
LET'S GET TOGETHER AND HELP EBAY IMPROVE--IT DOESN'T LISTEN TO CUSTOMER COMPLAINTS, MAYBE THESE COMMENTS WILL MAKE A DIFFERENCE. Even Mr. Donahoe's secretary won't return calls about these matters or assign them to a "responsible person" at Ebay. We guess, therefore, there are NO RESPONSIBLE PEOPLE who work at Ebay!
If Donahoe can't do the job, let's vote to get Meg Whitman back in the driver's seat? What does everyone think?