This guide offers a basic understanding of the important aspects of draught beer dispensing systems, specifically Kegorators or Kegerators. While not a technical manual, this is cursory guide to establishing an understanding of the major components of and their function within a draught beer dispensing system. The information passed along in this document is a combination of personal experience (
KM2800 series Keggermeister
) and a cursory discussion of draught beer basics. And while this guide may offer a basic knowledge of draught beer dispensing, it is not intended to serve as a "How To" or repair manual. If you own a Kegerator or similar draught beer dispensing system and are experiencing trouble that is beyond the scope of this guide, especially equipment issues, it is recommended that you always contact the manufacturer of the product for assistance with your particular model. With that said, however, this guide is a good source of information.
What is a Kegerator?
Quite simply, a modified or custom-sized refrigerator designed for use as a draught beer dispensing system. Units range in size, number of towers (the protruding top section with the handle, capacity (size and number of kegs) and can be customized.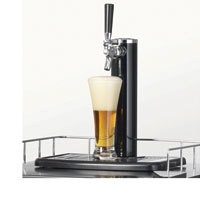 Standard Equipment
(on most makes and models)
Refrigerator
Tower
CO2 Tank
CO2 Regulator
Keg Coupler
Beer Lines
Drip Tray & Trap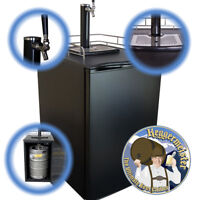 Why buy a Kegerator?
There are many reasons to purchase or build a Kegerator. For starters, a home-based draught beer dispensing system would seem the logical destiny for any lover of hand-crafted ales, Epicurean soul or Brew of the Month Club member. Moreover, a Kegerator makes a great addition to any party or gathering and could quite well earn you accolades on the social scene. Plus, draught beer delivers a distinct texture, taste and overall quality that is second to none. Hence, the popularity of both in-home and commercial draught beer dispensing systems is no surprise at all so much that it is in fact the norm in many places.
There are green minded advantages as well, which is crucial in a time where environmental issues are of such a concern. These benefits might appear less visible than the cash savings, at least at first glance. But they are just as significant insofar as there is less waste materials (cans, bottles, plastics, packaging etc.), less gas burned driving to the store or bar (it adds up quickly these days), less plastic six-pack rings floating in coastal waters, rivers and lakes, and most importantly no reason to ever get behind the wheel with alcohol in your system.
So is it time for you to make a change? Seems to be a popular theme these days. First, the decision to change one's drinking experience from that of a trip to the store or to the local pub to a home-based draught beer dispensing system is a sea change not unlike getting married or switching careers. And if installed and maintained properly, a draught beer dispensing system will forever change the way you experience your favorite brew. Friends, family and neighbors will surely develop a new and profound respect for you. It is a very cost-effective decision as well, especially when you break down the per unit pricing. Purchasing a Kegerator will actually deliver to you amazing savings without compromising even a scintilla of quality. In fact, the finished product in this case is an upgrade model of your favorite brew! It's a Win/Win situation. Plus, feel free to say goodbye to overpriced drinks at the bars and liquor stores.
What are the most critical issues associated with maintaining a proper Kegerator?
Temperature, Pressure
and
Proper and Regular Cleaning
are crucial in determining the success or failure of any draught beer dispensing system. A lapse in any of those three areas will most certainly doom any system. But that is the worst case scenario and can easily be avoided.
Temperature
This part of the guide will address the importance of temperature, insofar as it relates to the quality and success of a draught beer dispensing system. Included in the scope of this section are the following:
Proper temperature level
Common Problems Due To Improper Temperature Levels
Preventing Changes in Temperature

Proper Temperature Levels

Almost all problems that arise in draught beer systems are temperature related. Thus, it is critical that anyone operating a draught beer dispensing system such as a Kegerator understand the relationship between the beer in the keg and the temperature of the dispensing system through which it is delivered. The vast majority of draught beers, particularly in the United States, are non-pasteurized. Non-pasteurized simply indicates beer that has been chilled to very low temperatures during the packaging process. Thus, the bacteria responsible for fermenting the beer has become dormant. Hence, it is critical to keep these types of beer between 38 - 45 degrees. The correct temperature for storing or serving draught beer is 42° F and applies to all beers whether Imported or Domestic, Pasteurized or Non-Pasteurized. A consistent temperature range of 38 - 45° F is required so that the level of carbonation is the same as it was during the brewing process.
Common Problems Due To Improper Temperature Levels

Beer Allowed to Warm

When draught beer becomes warm, the result is foam. Foam is created when the CO2 "breaks out" of the beer or is released. Even an increase of .5° F is enough to cause the beer to foam inside the keg. furthermore, warm draught beer manifests itself in a cloudy pour with a sour taste.
If the keg reaches temperatures over 50-55° F, bacterial growth will quickly overwhelm the contents of the keg. To illustrate this effect, think of milk left out on a countertop and allowed to reach similar temperatures. So, the bottom line is simple. Draught beer must remain cool.

Beer Allowed to Get Too Cold

If the beer is kept too cold, the carbonation will not be released and result in "flat" pours with significantly compromised taste. Also, beer will freeze if the temperature falls to 28° F and below.

Other temperature issues to be aware of, particularly if the beer is remotely dispensed (the beer line runs from the refrigerator unit to a tap), include a "false head," when the head appears as large bubbles that pop and fizz away quickly. This is attributed to a variance in temperatures between the beer line and keg.

It should be evident by now how crucial a role temperature plays in a successful draught beer dispensing system.

Preventing Changes in Temperature

Preventing changes in temperature is done by controlling the environment in which it is installed and from where it operates.

Proper Location

Keep unit away from any source of heat and never expose to direct sunlight
Keep your unit in a location with proper air circulation and electrical outlets close by (AVOID THE USE OF EXTENSION CORDS UNLESS ABSOLUTELY NECESSARY. IF YOU MUST USE AN EXTENSION CORD, USE ONLY A 3-WIRE EXTENSION CORD WITH A 3-BLADE GROUNDING PLUG. THE EXTENSION CORD MUST HAVE AN ELECTRICAL RATING EQUAL TO OR GREATER THAN THE Kegerator)

Should not be placed in a built-in or recessed area.

RECOMMENDED CLEARANCES

: Sides = 3/4" or 19mm & Back = 1" or 25mm
Prevention is mostly done through consistent and accurate monitoring of the system components. The temperature must be meticulously monitored and is easy to do. Be sure to check the temperature inside the keg and not that inside the refrigerator. A popular method is simply keeping a glass of water in the Kegerator with a thermometer in it. After a day, the water should be chilled enough to render an accurate reading. Also, periodically check the temperature of a fresh pour. A kitchen thermometer or probe is perfect for getting accurate reads (we used a THERMOTECH digital probe Model TT0572).
Pressure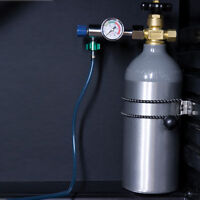 Pressure refers to the level of CO2 in a keg of draught beer and is crucial to the success of any draught beer system. Like temperature, there is a cause and effect relationship that must understood and respected.
The relationship between temperature and pressure levels is crucial to the success of any draught beer dispensing system. The temperature controls the carbonation for the most part. For example, if the beer warms in the keg, the carbonation will naturally start to "break out." The "breaking out" is in the form of foam and is no good and will sully the keg with "flat" beer. Too cold of a temperature means the carbonation increases within the beer and as the temperature slides the more carbonated the beer becomes. What you have then is beer with a sour taste. So, it is crucial that temperature and CO2 levels remain within prescribed levels.
The pressure is critical and if left to meander out of the proper settings you will notice changes in the quality and appearance of each pour. They are defined as follows:
WILD BEER:
Symptoms:
Beer, when drawn, is all foam, or too much foam and not enough liquid beer. Beer temperature is too warm.
Causes:
CO2 pressure is set too high, Faucet in bad, dirty, or worn condition, Kinks, twists or other obstructions in the beer hose, Beer drawn improperly.
FLAT BEER:
Symptoms
: Foamy head disappears quickly; beer lacks brewery fresh flavor.
Causes
: Beer temperature is too cold, CO2 pressure is set too low, Dirty glassware.
CLOUDY BEER:
Symptoms
: Beer in glass appears hazy, not clear.
Causes
: Frozen or nearly frozen beer, Beer that has been un-refrigerated for long periods of time, Old beer, Dirty faucet, beer hose, and/or keg coupler, Dirty glassware.
FALSE HEAD:
Symptoms
: Large soap-like bubbles, head dissolves very quickly.
Causes
: Dry glasses, Improper pour.
Remember:
The CO2 level must be maintained at the stated rating as per the brewery specifications.
Any divergence from this will surely affect the quality of the beer both in taste and pour.

The average pressure setting is 12-14 PSI.
At low pressure, the CO2 will "break out" in the form of small bubbles in the beer that will inevitably result in flat beer.
High pressure levels will also wreak havoc on the beer. Gradually the carbonation will be absorbed into the beer, and you will experience extremely foamy pour.
Filling and Proper Handling & Operation
The CO2 cylinder must be handled in accordance with proper safety procedure as it contains gas under extreme pressure. Familiarize yourself with proper handling of pressurized gas before installing. You can do this all in one stop when you have the cylinder filled. And where can this be done? You can take a cylinder to just about any welding supply shop and have it filled. However, if you do not live within close proximity of one or don't know of any at all, you can simply search in the Yellow Pages or online under the search term "Gas." Just call around and ask like anything else. The average price, based solely on personal experience, to fill a 5lb canister falls somewhere in the range of $8-$13, depending where you live. This is a rough approximation and may vary from region to region.
The cylinder must always be connected to a regulator or not connected at all. Failure to do so can result in an explosion causing great bodily harm and even death. So be sure to connect to a regulator before opening the cylinder valve. Never connect the cylinder directly to the product container. Never throw or drop a cylinder. Never place a cylinder near or next to sources of heat. Extra cylinders must be stored in a dry, cool location (70° F & below). The area must be well ventilated. If you suspect or detect a leak, ventilate to best of your ability and leave the area. Be sure your cylinder is equipped with the proper safety devices. There should be a valve on the cylinder
NEVER ATTEMPT TO REFILL A CYLINDER BY YOURSELF
.
The Regulator


The regulator is key in the dispensing of the beer properly. There are two basic types of regulators, single gauge and double or two gauge regulators. Both have a pressure gauge measuring the output pressure. The two-gauge regulators have an additional gauge measuring the CO2 tank pressure. Make sure to clean and maintenance the regulator thoroughly and often.
Bacteria / Cleaning
As it is critical to monitor and maintain proper temperature and pressure settings, regular cleaning of the entire draught beer dispensing system is equally as important. Cleaning the beer lines, the regulator and coupler are keys to controlling bacterial growth that could easily disrupt the balance of bacteria that already exists within the beer. So, it is true that there really is good bacteria and bad bacteria. Bad bacteria will unravel and taint the good bacteria and could lead to someone getting sick from drinking contaminated beer. Bacteria, Yeast, Mold and Beerstone (form of calcium buildup that occurs with dispensing of draft beer) will build up in the lines if not regularly cleaned.

The only cleaning agents you should use are those specifically for cleaning beer lines and draught beer dispensing equipment. And be sure to strictly follow the directions on the bottle. Think of the beer lines as a gas line in a high performance vehicle. You want it clean and void of any build-up or residue otherwise the end product is tainted and not at all of the caliber intended. It only takes a few minutes a day and pays for itself ten fold. For the best cleaning, and this applies particularly to commercial systems, the use of a recirculating pump is highly recommended if not insisted. The agitation factor versus the soaking of lines delivers a much more thorough cleaning (an incredible 80x more), especially the build-up of calcium, beerstone and other residue.
Make sure detergents and all other cleaning products used on your Kegerator are specifically made for just such an application. As silly as it sounds, non-fat cleaners are a must. The reside left from such detergents will taint and ruin the taste of your beer if exposed to it. This also applies to the beer glasses. Be sure to use those glasses only for beer drinking and use detergents specifically for bar glasses. Also, soak the keg coupler and faucet in a mix of water cleaning solution. After a good soak, clean them with a brush and then rinse well.

Do a final check of parts and connections; apply the proper lubrication to O-Rings (the probe O-Rings on the coupler and washers as needed. If you do this in addition to keeping the system immaculate, maintaining proper pressure and temperature settings, you should have no problems with your Kegerator or other draught beer dispensing system.

Keg Types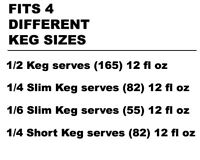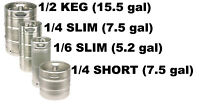 Draught Beer Miscellaneous Information
Faucet Handle - Sometimes called a faucet knob or tap handle. This is the lever that you pull on the faucet to make the beer come out.

Faucet - The spot from which the beer flows. The faucet should be cleaned often.

Shank - This is a long steel tube that runs through the hole you drill in your fridge door. The faucet screws into one end and the beer line screws onto the other.

Beer Line Jumper - This is a 5-foot long piece of dense, food-grade tubing that connects the keg coupler to the faucet shank assembly.

Keg Coupler - This piece attaches to the keg and actually taps it. There are six different types of keg couplers used throughout the world:

D system - The most common keg coupler type. Is also known as sankey.
S system - Used by many European breweries. Is also known as European sankey.
A system - Used for Warsteiner / Spaten / Paulaner / Hoegaarden. Also known as the German Slider because it slides onto the valve face.
G system -Used for Bass / Caffreys / Anchor Steam.

U system - Used for Guinness / Harp.

M system - Used for Schneider / Aventinus / Einbecker. Recently introduced to U.S.
CO2 Tank - Contains the CO2 used to drive the beer through the dispensing lines.

Regulator - The regulator connects to the CO2 Tank. It steps the gas pressure down to a level that is right for dispensing beer

GOOD LUCK WITH YOUR SYSTEM! Remember to always contact the manufacturer regarding equipment problems or other issues and to always drink responsibly. There is never a reason to be driving intoxicated.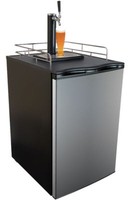 Our Keggermeister is also available in a stainless steel finish (model KM2800SS). Please feel free to call us 24 hrs at 800 629 3325 and we'll be happy to answer any questions you may have!