How hard is it to find
JoJo Circus
Birthday party decorations???
I know how hard it is. When my baby was turning 2 i decided i wanted to have a JoJo party & to my surprise i saw that Disney did not carry their own JoJo themed party supplies. I could not believe it! So, being the crafty mom that i am, and parties are "my thing" i made a JoJo party myself... it turned out AWESOME!
I made everything myself & all our guests were AMAZED at what i had done. The biggest "HIT" of the party was the JoJo & Friends life size decorations i made.
JOJO, SKEEBO, DINKY, CROAKY & GOLIATH...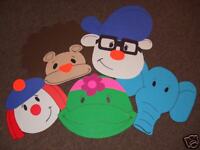 THESE LIFE SIZE JOJO & FRIENDS DECORATIONS ARE ON SALE IN MY STORE RIGHT NOW.
CHECK THEM OUT!
My friend
cutiepietreasures
makes some adorable JoJo necklaces & other party gifts or favors too!