CARNIVAL GLASS FROM INDIA
by curculiosglass



Jain Right Hand Vase
photo courtesy of *treasurehunter*


INTRODUCTION
This is a twelve-part guide on Jain and other Indian carnival glass. This section, Part 1, consists of the following: a summary of available information on the Jain Glass Works and other Indian glassmakers; guidelines for prospective buyers on how to evaluate Indian carnival glass; and a short list of recommended websites and books about Indian carnival glass. Parts 2, 3, and 5 provide an illustrated guide to Indian carnival vases. Part 6 furnishes photographs of the first known reproduction of Indian carnival glass: a cobalt blue Fish vase. Parts 7, 8, 9 and 12 offer a photographic gallery of previously undocumented Jain glass that has appeared on E-Bay in the last year. Parts 10 and 11 feature a sampling of rare and notable Jain tumblers and pitchers. This guide was made possible by the many E-Bayers who came together to contribute photographs to this project. Please leave feedback by clicking the button at the bottom of the page.
General Information on Indian Carnival Glass



A frosted marigold Jain Fish vase
According to carnival experts Glen & Stephen Thistlewood,
the Fish vase is "a weird and quite wonderful piece of glass".

photos by ponypainter
India's most prominent carnival glass manufacturer was the Jain Glass Works, which launched the production of the first iridized Indian glass in 1935. Jain was located in Firozabad, a city one hour from Agra in the northern Indian state of Uttar Pradesh. Founded by Shri Chadamilal Jain in 1928, Jain Glass Works continued in operation until 1986. According to Edwards & Carwile, authors of The Standard Encyclopedia of Carnival Glass, after World War II more than twenty glass works were in operation in India. At least nine of these competed with Jain in carnival glass production.
Like American carnival glass, Indian carnival glass is iridescent. Glen and Stephen Thistlewood, authors of A Century of Carnival Glass, have noted the following qualities of Indian carnival: (1) the glassware's iridescence varies widely, from poor to superb; (2) mold definition also varies greatly; (3) tops of pieces such as tumblers and vases tend to be ground; (4) bases are often iridized; and (5) typically the exteriors of Indian carnival pieces are decorated with designs that the Thistlewoods describe as featuring "symbolism and motifs that have meaning unfamiliar to Western culture" (170). For example, Jain's Fish vases, such as the one shown above, depict a legend involving the Hindu god Vishnu in which he reincarnates into the horned, golden fish Matsya, who saves mankind from destruction during a flood.
According to the Standard Companion of Non-American Carnival Glass, all of the Jain pieces featured in this guide were issued in the 1930's. India's carnival glass production consisted primarily of mold-blown glass vases, tumblers and pitchers. Tumblers tend to be made of thin, fragile glass with the beautiful water-like quality of early American blown-glass windows. Vases are sturdier; among these, the best known are Hand, Fish, Elephant and Serpent vases, which feature, respectively, a human hand, a fish, an elephant head and a snake, wrapped around a ruffled vase stem.
The Fish vase shown above is heavy and large; Fish vases typically run about 9 - 11" high. Glen and Stephen Thistlewood write in Carnival Glass: The Magic and the Mystery (1998), that the Fish vase is a "weird and quite wonderful piece of glass" (p. 209). The mold work on Fish vases is exceptional, showing finely wrought scales, a serpentine tail coiling clockwise (from bottom to top) around the vase, a ribbed terminal fin and an ornately decorated head with an open catfish-like mouth, protruding tongue and concentric circles around the eyes. A variant of this vase also exists, in which the fish wraps counterclockwise, rather than clockwise, around the vase body. Fish vases usually are found with one of two types of coloring: marigold, and -- as shown at the top of this section -- marigold with frosted glass.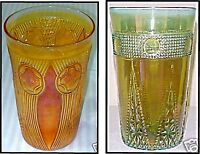 Jain Four Suits tumbler in marigold (left)
and Jain Beaded Spears Variant in "Jain blue" (right)

photos by junkinjak (left) and ponypainter

Typical Indian carnival colors are shown above -- marigold, and a subtle aqua known as "Jain blue". Marigold pieces run from a pale honey color to deep golden-orange. Quite rarely, Jain vases appear in amethyst and red; photographs of amethyst and red Hand vases may be viewed in Edwards & Carwile's Standard Companion to Non-American Carnival Glass (p. 159). A very unusual Fish Variant vase with frosting over amethyst glass is shown at the bottom of this guide. Frosted Indian carnival pieces often are decorated with etched designs.
Jain glass, when marked, usually bears etched or molded letters spelling "JAIN". Jain glass is also marked occasionally with a Jain swastika called the sasthya, or in Sanskrit, a svasti. This has no connection to the reverse swastika of the Third Reich -- the Jain symbol dates to the 2nd Century of the Indian subcontinent and means 'fortune' or 'happiness".

The Jain maker's mark
photo courtesy of tiffany_mom

As noted above, a number of Indian glassworks competed with Jain in the production of Indian carnival glass. All of these were located in Uttar Pradesh, in or near the city of Firozabad, which is known as the home of India's glassmaking industry, a place where "the people breathe not air, but glass". Jain competitors included Paliwal Glass Works, located in Shikohabad, whose pieces are sometimes imprinted with the letters "PGW"; Advance glass company, located in Firozabad; Om glass plant, located in Firozabad; Khandelwal glass company, located in Sasni; and the Agrawal Glass Works of Firozabad, whose pieces are sometimes marked "AGW". Indian carnival pieces also are found impressed with the imprints West, K.P., AMV and CB.






Paliwal's Circled Stars & Vines tumbler
photo courtesy of curculiosglass

A Circled Stars & Vines Tumbler made by the Paliwal Glass Works is shown above. The 4 3/4" tumbler's design is elegant and delicate, and suggests a fanciful combination of Eastern and Western motifs: near the tumbler's top, grapes dangle from a grapevine; the vine, however, does not grow like a typical temperate-zone grapevine -- instead it spreads from three thorny subtropical plants that thrust upward from the base. At the center of each plant's stem is a five-pointed star within a circle. The Paliwal imprint "PGW" appears molded on the tumbler's base.
Available documentation of carnival pieces made by Jain's Indian competitors is scarce and sometimes contradictory. Agrawal Glass Works is currently the largest tumbler-producing plant still in operation in Firozabad. The company's only documented older carnival piece is the Angori tumbler, shown on p. 24 of the SECG, 11th ed. The SECG has attributed the CB imprint to a Jain competitior called "CB Works"; the imprint is found on a vase known simply as "the CB vase," Elephant vases, and a marigold and frosted glass tumbler known as Flower & Spears Quartet. Some collectors, however, argue that "CB" is an alternate imprint of Jain. The AMV imprint appears on Serpent vases and on Hand vases similar to Jain's. Although various sources mention the existence of glass works called Advance, Khandelwal, Om, KP and West, none of these sources provides information on specific carnival pieces made by any of these companies. Paper labels bearing the words "Advance Firozabad" have appeared on pitchers (shown in Part 11) once attributed to Jain -- a fact suggesting either that Advance may have purchased Jain molds or acted as a distributor for Jain.
Notably, Indian carnival glass production followed a course quite different from that of Western carnival glass history. In his book, Carnival Glass (1983), British glass authority Raymond Notley writes that American carnival was manufactured for twenty years between 1908 and 1928, and that thereafter the demand for carnival in the United States inevitably dwindled as mechanization spread. After the late twenties, "glass was made by the continuous tank method and shaped by machine pressing, and so vast quantities of simple, cheap glass became available for everyday use" (p. 27). Indian carnival glass, however, did not follow the course of mechanized mass production that Depression glass did in the United States: instead, in the 1930's Jain and its competitors produced delicate pieces made from hand-blowing molten glass into molds. Indian carnival thus is characterized by immense variety and the uniqueness of individual pieces -- much like early American carnival glass.


Collecting and Evaluating
Indian Carnival Glass


Jain Grapevine & Spikes tumbler
photo courtesy of tiffany_mom


Indian carnival should be collected according to the same standards as American carnival -- not simply because a given pattern is rare or scarce, but also with with an eye to any piece's inherent beauty. Many Indian vases, pitchers and tumblers, regardless of scarcity, possess a delicate beauty that makes them prizeworthy.
The Jain Grapevine & Spikes tumbler featured above is not rare -- but its design is exquisite. Bill Edwards writes of the tumbler in the Standard Encyclopedia of Carnival Glass, 10th ed., p. 231, "Of all the Jain glass tumblers, this is my personal favorite. The grapes and the spiked ribs of the vase seem to be a perfect complement to each other." The Grapevine & Spikes pattern consists of a fragile grapevine encircling the cup just below the rim. From the vine hang four grape leaves and four grape clusters. Under these, parallel lines rise from the base in gradually escalating and diminishing heights like the pipes of pipe organs. Two narrow rings gird the tumbler above the vine. Also known by the name "Spiked Grape & Vine," the pattern appears in marigold in two sizes, a tall 5 1/2-inch "lemonade glass" and a shorter 4 3/4-inch tumbler. The piece featured above is rich orange-marigold with bright pink and aqua iridescence .
Little information is available on the manufacture dates of specific Jain pieces; for example, none of the authorities on Indian carnival listed at the bottom of this guide have pinpointed how long after 1935 Jain Glass Works continued to produce iridized glass. As noted, information on Jain's rival glass works is even scantier. One consequence of this lack of historical documentation is that many unique and rare Indian carnival tumblers, pitchers and vases are overlooked by buyers, who are reluctant to invest in pieces whose authenticity and age are so difficult to evaluate.
Carnival glass authority David Doty notes at his website ddoty.com that when Indian carnival pieces first hit the American market in the 1990's, Indian carnival generally was considered rare and exotic and fetched sky-high prices. Since then, samples of Indian carnival have entered the market in larger numbers, and prices have plummeted. Doty notes a 2005 sale of a Goddess vase at $250, but other vases have tended to sell recently for much less. (Doty's website provides price information on the following vases, under the subheading "Non-U.S. Vases" at ddoty.com/vases.html: CB, Diamond Heart, Elephant, Fish, Goddess, Hand, Panji Peacock, and Tribal vases).
We recommend that buyers interested in rare pieces check Internet sites such as Price Miner and E-Bay's completed sales listings, to obtain a sense of current buying and selling trends in Indian carnival glass. Keep in mind that sales prices for the same rare piece may diverge widely, in part because quality varies greatly among pieces, and in part because of buyer and seller uncertainty about how to evaluate pieces.
Good rules of thumb to follow when purchasing Indian carnival are: (1) judge a piece by its inherent appeal and beauty and thus its intrinsic worth; (2) look for pieces that have good depth of color and fine "mold strike" -- that is, in which the pattern detail is well-defined; (3) know which Indian carnival pieces and patterns are in fact scarce or rare.
Rare Patterns



A rare Jain Goddess vase
photos by curculiosglass and bug54

"Rare" might be one of the most overused words in E-Bay glass listings. From our observations, some of the Indian carnival pieces listed on E-Bay as "rare" are in fact rare -- but many aren't. There are more than 125 documented Indian carnival patterns. Four known patterns featured by the Thistlewoods in their 2001 work, A Century of Carnival Glass, have proven exceptionally hard-to-find, and a handful of others are designated "rare," "very scarce" or "scarce" by the Standard Encyclopedia of Carnival Glass, 11th ed. (2008). These are noted below -- manufacturers' names follow in parentheses:
SCARCE: The SECG characterizes two pieces as "very scarce": Australian Daisy tumbler (Jain) (shown in this guide's Part 11); and Songbird tumbler (Jain) (photo at tumblerworld.com/JainNew3.html). Serpent vases, which have been attributed to both AMV and Jain, have been deemed "scarce" by the SECG, 11th ed. (p. 379). Such vases crop up infrequently on E-Bay, often in Australian E-Bayer listings. Serpent vases closely resemble Jain's Fish vases, but on true Serpent vases, the creature coiling around the vase stem has one eye instead of two. Photographs of Serpent vases can be found in Part 3 of this guide.

RARE: The SECG deems the following 11 patterns "rare": Goddess vase (Jain) (shown above and in Part 5); Maharajah sand Maharanee shot glasses (Jain); Banded Grape & Leaf pitchers and tumblers (Jain); Beaded Spears pitchers and tumblers (Jain), Muscadine tumblers (Jain) and Vineyard Harvest tumblers (Jain) (all shown in Part 10); and the following four additional tumbler patterns: Banded Moon & Stars (Jain); Mirror & Crossbars (Jain); Mirrored Peacocks (Jain); and Swans and Flowers tumbler (Jain). Photographs of most of these patterns can be viewed at tumblerworld.com/JainNew1.html.

In A Century of Carnival Glass, p. 179, the Thistlewoods note that there are only two known examples of Jain Diamantes Leaves vases, both blue (this pattern appears in Part 4). Glen Thistlewood also featured three rarely encountered Indian carnival tumblers in his 2001 article on the "Top Ten Non-USA Tumblers": Brides Bouquet tumbler (aka "Rinroll") (Jain) (according to the Thistlewoods, only a few examples known); Indian Summer tumbler (Jain) (one known example); Olympic Tudor & Beads tumbler (Jain) (one known example in 2001; in July, 2009, a second tumbler, shown in this guide's Part 10, was discovered by E-Bayer junkinjak). With the exception of the Olympic Tudor & Beads tumbler noted, no new examples of these patterns have been documented in carnival glass literature. All three tumbler patterns can be viewed at the Thistlewoods' website (geocities.com/carni_glass_uk_2000/tumblers.html).


COLOR AND RARITY



Fish vase, with frosting over amethyst glass
photos by reclaimed-seattle

As noted above, most Indian carnival glass is found in marigold. Jain pieces made in the glassworks' iridescent aqua/blue shade are notably harder to find than marigold pieces. Accordingly, "Jain blue" carnival tends to be more highly valued. A blue Beaded Spears Variant tumbler is shown higher up on this page.
Indian carnival pieces made in iridescent amethyst and red are very seldom seen and fetch justifiably high prices. Edward's & Carwile's Standard Companion to Non-American Carnival Glass (2006, p. 159) features red and amethyst Jain Hand vases. The red is a bright pure red not unlike that found in American carnival glass, and the amethyst is a purple/mauve shade.
The very unusual amethyst Fish vase shown above appeared on E-Bay in 2008: the vase features frosting over clear and pinkish-purple amethyst glass. The vase measures 9 1/2" tall with a 3 1/2" base. An iridized marigold 10" Fish vase with a band of amethyst frosted glass around the top edge also appeared on E-Bay in 2008; the vase is shown in Part 3 of this guide.
Recommended Resources
on the Carnival Glass of India






A Century of Carnival Glass (2001), by Glen & Stephen Thistlewood This wonderful book contains information on carnival from over a dozen countries, and the Thistlewoods dedicate a full chapter to Jain carnival glass. The book features 30 Indian tumbler and pitcher patterns, as well as a variety of vases, all accompanied by detailed, high-quality photographs.
The Standard Encyclopedia of Carnival Glass, 10th ed. (2005), by Bill Edwards & Mike Carwile. This SECG is currently the most comprehensive resource featuring Indian carnival glass. Borrowing from the collections and expertise of international carnival glass authorities Vikram Bachhawat and Bob Smith, the book features photos of nearly 100 examples of Indian carnival glass. Bachhawat and Smith are largely responsible for making Indian carnival glass known to present-day collectors. (The 11th edition of the SEOG, issued in 2008, includes photos of several Jain pieces not shown in the 10th edition; pictures in the 10th, however, are larger, and more useful for identifying pieces.)
Tumblerworld.com. This is an excellent Internet source on international carnival glass generally, and is especially helpful in the case of Indian carnival, whose output was predominantly in the form of tumblers. The site provides information on the Jain glass works, and photographs of more than 72 Jain tumblers. Notably, the site features 21 Jain tumblers not included in the SECG, 10th ed.
Vikram Bachhawat's website. Vikram Bachhawat's website at Konark Collectibles features a gallery of carnival glass from India. The gallery includes 4 previously undocumented Indian carnival glass pieces (geocities.com/bachhawat2us/).
Carnival Glass Collectors Association of Australia website. During the 1930's and after, itinerant salesmen sold Indian carnival glass in rural Australia. Accordingly, a wealth of Indian carnival glass remains there. A number of Indian carnival glass pieces can be viewed at the website of the Carnival Glass Collectors Association of Australia (carnivalglass.org.au/Gallery 6.htm).
* * *
To continue to another part of this guide, click one of the links below:
Many thanks to E-Bayers bug54, junkinjak, ponypainter, reclaimed-seattle, tiffany_mom
and *treasurehunter* for generously contributing photographs to this guide. Rights to all photos belong to the photographers, and pictures should not be used without their permission. Text and drawings are (c) 2008, 2009 curculiosglass, all rights reserved. To locate any E-Bayer whose name is mentioned here, click "SITE MAP" on the bottom of your screen, and then click "Feedback Forum" on the screen that next appears. Type or copy the E-Bayer's name into the search blank.