If you are an E-Bayer who has an undocumented Indian carnival glass piece,
and would like to display it in this guide, please feel free to contact us.
The Carnival Glass of India, Part 9
Newly Documented Jain Tumblers
with Stacked-Ring Bases or Plain Shapes

by curculiosglass

Peacock Tail tumbler
photo by ponypainter

This is Part 9 of a twelve-part guide on carnival glass from India. This section of our guide is an expanding photographic gallery of new and remarkable Jain pieces that have appeared on E-Bay in the last year. To see other parts of our guide that provide general facts on Indian carnival glass and vase identification information, click on the links in the guide Table of Contents (at the bottom of the page). This guide was made possible by the many E-Bayers who came together to contribute photographs to this project. Please leave feedback by clicking the button at the bottom of the page.
Introduction
As noted in Parts 7 and 8 of our guide, despite the relatively scarcity of frosted-marigold Indian carnival, a number of previously undocumented frosted-marigold Indian carnival tumblers appeared on E-Bay in 2007-2008. Part 7 of our guide shows several frosted-marigold Indian carnival pitchers that appeared on E-Bay during this period. Part 8 focuses on 4 1/4" tumblers decorated with spearhead designs. This section, Part 9, features two other tumbler varieties: 4 1/2" tumblers with stacked-ring bases; and small 3 3/4" tumblers with plain shapes.
As noted in section 7, Jain's etched frosted tumblers appear to have been made by a process something like the following: the surface of a finished mold-blown glass vase was treated with an acid-resistant resin, wax or oil. Quite possibly this was done by transferring a design stenciled onto paper using acid-resistant ink. Acid was then applied the glass, giving it a rough and semi-transparent or "frosted" look, but leaving the areas applied with an acid-resistant coating clear. These areas were then iridized through treatment with a hot metal oxide solution.
Buyers should note that the etched marigold tumblers such as those shown here vary greatly in quality. On some, the iridized marigold patterns are distinct and the iridescence richly colored. On others, the patterns are blurred and the iridescence thin. Thus, before investing in such tumblers, buyers should inquire about the quality of the workmanship of individual pieces.
Tumblers with Stacked-Ring Bases




Sunset & Lake tumbler
photo by bottleman
Four notable frosted marigold tumblers surfaced on E-Bay in 2007-2008: all have bodies perched on bases made of stacked rings evocative of the threads of a light bulb's base. Such tumblers are remarkably similar in design to two documented Indian carnival tumbler patterns called Bombay Bouquet and Pillars & Rings, which both have the same unusual base, and which can ve viewed at the website Tumbler World ( umblerworld.com/JainNew2.html). A similar design can be found on Indian carnival pitchers shown in Part 7 of this guide. The five tumblers featured here were found in or near Firozabad, India's most prominent glass-producing city, located in Uttar Pradesh.
Sunrise & Lake. The tumbler shown directly above, which we tentatively have named "Sunrise and Lake," surfaced on E-Bay in September, 2008; this tumbler was previously undocumented in any currently available publication. The 4 1/8" tumbler was found and sold by E-Bayer bottleman. The tumbler features an iridescent marigold sun rising over waves; the picture is framed inside an iridescent marigold oval. The sunrise design is repeated on the tumbler's back; on each of the tumbler's two sides is a picture in iridized marigold of a lotus-like lake flower rising from a lake and set within a scalloped oval frame. Near the top, the tumbler indents slightly and is encircled by two slender gold lines. The tumbler body rests on stacked iridized marigold rings, and the underside of the tumbler's base is iridized marigold.




Golden Swan tumbler
photos courtesy of
Leslie's Carnival and Curiosities at rubylane.com

Golden Swan tumbler. The photographs of this previously undocumented Indian carnival pattern kindly were donated to this E-Bay guide in early 2008 by Leslie's Carnival and Curiosities at Rubylane.com (www.rubylane.com/shops/lesliedaryl). Leslie's Carnival and Curiosities has named the pattern Golden Swan. The tumbler is 4 1/2 " high. The pattern features four wavering lines at the bottom that form a design resembling the ripples on a pond. Resting on the water are swans with gracefully curved necks, amid aquatic plants. Like the tumbler shown above, this tumbler indents slightly near the top and is encircled by two slender gold lines; the tumbler also rests on a base of stacked rings resembling a light bulb's threaded base. The bottom of the base is iridized marigold. An identical tumbler surfaced on E-Bay in September, 2008.
Peacock Tail. Shown at the top of this guide page, this previously undocumented tumbler, tentatively named Peacock Tail, was found by E-Bayer ponypainter and appeared on E-Bay in June, 2008. The 4 1/2" tumbler bears a thrice-repeated iridescent marigold design resembling a spread Peacock tail (or, possibly, a flaming sun). Between the Peacock tails is a repeated picture of a sword-shaped feather or blade of grass. The tumbler is otherwise identical in design to the two tumblers shown above: two gold lines encircle the vase where it indents lightly near the top; the body rests on a base of stacked rings; the tumbler's body is frosted; and the bottom of the base is iridized marigold.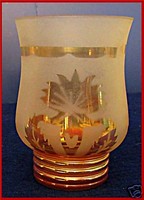 A previously undocumented Peacock Tail Eye
Jain carnival glass tumbler

photo by oxbeetle

Peacock Tail Eye. This tumbler features another stylized peacock tail design. The pattern depicts the eye of a peacock feather flanked by two plumes and topped by a shape resembling the spread tail of a peacock. The pattern repeated three times and topped by a single marigold ring encircling the vase. This tumbler is slightly smaller than the Peacock Tail tumbler shown above, measuring 4 1/16". The tumbler shares the other's general design: the body rests on a base of stacked rings, the base is iridized marigold and the body frosted. According to the tumbler's owner, the design is indistinct, almost as if the paper used to transfer the etch-resistant pattern had slipped in the manufacture process. The owner counsels that such tumblers vary greatly in quality and, as noted above, that buyers should search for pieces with well-defined and richly colored patterns.
Small Tumblers with Plain Shapes



3 3/4" Four Blossoms Tumbler
photo by oxbeetle

Four Blossoms. This small tumbler appeared on E-Bay in 2008. At 3 3/4" tall, the tumbler resembles a shot glass. Nevertheless, it is notable that two previously documented Indian carnival shot glasses, known by the names Maharajah and Maharanee, are considerably smaller, at 2 3/4" each (see tumblerworld.com/JainNew2.html). The tumbler above features four budding flowers with inward-curling petals. The tumbler is slightly indented at the neck, which is encircled by two iridescent marigold rings. The base of the tumbler shown here is not iridized, and the top is ground. This tumbler was found by E-Bayer bottleman in the Firozabad area.



3 3/4" Golden Hare tumbler (left), with matching pitcher (right and center)
photos by bottleman
Golden Hare. The 3 3/4" Golden Hare tumbler shown above left appeared on E-Bay in September, 2008. A Golden Hare 7 1/4" pitcher is shown in the Standard Encyclopedia of Carnival Glass, 11th ed., p. 125, but a tumbler in this pattern had not been documented previously. Both the tumbler and pitcher are identically and elegantly decorated: both feature two panels depicting the marigold silhouette of a sitting hare. The two alternate panels on each piece feature a grassy plant. The tumbler's neck is slightly indented, and, like the pitcher's neck, is circled by two golden rings. The bases of both the tumbler and pitcher are iridized marigold. Both tumbler and pitcher were found in the vicinity of Firozabad.


Click here to continue on to Part 10 of this guide, which features rare and notable Jain tumbler patterns.
* * *
To continue to another part of this guide, click one of the links below:


--- 0 ---
Many thanks to E-Bayers bottleman, oxbeetle and ponypainter, for generously contributing photographs to this guide. And special thanks to Leslie's Carnival and Curiosities at rubylane.com for allowing us to use their photographs of the Golden Swan tumbler. Rights to all photos belong to the photographers, and pictures should not be used without their permission. Text is (c) 2008 curculiosglass, all rights reserved. To locate any E-Bayer whose name is mentioned here, or to visit his or her store, simply click on "SITE MAP" on the bottom of your screen, and then click on "Feedback Forum" on the right top corner of the screen that next appears. Type or copy the E-Bayer's name into the search blank. To see our other guides on glass, click on GUIDE INDEX. If you found this guide helpful, please leave feedback by clicking the button below.