Power Inverters
This guide discusses some of the stuff one should consider about power inverters designed to convert DC (direct current) from batteries into AC (alternating current) for running normal appliances. Most common these days are inverters which convert 12 Volts DC into 120VAC, they are widely available for off grid cabins, RV's, trucks etc. Nicer, more expensive units are usually required for off grid homes. Some of these inverters can actually be 'grid tied' to allow for selling extra power back to the power grid.

Most important considerations
Rated output and surge capacity

Inverters are available from about 50 Watts up. If your only goal is to charge your laptop off your car battery then a very small/inexpensive inverter would probably do the job. If you expect to run skill saws and other power tools then you might need something a bit larger. As you would expect, the larger the rated output the higher the cost. Most inverters have a rated output (an amount of power they can convert constantly) and a surge capacity (a higher amount of power they can produce for a limited amount of time). Most inexpensive inverters are light weight and they have small transformers which heat up quickly if over loaded - these will have less surge capacity (they may have more trouble starting large electric motors and such). More expensive inverters often have large transformers and they do much better at handling very large loads for small bits of time. These units can also use their large transformers backwards as battery chargers which is a nice feature, I'll discuss that more later.
Wave Form

This is an important one! Power from the grid, or a generator comes in the form of a sine wave and this is what almost all appliances are designed for. An alternator creates a sine wave easily - it's more complex for an inverter though. The closer they get to a real sine wave the more complex and expensive they become. Inverters are designed with the compromise between cost - and quality (as is everything I suppose) in mind - the better the wave form the higher the cost.
square wave


Pictured above is a 'square wave'. Square wave inverters were made for years - untill perhaps 25 years ago they were the norm. Many normal appliances would work OK off them - although some motors were not very efficient - audio equipment would hum badly, televisions would sometimes have interferance on the screen etc. I don't believe anyone makes these anymore - they are obsolete for all practical purposes.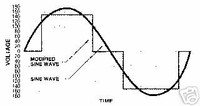 modified sine wave
Even though they call it a 'modified' sine wave' (I think it's about marketing) - it's really more of a modified square wave. In the picture above you can see the 'modified sine wave' imposed over a real sine wave. In the eyes of most appliances it looks a lot more like a sine wave than a square wave anyhow! Most stuff runs just fine off a modified sine wave inverter. The exceptions are... some microwave ovens, some small battery chargers (like cordless drill chargers and such) - and AM radio will probably not work. I have seen a few cordless drill chargers destroyed by modified sine wave output so it's something to keep in mind. Modified sine wave inverters are most commons and can be had at very low cost these days. They're great for most RV's, truckers - weekend cabins etc. If you're living every day with your inverter though you might want to get a true sine wave inverter.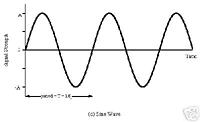 True sine wave


No inverter can make a perfect sine wave, but with lots and lots of little steps they can produce something that is for all practical purposes the same - and in the eyes of your appliances their output is every bit as good, or better than grid power or power from a generator. True sine wave inverters tend to cost more, and they tend to draw more current when idling. This is often made up for by the fact that some loads will run more efficiently off them.

Grid tie?


I don't have personal experience with grid tie inverters (although I have one - I don't use that feature). But all grid tie inverters are true sine wave units. If you have grid power *and* a renewable energy system you'll probably want to spend the extra to get a grid tie unit so that you can send extra power back to the grid (slowing down or reversing your utility meter so - to - speak) and - you'd be able to use grid power to charge your batteries when needed. Almost all grid tie inverters also have battery chargers built in. There are 'batteryless' grid tie inverters which would hook directly to a wind turbine, or solar panels to feed all that power back to the grid and for some folks this may be the best option. The drawback of that is.. no backup power if the grid goes down. I have no experience with those but I believe the most popular (maybe the only) units out there are manufactured by SMA, they're named the 'sunnyboy' (for PV solar systems) and the 'windyboy' (for direct grid tie from wind turbines).

Bells and whistles


This can actually be a big deal if you live off the power from your inverter daily. Trace, Outback and others make very nice inverters that do a good bit more than just convert the output from your batteries into useful AC power. In an off grid situation a battery charger is almost required. Most of these nice inverters will have powerful battery chargers built in and in my opinion it's worth a few hundred dollars extra to have this feature. These inverters also often have built in computers with controllable relays that you can program to do a variety of tasks (dump power - start your generator etc...). Look at more than just the price and the power rating when you buy an inverter - there may be other features you need!
Examples


Below are a few examples of inverters to give an idea what to look for.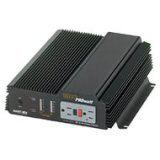 Pictured above is a modified sine wave inverter made by Statpower. These do not have built in chargers or any additional features but they do a good job of the basics. These are light weight - they do not have large transformers in them. A very powerful inverter like this may only weigh 10 - 15 pounds. To my knowledge Statpower makes some of highest quality small inverters like this -although there are many many brands and they are all similar and most work fine. These are great for weekend cabins - RV's etc.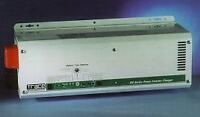 The Trace/Xantrex 'DR' series has been around for years. They are available in 1500 - 2500 watt outputs I believe. They are probably the upper end of 'modified sine wave' units. They weigh a ton, they have built in chargers and do a nice job of managing your batteries. We have a couple neighbors up here that have lived off these with very good results. They are not terribly powerful - enough to run most loads but not enough to run 2 big loads at the same time. Very nice for a weekend cabin -but for a home I would choose a real sine wave inverter with higher rated output.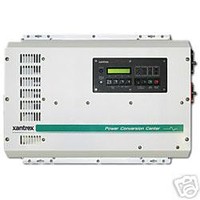 The Trace/Xantrex SW series has also been around for a while. These used to be available for 12V systems but I believe they no longer manufacture that size. (they do have similar 12V units but the model is slightly different) In 24 or 48 volts these are rated for between 4000 -5500 Watts output, enough to run a home. They can also be tied together to produce 240VAC like you would have in a normal household. They have powerful battery chargers, the ability to grid tie, the ability to start your generator and who knows what else they can do! (they are very clever!) I use one of these at our home and I love it.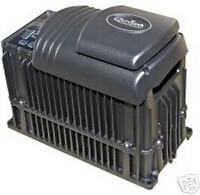 Outback inverters are becoming very popular these days. They are well priced, true sine wave units designed and built by the same folks who designed the TRACE SW series. They are able to be wired in series or parallel to give pretty much whatever sort of power you require. They have all the features of the TRACE SW series and more. In my experience their customer service is second to none.
There are a few other manufacturers out there. Good inverters are expensive so do your research! I'm no expert but I've lived off grid for a few years and seen how things have improved and watched several neighbors live with various systems. For more information about renewable energy I would suggest the following reading: Homepower magazine, Living with Nature (by Rex and Lavonne Ewing), and checkout our website at otherpower.com!