Gorgeous HP Roses Instantly!
If you admire the HP Roses items on eBay but, like me, your budget is limited, this HP Roses guide is for you! Decals reproduced from 100 year old handpainted china give a gorgeous antique handpainted look to whatever you apply them to.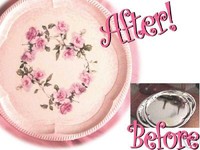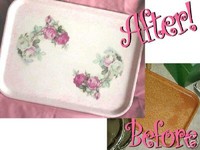 Sadly, china painting is a difficult and disappearing art. Antiques handpainted with lovely roses are wildly popular, but are getting scarcer and more expensive. These decals are a wonderful way to keep this beautiful heirloom artwork alive.
Plus antique rose decals are an easy, inexpensive way to add that Shabby HP Roses look we all love.
After browsing through my latest "Romantic Homes" magazine, I wanted to expand my collection of rose covered antiques, but antique handpainted plates & trays are very pricey.
So I went to my local goodwill & picked up some old trays, baking tins & a shabby dented bucket.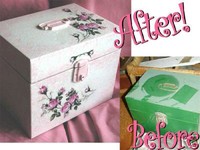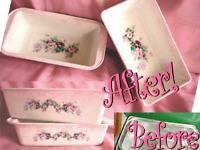 Preparing Your Item for HP Roses Decals
First I painted the items white (see my other guides for detailed instructions)
Trash to Treasure with Decals: Shabby Chic Home Decor
Easy Cheap Crackle Finishes: Shabby Chic Furniture
Confessions of a Lazy Painter: How To Paint Stuff QUICK
Top 10 Furniture Painting Shortcuts & Tips
Shabby Chic: How to Distress Painted Furniture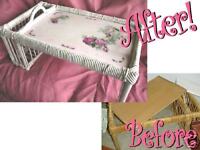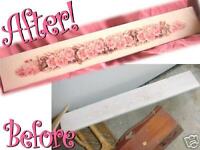 After painting them with a good primer and a white base coat, added some soft pink around the edges with a sea sponge, and then applied the decals.
Tips for Applying HP Roses Decals
Here are some tricks for applying water-slide decals like a pro:
--> Prepare the surface you're applying them to with a glossy clear coat (like Delta Ceramcoat - you can get this at Michael's) This will allow you to slide the decals around until you get them just where you want them.
--> Use warm water to soak the decal (I just figured this out - have been using decals for 4 years now - duh) And give it plenty of time to soak - this will make it slide off the decal's paper backing more smoothly onto your item
--> Put a couple of drops of water on the item's surface before you slide the decals on, this will help them slide around better and will make it easier for you to get any air bubbles out.
--> After you put the decal in place, use a wet tissue or napkin to press out any bubbles or creases.
--> After the decal is dry, topcoat it with Delta Ceramcoat - use matte if the rest of your painted item has a matte finish, or glossy if your item is glossy. Then your decal will look hand painted, rather than having a finish that doesn't match.
More Ideas for HP Roses Decals
Over 100 decal designs reproduced from antique china can be found in my eBay store:
Also you can find detailed tips for applying decals like a pro, and lots more inspiring, creative ideas!
View more Guides by cosycottage here!
If you found this guide helpful, PLEASE VOTE BELOW!