Inexpensive Floral and Greenery Arrangements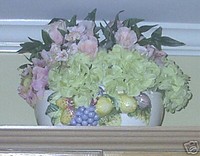 Floral and greenery arrangements add so much color and life to the home and perk up any room of the house. However, they can be extremely expensive. In many shops, they run into the hundreds of dollars. I inquired at one store about the advertised consultant special, and discovered that for "only" 500. the designer would come to your home to help you choose colors and make 2 medium size arrangements plus 2 small ivy arrangements! Gorgeous work, but expensive!

So . . . what to do when you want to enhance your living space, or spruce up quickly when company is coming? Here are some tips that I have found work well, and very inexpensively.
Use what you have for a container. Straw baskets, an unused picnic basket, any vase, pitcher, creamer, bowl, or pot is great. Check yard sales for old arrangements that have plenty of greenery that you can use. Look for boxes of greenery. I purchased a huge cardboard box of English ivy for 1. Watch for sales! I bought a rope of roses and baby's breath for 2.99 and it is the focus of an arrangement that is similar to one my daughter bought for many times that amount at an auction!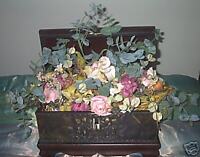 If you are in a hurry, you don't have to use floral foam and carefully place each stem. With the above rope, I simply bunched it into the box. It has received many compliments.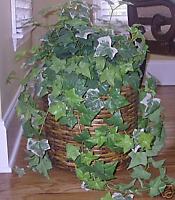 With this basket of ivy, I crumpled newspaper for bottom and middle fill, laid in a circle of foam, and then used lengths of ivy that I inserted in the foam. The basket was a neighbor's gift, left over from her yard sale where it didn't bring the requested 1 dollar!
Occasionally you will see vases or containers that are nice for the price. These were 5. each on clearance. I laid some ivy in and across them. It was a very quick fix!
The tops of cabinets can be accessorized easily with ivy in straw baskets. It is again quite easy to just lay the ivy in and over the baskets. After all, no one is going to go get your ladder and go up to inspect the details!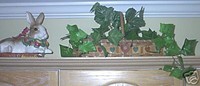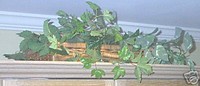 The possibilities are limited only by your imagination! Have fun and do it the simple way!