WELCOME TO THE MAKE - BELIEVE WORLD OF TINY THUMBELINA!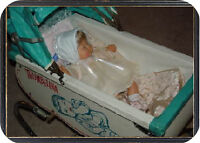 ~*~ TINY THUMBELINA WITH HER ORIGINAL & RARE SWINGING CRADLE & CARRIAGE~*~
Thumbelina was first produced in 1961 by the Ideal Doll Corporation,
and came in 3 sizes, OTT-14 (TINY THUMBELINA), OTT-16 and
OTT-19. Tiny Thumbelina was first produced with a Swiss Movement key (later changed to a plastic knob with the Ideal patent inscription), while the 16 and 19 inch were first designed with a wooden knob, later changed to plastic.
I have never found any verified documentation that Thumbelina dolls were ever manufactured or produced as 1st or 2nd issues.
What can be verified is the age of the vinyl. Especially with the OTT-19 dolls. Production, in the beginning, the Ideal Doll Corp. used a firmer vinyl and later switched to a softer vinyl.
The numbers represent the length of the doll.
This innovative doll moved her head when activated by turning the knob on its back.
Tiny Thumbelina was first designed and developed from a music box which was later changed to the gear ratio and spring action that we see today, to make the doll's head move. It also allowed it to move longer.
Thumbelina was Ideal's most popular selling baby doll of the 1960's.
Thumbelina also had extra outfits and accessories as well.
Thumbelina was reissued in the 1980's, but didn't have the wind-up wiggly movement.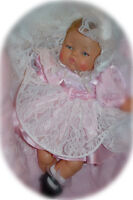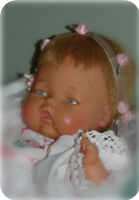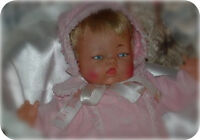 When wound, Thumbelina moves her head. When you lay her down she squirms & wiggles like a real baby. She's soft and cuddly, with a cloth body, vinyl arms and legs. Thumbelina has saran rooted hair, styled into a wispy Pixie-Bob that frames her pretty painted facial features.
In researching the Thumbelina dolls, I have found that there were several other variations that were produced by Ideal. The most popular, designed in the early 1960's, and still is today, is the 14" Tiny Thumbelina Doll. This doll is nostalgic and highly collectible among collectors and first time buyers. It was the very first doll that made life-like movements and moved as a newborn baby. Some of the larger versions had holes in the ears that allowed for a crier. The crier is located in the head, thus the holes so the sound may be heard. Today, they are very rare and hard to find in original working condition. Their cloth bodies contained pieces of rigid foam scraps (no fiberfill back then).
The accessories that were available for Tiny Thumbelina included a rocking crib, swing/carry-all, buggy/carriage, playpen, blankets, pillows, bath and travel sets, plates and feeding sets as well as a vast wardrobe. Some of her clothing was tagged, and some were not. The original carrying case for Thumbelina tied the doll in, as opposed to the snap strap that we see today. Somewhere along the way, Ideal modified these items. The original case that was first produced only had one accessory drawer, not two and opened from top to bottom, not side to side. The cases came in 3 colors: Pink, Blue and Yellow.
In 1966 another very popular moving doll was introduced and produced by Ideal called Tabitha/Tabatha from the Bewitched TV series. Trademarked 1965 Screen Gems, Inc./Ideal Toy Corp./T.A.18-6/H-25 on the head, and was only available one year. I believe this doll is making a fast comeback and is quickly becoming highly collectible and sought after among collectors. Tabitha had her own trademarked carrying case.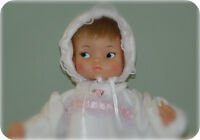 Ideal also produced and manufactured the Snoozie and Tearful Tiny Thumbelina dolls. The Snoozie doll has open and closed sleep eyes, which do open and close when the doll is wound by the knob on her back. The Tearful Thumbelina doll is different from the rest, as it has a vinyl/oil cloth body, and also because this doll cries tears. It was sold with a bottle/or "bulb" that you fill with water. When her stomach is pressed, her eyes fill up with tears. Wind her up, rock her in your arms and watch as her eyes open and close as she moves like a real baby.
In 1967, the smaller (9-10") pull string versions were first introduced and produced. These would be Toddler, Sister, Car, Bye-Bye, Kissin, In a Minute, and the ever popular and sought after Newborn Thumbelina's. All of these dolls were available with wardrobes & accessories. Pictured above is a rare Newborn Thumbelina doll crib, with an even rarer Newborn Thumbelina . Often seen as a "boy" Thumbelina, it's actually in the Newborn catagory. Nowhere has Ideal referenced this doll as a boy. Next are the most popular and sold out versions of the reproductions by the Ashton Drake Gallery.
The little 9-10" dolls were designed with pull strings, as opposed to the wind up knobs. When the string is pulled out from the doll, the head rotates and the legs kick. The Kissin' Thumbelina throws "kisses". When you put her hand to her mouth, and pull the string, she throws you a kiss. She was available with open/close sleep eyes or painted eyes.
The Car Thumbelina was available with a little car. When Thumbelina was placed in the car and you pulled the string, the car would move forward.
The most adorable of all is the In a Minute Thumbelina. She has her own highchair and when the string is pulled, she bangs her hands/arms on the tray.
In the early 70's through the mid 80's Thumbelina's were still being produced using the original molds-re:Baby Coo and the Porcelain/Vinyl Collectible Editions which were limited editions.
Finding any Thumbelina in her original box and/or outfit is rare. You may even come across a very unique and rare Tiny Thumbelina that plays music with a Swiss tone winder. The musicals were the first issues that I repair and reproduce.
The Ideal Toy Corp. and Trademarks were sold to CBS Toys and later on to Mattel who produced the reproduction Thumbelina's, which were sold through Ashton Drake, Collectible Concepts and Danbury Mint. CBS (re)produced several vinyl dolls in the early 80's (1985).
Identifications may include Ideal's trademark, produced by CBS, using the original Ideal mold. Baby Coo and the Collector Edition Thumbelina's are one such example.
From the 60's and on through the 80's and into 2000, Thumbelina still remains highly collectible and sought after for her uniqueness and the childhood memories she created as the doll who moved when wound.
Many doll manufacturers tried to duplicate Thumbelina, such as Horsman, Madame Alexander, Vogue, Plated Mould and other small doll companies. Ideal also manufactured Canadian Thumbelina's, which were sold only in Canada. You may be fortunate enough to find one on eBay at a higher value identified with Reliable trademarks.
While considering your purchase it's important to find out as much as possible through the auction description. The original Ideal Tiny Thumbelina was and is clearly marked OTT followed by a number that reflects the dolls length, by Ideal Doll Corp. on the back of the neck. Tiny Thumbelina was never produced or sold with a wooden knob. They were and are plastic with Ideal's trademark. Too often these days, sellers are listing Thumbelina dolls with replaced winders and not disclosing it. The larger dolls had both. Don't be fooled by knock-offs in auction descriptions described as THUMBELINA-LOOK-ALIKES. Too often I see auctions listing a doll as an original Thumbelina when it's not. If you receive a doll that was listed and offered as a Thumbelina and is not marked as such then you were sold an imposter. It's very important to look for auction descriptions that include the Ideal identification markings, the condition of the vinyl and cloth body, and more importantly if the doll works. Are there are any color rubs, chewed fingers, toes or hair plugs missing. These issues are crucial to any serious buyer or doll collector. Although there are cute wind up dolls that are probably just as collectible, only Ideal produced the infamous Tiny Thumbelina. Just because a doll winds up and moves, it doesn't make it an original Tiny Thumbelina. If you aren't sure, email your seller who would be more than willing to answer your questions or concerns.
I have found that asking questions about a doll really does help both the seller and buyer. Many sellers don't really know about a doll they are selling because it's not their specialty or they have failed to do any research. I have come across sellers, selling for friends and/or relatives, claiming that a doll is an original because someone told them so. For those of you new to buying (or selling) on Ebay I highly encourage you to ask specific questions to sellers and if you don't get the answer you want & need, don't buy, unless you are willing to accept the consequences.
Doll restoration is becoming very popular in huge epidemics. Any changes or alterations to a vintage or antique doll will drastically effect the value and must be included in the auction description. This would include: any painting or touch ups (lips, eyes or cheeks), repairs (replaced mechanisms, knobs or cloth body), added materials (fiberfil or foam stuffing), hair re-rooting, wigs or trimming. Pertaining to Tiny Thumbelina, even restyling the hair may cause a huge decrease in value. This all falls on the seller to be accurate and ethical in their selling policy. Many may find this information insignificant when buying a doll, but when the time comes to sell, trade or replace your collectible, you may find that the value of your doll has been reduced due to the changes that were made unknown to you, the buyer, by the seller.
I have especially seen (Tiny) Thumbelina's being sold with hair that is not original to her. Thumbelina's hair should be wispy. Not perfectly straight bangs as a result of cutting, trimming or re-rooting, but more of a pixie cut with a bit of uneven strands. If you are serious about owning a unique, original Thumbelina, please ask the seller if there has been ANY alterations made to the doll. You will never be disappointed in your purchase(s). There's nothing more heart-breaking to someone who truly wants a Tiny Thumbelina Doll, only to find out it's not an original.
Over the last 11 years, I have been privileged to be personally contacted by over 50+ Thumbelina owners, wanting to have their childhood doll restored. Through this process I have accomplished the difficult task of repairing the original mechanisms that allowed their non-working doll to move again. Contact me via eBay if you would like your Thumbelina repaired or restored to her original state according to your specifications. I am more than happy to do special/custom orders, with a listing just for you. Mother's Day, Christmas and Birthdays are perfect occasions to rescue your Mom's Thumbelina for a total makeover. I always have a variety of Thumbelina dolls and her original hard to find clothing and accessories on hand.
I have made my share of mistakes, and have learned the hard way pertaining to buying, selling and collecting. Emailing a seller is essential to avoiding any disappointments later. My committment to selling dolls is that none of my dolls leave my possession without first being cleaned, in working order, dressed and packaged appropriately for shipping. I strive to give as much detail as possible about my dolls. But sometimes I may miss something that is important to someone else. Instead of a lengthy "personal" description of the doll, I try to limit my auctions with just facts and plenty of pictures for the buyer to decide.
And lastly...I have dedicated myself to knowing what I am buying or selling, and educating myself through research. I take selling on eBay seriously, and have the utmost respect and gratitude for each and every person who buys one of my dolls. Additionally, once you have your doll, it's crucial to take care of it properly. You can enjoy your doll for many years by keeping it away from direct sunlight, excessive heat, dirt and dust. Should you decide to keep it safely packed away, wrap the doll in acid-free tissue paper. If you are storing it in its original box, don't allow the doll to touch the cardboard. Wrap it first in the tissue, then place her in her appropriate box or case.