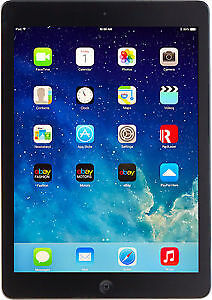 The annual
Apple
reveal in San Francisco, California is an event that is highly anticipated each year by not only tech journalists, but by the consumer public as well. Apple has built a household brand name over the past decade and many Apple junkies still eagerly await the next Apple innovation. The
iPad
Air is a thinner, lighter, and stronger version of the tablet. In addition to unveiling a new and exciting iPad, Apple has answered the consumer's call and developed a tablet that best fit the needs of the everyday user.

What's New
First and foremost, the consumer has asked for it and Apple has delivered a lighter, less chunky iPad. In addition to a 9.7 inch (diagonal) LED backlit multi-touch display with IPS technology, with 2048x1536 at 264 pixels per inch retina display, Apple has improved the chip to the A7 with 64-bit architecture and M7 motion coprocessor.
While the iPad is smaller, Apple's addition of the A7 chip has allowed engineers to build a faster more powerful tablet without sacrificing battery life. As consumers are used to, the new iPad air battery will match the performance of past tablets, with 10-hours of web-surfing battery life. The Air also introduces a dual antenna design that will speed the performance of the tablets Wi-Fi capabilities.
The lightning adapter, which made its debut along with the iPhone 5, is now a standard on new Apple devices. These 8 pin plugs have replaced the older 30 pin plugs and are 80 percent smaller and are sturdier than their predecessor. It should be noted that the use of any docking stations from previous generations would be impossible without an adapter.
The iPad Air will come in both space gray and silver. The consumer can pick his or her storage capacity at the point of purchase, choosing from, 16BG, 32GB, 64GB, and 128GB. Additionally Wi-Fi versus Wi-Fi + cellular makes a difference in price as well. Mobile carriers include, AT&T, Sprint, T-Mobile, and Verizon.

Should I Upgrade?
If you are the owner of one of the previous versions of Apple's iPad, you may be considering an upgrade. Before upgrading to the new iPad Air, you may be asking what you'll get for your money. Simply put, if you own a third generation or earlier iPad, and you're looking to upgrade to a newer model, do it. Retina display alone will make your purchase well worth the hard earned money you'll spend. If, on the other hand, you are the owner of an iPad 4, you may want to wait a generation or two and let evolution take its course. The iPad 4 and the iPad Air are very similar to one another, and while the iPad Air is ultimately the superior model, the average user may never notice the difference.

Accessories
As is typical with all Apple products, you will find a slew of fashionable
accessories
for purchase on eBay. The first thing you will want to consider is protecting your investment. You will find snap on
cases
to protect your tablet, in addition to screen protectors, travel cases,
attachable keyboards
,
wipes and sprays
to keep your tablet clean and dust free, as well a replacement headphones,
stylus
pens, and much more.

Specifications
The following is a specifications table for the Apple iPad Air:
iPad Air

Specifications

Models
Wi-Fi and Wi-Fi + Cellular
Storage Capacity
16GB, 32GB, 64GB, 128GB
Size & Weight
Height 9.4 inches
Width: 6.6 inches
Depth: 0.29 inch
Weight: 1 lb
Display
Retina Display
Chip
A7 chip with 64-bit and M7 motion coprocessor
Carriers
AT&T, Sprint, T-Mobile, and Verizon
Wi-Fi
Wi-Fi (802.11a/a/b/g/n); dual channel
Bluetooth 4.0 technology
Power & Battery
10-Hour Battery Life
Operating System
iOS 7
Connecter
Lightning
Conclusion
A hardware upgrade is not only a standard in tech consumerism, but often times it can be just as exciting as purchasing the product for the first time. Apple makes the new purchase experience truly enjoyable. It may go without saying that new is usually better, but there are some cases including those mentioned above where waiting another generation is perfectly acceptable. If, however, you are ready to purchase the iPad Air for yourself or for a friend or loved one, now is the time to buy. Apple, as has become standard in years past, has introduced the tablet at a reasonable price point, and has worked to introduce an iPad that answers consumer needs. Apple directly addressed the weight and thickness issue of the iPad without sacrificing quality or function. In fact, in many cases, Apple only improved upon the iPads size and performance.