I Bought A Fake Andy Warhol Print on eBay; Now What Do I Do?
By Joseph K. Levene, Principal, Joseph K. Levene Fine Art, Ltd




Will I get a refund for the Pablo Picasso Print that was published by the Louvre Museum and I bought on eBay?

I just realized the purported Picasso Print actually should have been described as "After Picasso", since it was actually published by the Louvre Museum and created long "After" a Pablo Picasso Painting. Accordingly, I was misled by an eBay Seller who also assured me that I had nothing to worry about and there is NOTHING original about it. Now what should I do?





Will the eBay Seller who sold me the purported Roy Lichtenstein Shipboard Girl return my payment now that I have found out it is Counterfeit?

It took me a while, to find out, but now I realize the purported Roy Lichtenstein is really a reproduction of Shipboard Girl and the plate size is much smaller than the documentation in the Artist's Catalogue Raisonne. In addition, I was just told that this purported Lichtenstein also has forged Signature, even though the Seller assured me three times it was authentic.





Can I get a refund from an eBay Seller of Art now that I found out I actually purchased a Counterfeit described as an Andy Warhol.

I

believed the Seller of this Warhol since it was sold with a COA from a famous VIP Collection, even though it was really a Counterfeit.





Is there recourse for the "Counterfeit Keith Haring" Chocolate Buddah Print I Purchased on eBay that was sold with a Certificate of Authenticity (COA) that is actually part of a scheme to defraud unsuspecting Buyers?





Will the Seller who forged Andy Warhol's Signature on Counterfeit Cow Reproduction that you can buy in a Museum Shop for $30.00 return my original purchase price of $9,000?



The Good News is Maybe!



The Bad New is "No" if it has been longer than four (4) years since you purchased the Counterfeit Art that came with that COA that turns out to be bogus, and a bigger No, if you have don't have an Invoice nor know the Name/Address of the Seller.

Many States actually have specific Laws that explicitly states "something to the effect that whenever an art merchant provides a Certificate of Authenticity (COA) to a Non Expert buyer who is not an art merchant, the certificate creates an express warranty of authenticity."

Accordingly, collectors and non art dealer professionals may have the right to demand a full refund in the event the artwork purchased turns out to be counterfeit/fake/bogus, etc. New York State enacted such a Law in 1966, and many other States have similar Laws so it worth checking, but you stand no chance if the Seller says you have 30 days to return an item like some online art auctions.

You have a stronger chance if:
The Seller is a United States Seller. On the other hand, should a buyer in the United States purchase a Counterfeit with a purported COA from a German, Swiss and/or UK Seller, realize there is little, if any, recourse as American Law does not apply to Foreign Sellers.
You have an Invoice describing what it is you thought you purchased.
You have a COA which provides a guarantee or warranty.

You notify the Seller before the 4 year time period elapses.
If you have an art work that is purportedly by Andy Warhol, Keith Haring or Roy Lichtenstein, there is a now a "time is of the essence" reason to determine its respective Authenticity within 4 years of your purchase.
It is actually simple for anyone to obtain an "Official Certificate of Authenticity".
Most buyers on eBay and elsewhere actually don't realize that it is only the official Organizations/Estate/or Artist themselves, representing that Artist that have the Authority to issue "Meaningful Certificates of Authenticity", no one else.
To be very clear, only The Estate of Keith Haring has been in position to determine if that Sumi Ink on Paper or Tile purported to be by Keith Haring is correct, and up until very recently, it was The Estate of Keith Haring who issued the COA, no other entity. Bottomline, if you are unsure about whether a Work purported to be created by Keith Haring is authentic, do not buy it.
Only the Andy Warhol Art Authentication Board can officially determine if the Liz print that was never editioned in several trial proofs is authentic and only the Andy Warhol Art Authentication Board has been designated to issue Official Certificates, no other entity. If an Art Dealer states they will issue the Certificate, our advice, do not buy the Work of Art as no Art Dealer anywhere has the authority to officially state whether or not a Work is by Andy Warhol.
Don't wait 4 years + a day to find out you actually purchased counterfeit art.
There are now sound Legal Reasons to Only Buy From Merchants In the USA!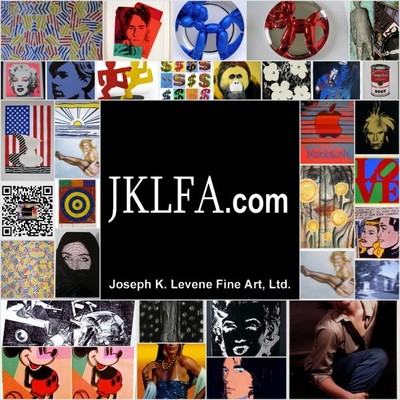 All Fine Art offered and sold by
Joseph K. Levene Fine Art, Ltd
is GUARANTEED for Authenticity.