Guide HTML Error Solution

Have you ever written a guide, labored over it, or spent hours on it only to get an HTML error when you hit the "Submit" button? I have. And I am here to tell you, I was not happy about it! I couldn't figure out why I was being told that I had prohibited HTML in my guide when I knew for a fact that I hadn't coded any HTML at all.
Recently a few people have come to Blog with this exact problem. I have helped them fix it. I figured there must be others out there who have this problem. So, in order to reach more people, I decided to put this information in a guide.
One evening, while I was sitting here steaming over the prospect of losing all my hard work, I glanced to the right and noticed a column of words. "Hmmm, what does that say?" Important Guide Tips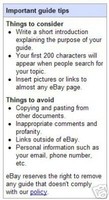 Interesting... upon closer inspection I saw something very important...

AHA! Could this be the culprit of my difficulties? I imagined it might be because I had, in fact, typed my text into Microsoft Word and pasted it in the eBay Guide template. But, what, you may wonder, does one have to do with the other? I will tell you.
When you use a word processing program like Microsoft Word, there are invisible formatting codes within the document. It is similar to how HTML coding is invisible when you are viewing a Web page.
So, I pondered... what do I do about this? How do I get rid of this invisible formatting without starting from scratch and completely rewriting my guide? Then it hit me!
Notepad, which is a basic program that comes standard on every computer I have ever seen, is a bare-bones program that is for nothing more than text. Just raw text. I used to use this program when I was building Web pages. You can do no formatting in this program, therefore there is no invisible code. What you see is what you get. It does not even acknowledge format coding. Note: Notepad should not be confused with WordPad.
So, what if I copy my text from Microsoft Word and paste it into Notepad? It should strip it of all its formatting, right? RIGHT! That was my solution!!! I was so excited because I like using Microsoft Word. Too often I have lost my connection for one reason or another while typing a guide directly into the eBay Guide template. When that happens, I lose all my work.
By using Microsoft Word, I can save as I go along. If the power flickers or I lose my internet connection, I still have my text. I also like that it will auto-correct typos for me as I go along. It will also alert me if I have missing periods, etc.
So, now, when I am preparing a guide, I follow these steps:
1. Prepare my text in Microsoft Word
2. Proofread and edit
3. Highlight and copy my text
4. Paste my text into Notepad
5. Copy my text from Notepad
6. Paste my text into the eBay Guide Template

I have named the process of pasting my text into and copying my text from Notepad as "cleansing" my text.
But what if you originally put your text into the eBay Guide template and ran into this error? It happens. If it does happen to you, you can go through the process of cleansing your text. It should take care of the problem.
A wonderful eBayer just informed me that people encounter this problem at times due to issues with their pictures. She sent this to me in a message. Thanks carriebaby for the additional information!
I thought you might like to add that html codes can also be hidden in photos too, and ebay shows that same message. If the writer is certain they didn't mess with up the notepad - wordpad problem.. it could be their photo.. to rid any photo of html code : open the photo in your computer, then save to a very different format, ie: .tif, .bmp, etc., then save back to the jpg or gif. That should clear the photo of hidden html codes!
I hope this guide has helped you. I know that this process has helped me.
I reserve the right to be human and err. Nothing here was written to intentionally misinform or otherwise mislead.
© 2006 Trina Hoaks