From time to time a person buys one of our ceramic bisque Christmas trees and needs help on how to wire it. If you find this guide accurate, please vote 'yes' to give it more visibility on eBay.
Below are the parts included and needed for a Christmas tree base. Note: We do NOT include a bulb since these are hard to ship. Bulbs can be bought at a dollar store. For small trees, a 7 watt bulbs is best but don't buy anything greater than 25 watts. Please also note the tree may get pretty hot after being on for awhile; be careful and turn the tree off for a couple minutes before touching.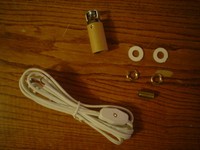 Steps 1-3: Put cord thru the small hole on the side of the base, thread on the first hex nut, Screw the threaded stem on the hex nut, extend 1/8 to 1/4 inch.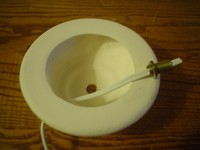 Step 4: Place on the first rubber washer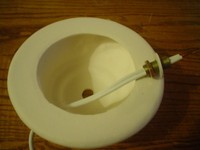 Step 5: Put everything thru the large hole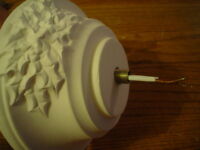 Step 6: Put on the second rubber washer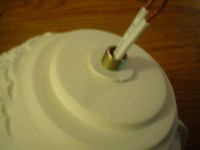 Step 7: Screw on the second hex nut and only FINGER TIGHTEN!
Step 8: Move the wires down as shown above and remove the cardboard from the socket. Screw on the socket and only FINGER TIGHTEN!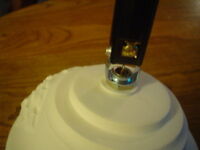 Step 9: Pull the wires up on each side, you may need a needle nose pliers or a toothpick may work.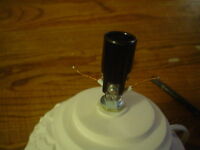 Step 10: Use a screw driver or a table knife to attach the wires on each side.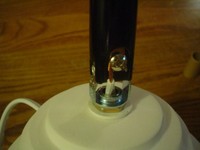 Step 11: Replace the cardboard as shown below.