This excellent guide is brought to you by Treasurehoard and Idalis62 !!! Click our names to visit our great auctions!!!
PLEASE NOTE some of the information in this guide is now out of date due to new eBay and PayPal policies. Please review the user agreement, buyer and seller protection policies etc on eBay and Paypal for updated details.

Buyers:
This tutorial is for a Paypal Item Dispute filed by the buyer. eBay disputes and Credit Card chargebacks are not the same. Also, Paypal Unauthorized Transaction Disputes are an entirely different matter. The majority of this guide will be about Item Not As Described since that requires the most explanation.
First, make sure that you have given the seller ample time to contact you before filing a dispute. If you cannot contact them by e-mail, use EBay's contact information page to try calling the seller to explain the problem. However, don't wait to long. In most cases you have a 45 day period in which you can file a dispute. Also make sure your dispute is valid. Just because the jeans you purchased don't fit you doesn't mean you should file a Paypal dispute saying they are fake.
Buyers with invalid disputes will often end up wasting their time and lose the claim if they go up against a knowledgeable seller.
For Item Not Received disputes give the package enough time to be delivered. Paypal allows the seller a reasonable amount of 7 days from the time payment was received. Also you must figure in shipping time. Although Priority Mail states 3 – 5 days sometimes it takes up to 1 week or longer depending on the shipping and delivery locations. Request a tracking # so you can find out where the package is. 3 weeks is probably a fair amount of time for most packages to arrive excluding media mail.
If the tracking shows the item was delivered then you probably not going to win the dispute. Even if the shipper left the item by your door and it was stolen you will most likely lose. I tell my shippers to leave a note in on my door or in my mail box so I can opt for a different day of delivery or pick it up.
Ok, so the first page we will discuss is the Review Transaction page. Paypal wants to know the Reason For Opening Dispute. There are 2 choices: Item not received and item significantly differen then seller's description. Choose the 1 that best fits your dispute.

Review Transaction: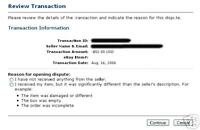 Go to the next page: Filing A Buyer Claim. First Paypal has the multiple choice question:
On this multiple choice question some of the answers are wrong. Pick a wrong answer and Paypal will close your dispute. Make sure you pick the one that's most relevant to your claim. Next click the drop down box to pick the category you purchased the item from. On the bottom of the page you have the opportunity to back up your claim with facts. Make sure your statement is factual and contains relevant info that will help you win the claim. Going off on a tangent about how you sent the seller 1 million e-mails and they never responded to you and now you are scared for your life and need therapy because you can never use EBay again will not help you win the claim. Stick to the basics and you will have a better chance of convincing the seller and Paypal that you know what you are talking about.
Filing A Buyer Claim: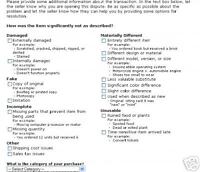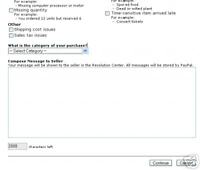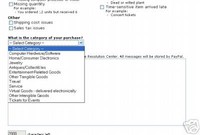 Let's do a quick example. Say I purchased a pair of designer jeans and received them and they turned out to be fake. I contact the seller and they refuse to deal with the problem. I begin filing the Paypal claim. For the question "How was the item significantly not as described?" I would choose the box that says "Imitation" under the "Fake" category. The item falls under the "Other Tangible Goods" Category of purchase. Then in the 'compose message to seller' box, I would put something like:
"The Diesel jeans I received from the seller are fakes. I have been wearing this brand since 2000 and I know how to tell the difference between real and fake. This pair doesn't have the microstitching on the tag. I also took this pair to an authorized retailer and they agreed that it is a fake."
At this point you will file the dispute with Paypal. You now have 20 days to either work out the dispute with the seller or escalate the dispute to a claim. If you work it out with the seller, great, if not it's time to move on to the next step.
You are now escalating the dispute to a claim. Pick the reason why you are escalating the dispute. Let's say, using the example above, that the seller tells me the jeans are authentic and that they will not be refunding the money. 3 of the 5 options would work well in this case. I will just choose "I do not believe we will be able to reach amicable resolution".
Escalating To A Claim: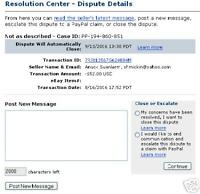 Next pick the amount of refund you want. In most cases you should pick a full refund. A partial refund can be a good argument point for the seller that you are just interested in getting a discount for your item and may result in your dispute being closed. In the case above I obviously will opt for a full refund since I have no use for a fake pair of jeans. However, if say the button was broken and wasn't described in the auction, I might accept a small refund to cover the cost of repair and keep the jeans.
If the seller is eligible for Paypal's Buyer Protection Program then the buyer is covered for up to $1000 for free. However, if they are not eligible, but the sellers account has funds then you will receive up to the amount they have. If their account is empty then you will go through ebays seller protection program. With eBay's programthere is a $25 fee if you win.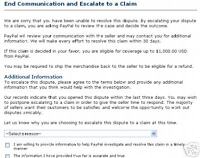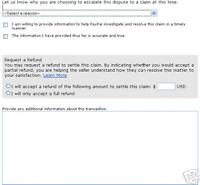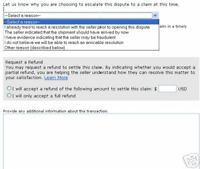 If the seller is eligible for Paypal's Buyer Protection Program then the buyer is covered for up to $1000 for free. However, if they are not eligible, but the sellers account has funds then you will receive up to the amount they have. If their account is empty then you will go through ebays seller protection program. With eBay's program there is a $25 fee if you win.
In any case it's highly recommended you pay with a credit card so that you can do a chargeback to get all your money back. However, before filing a chargeback you must go through Paypal's Dispute Process.
Ok, so at this point you should already have a chance to win the dispute. Most sellers will cave in because of a few reasons.
Paypal puts a hold on the money in their account and they want access to it.
They are scared that you will win anyways so they just want to get it over with.
Some important information to remember is that the seller has 10 days to respond to the claim. Keep in mind holidays, etc., that might have the seller too busy to respond to the claim, and file at this time. No response and you will win automatically.
If the seller does respond and refutes your claim, then you will be asked to provide more information to Paypal. This is usually in the form of an expert in the field of that item saying it is fake, damaged etc. It requires a written letter on their company's letterhead.
Paypal will review this. As long as all your information lines up and says exactly what you stated in the original claim you will have an excellent chance of winning. You have a limited number of days to get this info to Paypal. Make sure you do, otherwise you will lose the claim.
If after all this you don't win (which is unlikely), then there is still away to get your money back. Contact Paypal! Call them up and find the nicest friendliest representative you can. Tell this person the case in a nice calm voice. If you are lucky Paypal will give you a partial or full refund of your item. I once talked to some cute sounding girl and was hitting on her and she gave me a full refund from Paypal's money! If you don't get the right person on the phone the first time, hang up and call again. Sooner or later you will. This doesn't work every time but it's worth a try if you want your money back!
Finally, if you lose the dispute and you paid with a credit card, you can always do a chargeback. GOOD LUCK!!!
Sellers:
Ok, first thing I am going to tell you is it's basically impossible to win a Paypal dispute against a buyer if:
You ship without tracking (Print shipping labels online with USPS and receive free tracking)
You ship without signature receipt on items $250 or greater
You don't follow these 4 steps and you have no chance whatsoever. Consider your item and money history! Maybe you'll get away with it for 1 or even 100 sales but it only takes 1 chargeback from a buyer of a $200 item to teach you a valuable lesson. I had almost 800 sales before a buyer using a stolen credit card ripped me off. It was only $30 but sometimes I am selling comics for a few grand! Just imagine getting ripped off for $1000. THAT'S GOTTA SUCK!!!
Here are 3 more rules that I use to reduce the risk of Paypal disputes:
Describing your item honestly and provide clear photos showing the item and condition.
Shipping with in a reasonable amount of time. Paypal defines this as 7 days from the date payment was received.
Insure the item against loss and damages.
#1 Rule of Paypal for me is drain all the money I don't need in there. If you leave your money sitting around and Paypal flags the account your entire account can be frozen. People have lost a lot of money this way. It has wrecked people's businesses and lives. Make sure you take your money out on a regular basis! If you haven't already you should really read the Paypal User Agreement now to avoid this sort of hassle.
So, go to Paypal right now and set up your account to a business or premier account. It's simple to do and it is now mandatory to have an account that accepts all forms of Paypal payment if you accept Paypal on an eBay item.

Next go to My Accounts Profile -> Selling Preferences -> Payment Receiving Preferences. Select the option "Block payments from U.S. users who DO NOT provide a Confirmed Address." This deals with all the U.S. buyers who don't have a confirmed address. In fact it will even walk them through confirming their address, which any honest buyer will do. From this point you can also block all international payments too.
This is because both Canadian and UK buyers can confirm their accounts. I do let other international buyers know that I don't accept Paypal from unconfirmed addresses in my auctions. If they are honest buyers it's not a problem for them to get a money order, cashiers check, or use their credit card with Bidpay.
All the major shippers offer tracking and signature confirmation. I also highly recommend insurance. It's the seller's responsibility to make sure the buyer gets the item. If you ship without insurance and the tracking says the buyer didn't receive the item, and they file a dispute, you will lose. If the postal workers doesn't scan your delivery confirmation slip when the package is delivered then you will lose an item not received dispute.
So you followed all those steps and now a buyer files a dispute against you and escalates it to a claim. You now have to respond to Paypal. The seller has 10 days to respond to the buyer's dispute. If you DO NOT respond you lose automatically.
You have 3 options:
agree
resolve
disagree.
Unless you are at fault choose disagree. If you are at fault you shouldn't be trying to win a dispute against the buyer, because I can guarantee you have no chance of winning against any buyer who knows how to win a dispute. Paypal always sides with the buyer as long as the buyer gives them information proving their claim.
You have the option to give the buyer a partial refund at this point. In most cases you do not want to do this. There are some buyers who are con-artists. They file disputes just to get a partial refund on items. Basically they have no problem with the item they just want to save more money and find it easy since many sellers will just cave into a partial refund just to get Paypal to release the hold they place on their money.
If the buyer has a legitimate reason to ask for a partial refund you might want to consider it. For example a button is missing that you didn't notice so the buyer wants to replace the button and keep the jeans. Just cover the cost of the repair and the buyer will be happy.
Now you need to provide Paypal with details of your transaction including tracking, signature confirmation and anything else. Any info you can provide to disagree with the buyer's claim is helpful right now. Photos of an item that is undamaged, certificates of authentication, anything that you think will be in your favor. If you can't provide the details, you lose.
At this point a Paypal Dispute Resolution Specialist is assigned to your case. The specialist will request information from the buyer. Usually this involves an expert in the field of whatever item the dispute is about. If the buyer can't provide the information with in a certain number of days then you will win the dispute.
As long as the buyer has a reasonable claim and can provide information backing it up chances are you will lose. So if you sold them a fake pair of jeans or a comic book that is in Fine condition that you said was in Mint, you are screwed. You have no chance to win unless the buyer gives up. Which if the buyer is anything like me and pinches all his pennies, you are in big trouble!
If the buyer wins they must now ship the item back to you in the condition received. At this point you should have some photos of your item ready just incase they try to pull a fast one. Like swapping your comic that was in great condition for one that is all torn up, or a fake pair of jeans for your real ones. If this happens, immediately contact Paypal. Take photos of the new item and get ready for a huge drama.
Now I know maybe this didn't help you much as a seller because you are now thinking it's impossible to win. Well no its not. The way a seller wins disputes is not by trying to fight the buyer after the fact. Sellers win through prevention. If you follow all the steps listed above and are selling quality items you don't have anything to worry about in the first place. Except those occasional crazy buyers who want to try and tell you the item they received is a different color than you described and they want a $3 partical refund! Ask them what color it is and they might say something like no color. To which you might respond so its invisible.
That concludes this lesson. Class dismissed.
Please visit our auctions:
Idalis62:
Treasurehoard: