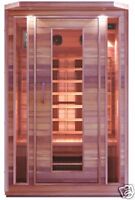 Dear Infrared Sauna friends,
For most brand new infrared sauna users anything above 125 degrees will be unbearable. Most people start to sweat at 112 degrees and this sweating process is the key to the full health benefits of your sauna.
Pre-heat your infrared sauna to 114 degrees by waiting 30 to 45 minutes, then get in and reset the temp to 124 degrees. The temp will gradually increase from 114 degrees while you are in the sauna and the heaters will always be on, so you get the full benefits of the infrared output.
Remember, your infrared sauna will not get hotter than 50 degrees above the temperature of the room that it is in. The colder the room the longer it will take the sauna to heat up. The room that your sauna is in should be at least 70 degrees F.
Start out using your sauna no more than 20 minutes 3 or 4 times a week and then after a month's time gradually increase to 30 to 45 minutes 4 or 5 times a week.
Put clean dry towels on the bench and on the floor to catch all the sweat. This will keep your sauna cleaner and pro-long it's life.
Some users buy a vial of eucalyptus oil and leave it opened in the sauna and/or apply some to their upper lip. Only take a "COOL" shower after you are done. Some users take a hot shower before and a cool shower after.
Use the protection of a power surge strip to plug in your sauna and try not to run any other electrical appliance on the same line while using the sauna. Unplug the sauna when away from home for extended periods of time.
Enjoy your sauna!
Don and Daria Novak
Decorate With Daria, Inc.
1-800-778-5364