Authentic Louis Vuitton is listed here on eBay every day! I'd love to help you find that fabulous and authentic used Louis Vuitton item that you've been dreaming about. This guide will help you search eBay for the real deal- avoiding all the replicas along the way! It takes some work, but you can do it! I've already discussed features of an authentic bag, the seller, and the Louis Vuitton company- now I'm going into Date Codes and Buyer Protection on eBay. Sorry, I have to do this in parts- because the length of the guides is limited. Please check for the other parts of my Top Ten tips in buying authentic Louis Vuitton on eBay!
Guide to buying authentic Louis Vuitton: Part 3

(Numbers 5, 6 and 7)
If you missed Parts 1 and 2 to my Guide- be sure to check them out!
5. Know the Date Code:
Know its format:
Louis Vuitton uses a "Production Code" in its bags for its own internal purposes. It does give clues as to where the bag was made and how old it is. This number is not a unique registration number, so it is highly possible for to find an identical number in a similar (or totally different model) bag that was produced at the same relative time and place. Since the early 1990's, this code has been represented by two letters followed by four numbers. Before then, the code was different, one or two letters followed by three or four number or three numbers alone.
Many vintage pieces have no date code at all. This is true of "French Company" pieces as well. The VAST majority of Louis Vuitton items since the early 80's will have a date code. I have literally seen thousands of authentic Louis Vuitton pieces that were new enough to have date codes... Only one hasn't had one, and I suspect that at one time, it did have a date code inside, but I was just unable to decipher it in the worn alcantara lining.
A current date code of MI 0060 in a Louis Vuitton Ellipse looks like this: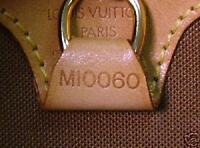 Know where it should be and what it should look like:
The date code will almost always (with very few exceptions) be in the same place in every bag throughout the years. So you know that if you are looking for a Cabas Piano and you find one with a date code in the pocket (when it should be under the d-ring) you're looking at a fake.
Also, know what it should look like- so for example, the above picture is of the date code from an authentic Moyen Ellipse. Below is a picture of a date code in a FAKE Moyen Ellipse. Notice the different shape, the different size tab etc.
Know whether it should be there...
Remember that many vintage pieces should not and will not have date codes. The same is true of French Company pieces.
I've written an entire guide on Date Codes if you are looking for more information:
Date Code guide...
6. Make sure your payment is protected:
Basically, if a seller will only accept money orders, checks or BidPay... proceed with extreme caution! I only by anything of any serious value on eBay, if I am able to use my credit card and pay through PayPal. This way I have three lines of defense:
eBay's Buyer Protection:

This is for items not received or significantly not as described (ie: fake when guaranteed authentic)- covers you for up to $200 minus a $25 processing fee.

PayPal Buyer Protection:

Protects fully against items not received or significantly not as described (again, fake when guaranteed authentic)

Your own Credit Card Protection: Every major credit card company has it's own buyers protection and will fully cover you in case of a scam.
Basically, I wouldn't buy anything of significant value on eBay without these protections.
7. Don't be fooled by all the "extras"!!!
I can't stress this one enough. Counterfeiters not only fake bags, but they fake BOXES, SHOPPING BAGS, DUSTBAGS and RECEIPTS!!! In fact, I think they often times get these things knocked off better than the purse itself. Do not be fooled by an auction that includes a receipt. Look at the big picture- as if the receipt and any other extras were not even included.
Notice the white interior to this box- sign of fake:
Fake dustbag on left, authentic on right... Before 2004 the dustbags were all as below, a really soft 100% cotton flannel. The LV embossed on it is very small, discrete and DARK- no hint of red.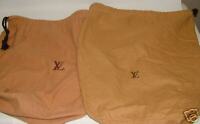 Below is another VERY common fake dustbag style... Any dustbag that has anything more that LV or LOUIS VUITTON written on it- is fake. The one below is a really thin, cheap almost tyveky type bag.
Another fake dustbag and bag with tissue on hardware- never done in authentic LV.
The newer (2004+) dustbags are actually not the soft cotton canvas, they are almost a thick linen feeling fabric that is more yellow with LOUIS VUITTON written across the front, like in the one below!
It's great if an auction includes the dustbag, or receipt or boxes etc... just don't rely on this to "prove" authenticity.
Again, due to a limit on pictures and length of each eBay guide... I have broken this into parts. Please click HERE check out Part 4 for more of my Top Ten!
Remember to check out my auctions for incredible authentic LOUIS VUITTON items listed weekly!
More Louis Vuitton Information:
MY GUIDES
--- Here is a list of all of my free eBay Guides.
LOUIS VUITTON
--- This is a general buying guide for all Louis Vuitton- vintage and current
MULTICOLORE
--- A guide to buying authentic Louis Vuitton Murakami Multicolore on eBay
THE FRENCH COMPANY
--- A guide to buying vintage French Company for Louis Vuitton
OTHER DESIGNERS
--- I don't know it all- Guides and About Me pages written by other eBayers...
BOUGHT A FAKE?
--- So you think you've bought a fake? Check out my guide to getting your money back!
Also, be sure to look at the rest of my Louis Vuitton Guides to find the Top Ten Tips for buying authentic Louis Vuitton on eBay.
Shopping for Louis Vuitton Mulitcolore? Check out my Guide to Buying Authentic Louis Vuitton Multicolore Murakami on eBay!