You can buy authentic LOUIS VUITTON on eBay... as long as you do your homework! I am going to take you through my tips to buying authentic pre-owned Louis Vuitton on eBay. In Part 1, I went over features of an authentic bag. Here I'll discuss the importance of knowing who you are dealing with and knowing about Louis Vuitton- the company. (Sorry, there is so much juicy information, and I'm limited in my space for each guide, so I have to break this up into parts...)
Buying Authentic Louis Vuitton Guide: Part 2

(Numbers 2, 3 and 4)
If you missed Part 1 of my Guide... you can find it HERE!
2. Know the Seller:
One of the wonderful things about eBay is that while we don't actually KNOW who we are dealing with... through the feedback system, we can get to know who we are dealing with. Obviously, we'd all like to buy from 100% positive sellers with 5000+ feedback scores next to their UserIDs, but this is rarely the case. I ALWAYS check the feedback of those that I am buying from very carefully- both buying and selling. There are a few red flags to keep an eye out for:
PRIVATE FEEDBACK sellers: This one's a no brainer. This may fly in other categories, but when I'm looking to buy authentic LV, not being able to see the seller's feedback is just unacceptable. It is important to see not only a seller's total score, but also the individual comments. Some buyers are afraid to leave negatives (for fear of feedback retaliation) so they leave a negatively slanted positive feedback, like this: "POSITIVE: Seller refunded when I returned the bag". Basically, if you see private feedback for a seller, just promptly hit the back arrow!
NEGATIVE FEEDBACK for authenticity: Be very careful to scrutinize feedback for signs that the seller has sold fakes in the past... this is NEVER a good sign.
ZERO FEEDBACK for selling: The only way to get to know your seller is by watching what they buy and sell on eBay. If there is no feedback record, you have nothing to look at in making the determination of whether you want to trust the person with hundreds of your hard earned dollars. Be careful.
Finally, see what they are currently selling, have sold and have bought in the past 30 days. You can do this by doing an advanced search. You can search by items by seller to see what they've sold, or items by bidder to see what they've bid on in the last 30 days. Simply enter their UserID and be sure to click on "completed auctions".
Ask Questions! Don't be afraid to ask questions of the seller. And expect an answer. If you don't get one, move on. If you don't get a good feeling, keep going. If the seller is short with you, or evasive or anything but straight forward- consider that your answer.
3. Know the Company:
Louis Vuitton has been making trunks since 1854. They have done an incredible job at keeping their brand's value at a prestigious level. One of the reasons that they have been able to do this is by not discounting.
Louis Vuitton does not discount.
There is no such thing as a Louis Vuitton sale- even at a boutique or Neiman Marcus (or Saks, Nordstrom etc.) They just don't do it... ever! There are no end of the year sales, no sample sales... no sales period.
Louis Vuitton does not have outlets, or seconds or irregulars.
Never. If you return a purse that is irregular for any reason, they'll usually take it back, but they will not discount it and then resell it. They will simply destroy the bag. There are no outlet stores for "last year's models."
Louis Vuitton does not wholesale.
Ever. Period. End of story. The only places where you can buy brand new authentic Louis Vuitton are in a Louis Vuitton boutique, on eluxury, or from one of a limited number of highend department stores that have mini boutiques inside (ie: Saks or Neimans) that are under the exclusive control of LV. There is NO wholesale distribution of Louis Vuitton at all.
What does knowing this information on the company tell you?
It says, be VERY careful of sellers who are selling brand new, with tags or without Louis Vuitton for any significant amount of money below retail. Many sellers of authentic LV here on eBay DO sell bran new, never used, tags included etc. Louis Vuitton items, but these are often limited edition, wait list only pieces, that usually sell for MORE than retail. Occasionally, a seller will sacrifice a bag like this for just under retail, but that is clearly the exception to the rule. You simply will not find a brand new authentic Louis Vuitton bag on eBay for much less than 15% off retail (and even that is rare).
Louis Vuitton Tags:
When you DO buy Louis Vuitton from a boutique... it will come with tags- but they are NEVER attached to the bag. Other designer labels like Chloe, Marc Jacobs, Coach will do this- but at Louis Vuitton- tags are usually tucked into a pocket or included in an envelope that comes with your receipt. This little white plastic LV circle tag.... with an attached tag? This was NEVER made by Louis Vuitton. If you see it attached, it isn't real.
This weird yellow card was NEVER used by Louis Vuitton... if you see one included in an auction you are looking at, it is not authentic.
For some reason, the fakers all use this dark bronzed envelope with a Louis Vuitton sticker on it (to the left below- with the lock on it)... LV has NEVER used anything like this.
Finally, Louis Vuitton has never attached a canvas swatch sample to a bag like the one with the turquoise LV on it attached to the right side of the handle in the following picture...
When you buy an authentic Louis Vuitton item from a Louis Vuitton boutique or eLuxury... you will get two tags- and MAYBE a care booklet. If you have it mailed to you by your favorite SA, she MAY include a little card thanking you for shopping with Louis Vuitton or whatever. That's it. One tag will say "Louis Vuitton" and will say what the bag is made of- whether it's monogram canvas, vernis, epi etc. The other will have the model number, the correct french name of the bag and the bar code. Notice that they are NOT attached to the bag and do NOT have the little plastic round LV white thing the fakers love to use. The tags would look like this: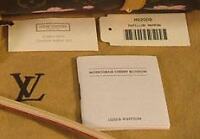 ***PLEASE NOTE*** The fact that a bag you are looking at has cards that look like this does NOT mean that it's authentic... The fakers do a better job duplicating the tags & receipts than they do with the bags!

4. The French Company & Vintage:
During a period between the late 70's and 80's, Louis Vuitton licensed out production of its monogram pieces to the French Company. This is a US based production company, who produced pieces that were intended for distribution in the market here in the United States. These items will either have a marking that says that the item was produced under a special license, have a US based department store logo, or a particular tyvek French Company tag inside. French Company items will NOT typically have date codes and they do look slightly different when compared to vintage French made Louis Vuitton.

Please refer to my guide to buying Louis Vuitton French Company items for more pictures & explanation...
Other vintage Louis Vuitton
items (not French Company)... may look different from what you expect today- may styles are discontinued and are really hard to get. Like the French Company items, vintage French made Louis Vuitton items often used treated leather in some of these vintage pieces, like this vintage Dauphine: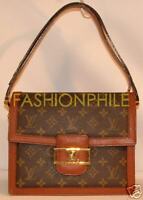 Notice that the leather is darker and treated... this is not the untreated vachetta leather with a patina...
These vintage pieces could also have Talon or Eclair zipper pulls- not the Louis Vuitton LV pulls that we have today...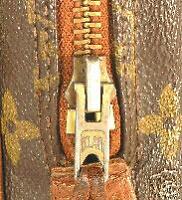 Due to a limit on pictures and length of each eBay guide... I have broken this guide into parts. Please click HERE to check out Part 3 for more of my Top Ten! Good luck in finding that perfect AUTHENTIC Louis Vuitton piece here on eBay.

More Louis Vuitton Information...
MULTICOLORE: Information useful when purchasing authentic Multicolore Louis Vuitton items on eBay
THE FRENCH COMPANY: Helpful in your search for authentic vintage French Company for Louis Vuitton items
MY GUIDES: A list of all my guides
OTHER DESIGNERS: I don't know it all... here's a guide that has information from many experts on Juicy Couture, Chanel, Hermes, Marc Jacobs, Chloe, Coach, Denim & Cerises Vuitton etc.

BOUGHT A FAKE? Here's a guide to help you get your money back!

Be sure to check my auctions regularly for an amazing collection of only authentic LOUIS VUITTON!