eBay is a place where you can purchase items from the Giorgio Armani lines of clothing at bargain prices (and no one has to know). Over the past 7 years, I have found some wonderful bargains on Armani clothing on eBay. I try to give every seller the benefit of the doubt but there are some sellers out there that knowingly try to defraud buyers. I have five guides out there dedicated to helping determine if you are bidding on real or counterfeit Armani men's clothing. I have received numerous requests for a guide on Armani accessories. I have created a guide for Armani belts and this guide will concentrate on Armani ties.

There are a lot of Armani fakes listed on a daily basis and I wanted to create guides to help fellow eBayers from getting duped. Here is a breakdown the various lines for Giorgio Armani:
A/X Armani Exchange
Armani Jeans
Mani (Sportswear line)
Mani (Suits, dress shirts)
Emporio Armani
Giorgio Armani Neve (very rare)
Giorgio Armani Golf (very rare)
Armani Collezioni
Giorgio Armani (Black Label)
Giorgio Armani Classico (Blue Label)
Armani Privé

I used to find a ton of great deals for Armani ties here on eBay. My how times have changed! Most of the mens Armani ties listed on eBay are fake. The reason there are so many fakes out there is that many people are "label and logo conscious" and desperately want clothing with large logos and famous couture labels. They fail to realize that most high-end/couture designers seldom use large obnoxious logos. With that said, the Asian markets are flooded with counterfeit clothing and accessories with large logos. The logos usually do not look anything like the designer's actual logo. Fake Armani clothing and accessories are flooding eBay to the point that you have to be extremely careful on the items that you bid on. I personally will not buy any Armani ties without it being from a reputable seller that I have previous done business with.

Giorgio Armani ties are featured in the Emporio Armani line, Armani Collezioni line and the Giorgio Armani/Giorgio Armani Classico lines. Occasionally, A/X Armani Exchange has had ties, but they are extremely rare. This guide will concentrate on Emporio Armani, Armani Collezioni and Giorgio Armani/Giorgio Armani Classico.

Emporio Armani:
Most Armani fakes incorrectly have the "eagle" logo all over the place. Emporio Armani ties are the only ties from Armani that actually have an eagle logo. These ties are found in the Emporio Armani boutiques. Ties from this line have a thin white label with "Emporio Armani" with the eagle logo in between the "Emporio" and "Armani" and "Made in Italy" in smaller letters underneath. This will be in the middle back of the wide bit of the tie just under the loop. The ties have the eagle logos embroidered into the back in side lining. Below is a photo of an authentic Emporio Armani tie.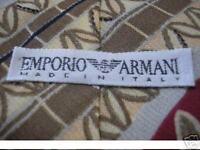 Real Emorio Armani tie
Armani Collezioni:
This is the most common Armani tie on the market. It is found in department stores such as Neiman Marcus, Bergdorf Goodman, Saks Fifth Avenue, Barney's, Bloomingdale's and Macy's as well as Giorgio Armani boutiques. Newer ties have a white label with just "Armani Collezioni" with "Made in Italy" on the right side in small letters vertically on them. This will be in the middle back of the wide bit of the tie just under the loop. The latest also have a "Giorgio Armani" embroidered into the back in side lining. On older ties from the mid 90s to around 2000, the label says "Giorgio Armani Cravatte" with "Made in Italy" on the right side vertically and on the backside lining this area has repeated "Giorgio Armani" (no eagle logos), however ties from before this period have smooth linings. Also look for the rectangular "Giorgio Armani" logo on the back of the thinnest part of the tie. On woven ties, this logo is not present. The vintage ties from before the mid 90s have a thin white label with "Giorgio Armani" and "Made in Italy" underneath. There's a photo posted below. No "eagle" logos and no embroidery on the backside lining. The lining is just a plain solid color. On the reverse side of the thin portion of the tie toward the bottom, there is a black label that says in gold lettering,"100% Pure Silk-100% Soie" and "Dry Clean Only Nettoyage A Sec."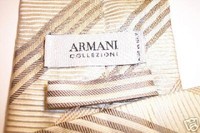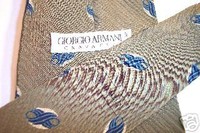 Real Armani Collezioni Tie Older real Giorgio Armani Cravatte tie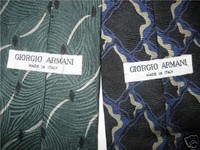 Real vintage Giorgio Armani ties

There are numerous sellers who are trying to con you with their "Armani" tie inventory. There are two sellers out of the U.K. and an American seller, who just simply show pictures of the tie knot on a white or gray back ground (with no shirt or jacket shown). It appears one seller was suspended and is now back under a new ID and the other seller has continued to sell cheap ties as Armani ties. These sellers never show photos of the Armani label on the tie. These ties are poor quality fakes, calling them "bootleg" would be a compliment. I have noticed in this seller's feedback, several buyers have noted that the fabric was cheap and it was an obvious fake. One feedback recent posting stated,"Quick delivery but cheap rubbish, stiching not even secure on the tie." However, some eBayers keep bidding on these. I'm not sure if they are just hoping these bootleg ties are real or they don't mind buying bootleg items.
Avoid these UK seller's fakes at all costs. I have provided a photo of one of the UK seller's typical bootleg ties he/she sells. Another seller shows photos of "Armani" ties with orange tie hangers with eagle logos on the top. Armani does not present ties with hangers on them. I have provided a photo of these fakes for you. Avoid these also. Remember, this line of Armani ties do not feature "eagle" logos on the ties. If you see the eagle logo, it is a fake, don't waste your money.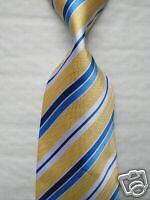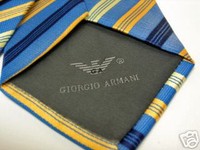 Fake from the UK, Fake with "eagle" logo Very cheap looking
don't bid on these fake that is a common
listing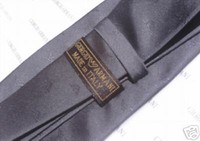 Poor quality fake Bad fake with "eagle" logo
Giorgio Armani and Giorgio Armani Classico:
This line is commonly referred to as Giorgio Armani Black Label and is found in Giorgio Armani boutiques in New York, Beverly Hills, South Coast Plaza, Houston, Chicago, Las Vegas, Atlanta, San Francisco, Manhasett, Palm Beach, Bal Harbour and Boston. You can also find it in select Neiman Marcus, Saks Fifth Avenue, Barney's and Bergdorf Goodman stores. Newer ties have a square black label (blue with the Classico line) with just "Giorgio Armani" and "Made in Italy" in small letters below. This will be in the middle back of the wide bit of the tie just under the loop or occasionally at the base of the back at 45 degrees. The latest also have a "Giorgio Armani" embroidered into the back inside lining. On older ties from about five years ago the square black label says "Giorgio Armani" and "A Milano – Borgonuovo 21" in smaller letters underneath. The vintage Black label ties from before the year 2000 have a thin rectangular black label with "Giorgio Armani" and "A Milano – Borgonuovo 21" underneath. Remember again, no "eagle" logos on this line of ties. A tie package or envelope that the tie is sold in an Armani boutique will be a pale gray with "Giorgio Armani" on the front middle.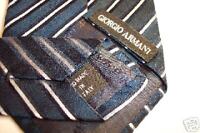 Newer real Giorgio Armani Black Label tie

I hope this guide helps you to make informed buying decisions on eBay. I get so angry when I see a seller of fake Armani merchandise and when I see an inexperienced buyer actually bid on it. Some people are so into labels that they just want "an Armani" piece badly and don't care that they are buying a fake and others are duped unknowingly. However, the quality and craftsmanship of these counterfeit are obvious and you'll be upset once you receive that "awesome brand new Armani tie for $10". Apparently some of the major sellers of Armani counterfeit clothing read my guide, because I get hate messages from them sometimes. They claim I am hurting their business. Actually, they are hurting the business of legitimate sellers of authentic Armani clothing. I do have a list of eBay sellers who regularly sell authentic Armani merchandise and never sell that other junk. I have six other guides posted with photos of Armani clothing lines and the common counterfeits listed on eBay and a guide on fake Armani belts (http://search.reviews.ebay.com/members/armani_king_W0QQuqtZg).
Feel free to contact me if you have any questions. If you have specific questions on a current auction, send me the link and I'll take a look. Sometimes eBay blocks me from responding because we do not have a direct transaction in progress. If I do not respond to you within 24 hours, email me at TWells1906 at yahoo.com.
FAQ
Question 1: But armani_king, the seller has a 100% rating, how could they be selling fake Armani suits, jeans and shirts?
Answer: Who cares that their feedback is 100% I can assure you that the people who have left positive feedback for that seller have no idea what real Armani clothing looks like and they are happy just to have received their "first" Armani item.
Question 2: But armani_king, the seller says their item is 100% authentic!
Answer: So what! Unless you know what an Armani label looks like, you can be fooled. Most of the sellers of fake Armani actually know their merchandise is bootleg and poor quality.
Question 3: Are there sellers in certain countries or regions that sell counterfeit Armani items?
Answer: Yes, it seems that the most notorious countries are China, Thailand, Australia, Canada and the UK. Many fakes are distributed through TradeKey.com from China. There are some lines of Armani that are made outside of Italy in some Asian countries. However, most bootleg items come from these areas. The most common fakes are the suits, A/X Armani Exchange shirts and jeans, Emporio Armani polo-styled shirts and dress shirts and Armani Collezioni/Giorgio Armani ties and belts. I have received some emails from people saying they felt insulted because they felt I am targeting their country. I assure you I am not racist, in fact, I am a minority here in the United States.
Question 4: How do you know so much about Armani?
Answer: I worked in the men's designer department of an upscale department store while I was in college in the late 80s. I was the Armani expert for our department. I have worn it since and a large portion of my wardrobe is Armani.
Question 5: I noticed a seller selling Armani A/X shirts and jeans with real wild designs, are they fake?
Answer: Yes, more than likely there are bad, hideous fakes. Armani is for the most part conservative is his designs. Even the A/X line is not an extremely fashion forward line in spite of it being aimed at younger buyers.
Question 6: Do you know a lot about the Armani colognes?
Answer: No, I used to wear it lot. But now I wear whatever cologne my wife tells me smells good to her. I'm a typical guy when it comes to cologne, I let her pick it out.
Question 7: Do you know a lot about Armani watches?
Answer: Not really. I own one that I bought in an Emporio Armani boutique on sale years ago. I'm not into jewelry and I rarely wear that Armani watch. Personally, I don't trust the ones auctioned on eBay.
Question 8: Can I send you a link of auction that I am unsure if the item is authentic?
Answer: Yes, the best way is to email me at TWells1906 at yahoo.com. For $5 through my PayPal account I can authenticate an item for you.
Question 9: Are there Armani items that you flat out would never buy on eBay?
Answer: Yes, I avoid the jeans due to the saturation of fakes being sold and the fit of the jeans varying on the different styles. Personally I don't trust the jeans being sold on eBay except for a small number of trusted sellers I have bought from in the past and those sellers rarely list Armani jeans. I avoid pretty much all of the Armani and A/X Armani Exchange t-shirts listed, most of them are obnoxious fakes with the crazy logos that look nothing like the real t-shirts. I avoid the wallets because they are pretty much all garbage with obnoxious eagle logos on fake leather. I never bid on Armani socks because I believe the main manufacturer of Armani Calze went out of business years ago and the socks you see on eBay are fakes. The Armani boxer briefs listed for the most part are fakes from that Chinese distributor TradeKey.com. I'm not sold on the Armani leather briefcases listed here either.
Question 10: Do you have a list of Armani sellers on eBay that I can trust?
Answer: Yes, I have compiled this list from sellers I have personally purchased authentic Armani items from and from auctions of sellers that I see that frequently selling authentic Armani items. I would happy to forward it to you.
Question 11: Do you have a list of sellers who sell the counterfeit Armani items so I can avoid being duped?
Answer: Yes, and the list grows daily. I routinely scan the auctions and note the sellers who offer the fake Armani. Some of them have 100% feedback, but that means nothing. I also get emails from some of you who read my guides alerting me of sellers of fake Armani merchandise. I will be happy to forward the list to you to help you avoid being ripped off.
Question 12: I think I already bought a fake Armani item, what do I do?
Answer: All you can do is report them to eBay and to PayPal. Here's where I think eBay does a poor job of policing their own site. I usually recommend going to a store who sells Armani to possibility obtain a statement that the item bought from eBay is counterfeit.
Question 13: Do you know about women's Armani?
Answer: I have some basic knowledge of it. I do purchase some for my wife. I think there is more men's counterfeit Armani on eBay than women's. Most of the counterfeit women's Armani items are A/X shirts and jeans.
Follow me on Twitter: http://twitter.com/armani_king