The first thing that comes to mind when talking about sniping is whether it is considered fair and honest. There are always many ways to view things, but we will say that it does not even remotely bother us if a buyer uses sniping software to win one of our auctions.
It is just another tool at your disposal. Also, when a person snipes an auction they have entered a maximum bid amount, just as you have the option to do when placing your bid the traditional way through eBay during an auction.
It is understandable that a person who waits until the last seconds of an auction to bid might be distressed when they discover they where outbid during one of those last seconds by someone who was obviously using sniping software, but remember they won not because of the sniping software, but because they placed a higher maximum bid than you.
Also, waiting until the last seconds of an auction to bid is actually just manual sniping without using the additional sniping software. Manual snipers have many techniques also, such as opening multiple browser windows, with some windows used to bid, and another browser window being continually refreshed to keep an eye on the current price while waiting for the attack.
Also, notice that a huge percentage of eBay users wait until near the auction end to place their bids in hopes of not driving the price up, so realistically, many may prefer to manually bid their best price as the auction progresses, and it does seem more gentlemen like, but this will not change the fact that many others will wait until the last seconds of an auction, in hope of saving a dollar, by placing the winning bid at the lowest amount, at the last possible second.
Really sniping is just entering a maximum price you are willing to pay for an item in the sniping software while letting the software take it over from there. The difference being that it (the sniping software) will not battle with the highest bidders until the last seconds of the auction. This way if you are busy at the time the seller chose to close the auction, your bid will still go in.
In these last seconds of the auction a person is only going to have the time to bid once, and though one could just do a single high bid, that would not be a thrifty way to try for the win. Instead a single bid, with a high as one is willing to pay, maximum bid attached to it will only win by one bid increment over the last highest maximum bid. Same as with the sniping software.
Last time we checked the bid increments were:
$0.01 - 0.99 $0.05 <-- next higher bid level accepted by this amount
$1.00 - 4.99 $0.25
$5.00 - 24.99 $0.50
$25.00 - 99.99 $1.00
$100.00 - 249.99 $2.50
$250.00 - 499.99 $5.00
$500.00 - 999.99 $10.00
$1000.00 - 2499.99 $25.00
$2500.00 - 4999.99 $50.00
$5000.00 - or higher $100.00
There are basically 2 types of sniping software; web (or browser) based, and software (installed on your hard drive) based.
We tried one of each type that had already received some of the highest user review ratings on the web.
First, the software based sniping software generally allows you to install a piece of software on your computer. This usually entails a one time fee for the purchase of the software (but there are many different pricing scemes). One example of this is a program called SnipeRight. The basic software package is purchased for about 20 dollars, and you install it on your machine, and in the case of SnipeRight, there will be no further charges, ever, unless you decide to upgrade to version with more bells and whistles. Just enter your private logon information into this program, let it log into eBay, mark the item you want to bid on, and along with a few other simple choices, and the software takes it from there.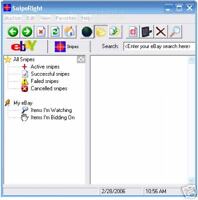 <-- SnipeRight screen shot
We tested SnipeRight and it worked well at first (a few months), and was really a pleasure to use, but later it began to give us problems, especially after it needed to be reinstalled. They probably worked the bugs out of it by now, though because of this we decided to give a web based sniping program a run.
We chose eSnipe for our web based test. This solution worked flawlessly during our tests. Customer support was also top notch in our contacts with them. Also, if we remember correctly, the owner of eSnipe won the business on eBay. Another advantage is being able to use this web based software from another computer, other than your own, without the need for a software installation (just like using Hotmail, for example).
<-- eSnipes browser based work area.
Now, with eSnipe you must put a certain amount of money in an account with them to pay for your bids. As of now, they charge 1% of the winning bid price (no charge for not being the winning bidder). There is a minimum 25 cent charge, and a maximum charge of 10 dollars (which would mean anything with a winning value of 1,000 dollars or higher).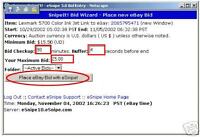 <-- enter your bid information into eSnipe here.
So, in the end, of course, the choice is yours. Traditional or high tech. Either way can win the auction.
Vote below if you want.
Thanks for the interest,
Hornwaddler