Perhaps one of the trickiest eBay items to ship correctly is a single trading card. Whether it's collectible card games, comic cards, or sports cards, finding the safest and most cost-effective method of shipping singles to your customer can be somewhat unclear at first. And if it's done improperly, the card can get damaged or lost in the mail.
My experience in shipping comes mainly from trial and error over the years. I have been buying, selling, and trading cards online since 2002. The method I outline in this guide is but one of many ways to ship cards, and while it is slightly more expensive up front, it is much more secure, and 99.9% of the time the customer appreciates the extra effort. This guide assumes you're preparing to ship a card via USPS First Class Mail (although this method will also work for Priority Mail).
Before you start packing, there are a few items you will need ready:
1. The card you're going to ship.
2. A card sleeve.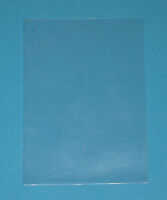 This is a flexible plastic cover that keeps cards from getting scratches and dings. Though it will not prevent bends and creases, a card sleeve is also great way to store your cards. Sleeves come in many brands, sizes, and colors. The least expensive of these are called "penny" sleeves, which are clear and are sold in packages of 100 or more. If you don't have any on hand, you can order some on eBay for a few dollars. Most local card and hobby shops also carry them.
3. A toploader.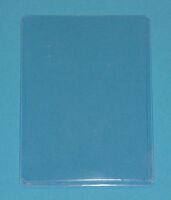 This is a semi-rigid plastic case with an opening at the top to insert the card. It provides excellent protection against scratches, dings, wear, and bends. Toploaders are light weight and provide an excellent method of both storing and shipping trading cards. They also come in a variety of sizes and shapes, and are made to fit a variety of card thicknesses (also called "points"). For most standard single cards, a 3" x 4" regular toploader will work. You can also get these on eBay and most card shops.
4. A team bag.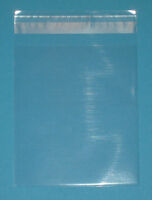 This is something of an "extra," and is not critical, but does provide that little bit of additional protection when shipping cards. Team bags are small plastic bags with a resealable adhesive strip that can store several cards all together. They can also accommodate one or more toploaders. Team bags are great for providing protection against moisture and dust.
5. A bubble envelope/padded mailer.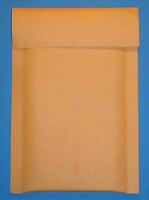 There are several different sizes available, but in general I recommend the 4" x 7" (#000) size. Slightly larger ones will work as well, but you may have to fold them in half in order to keep the risk of the card sliding around to a minimum. This type of packaging is important for several reasons, not the least of which is that it provides much more protection to your customer's card than a plain envelope. When you ship via USPS First Class Mail, for example, this type of packaging falls under a different type of shipping classification, and is subject to less handling and fewer (if any) Postal Service sorting machines. Plain envelopes are run through automated sorting devices which causes the letter—with card inside—to be subjected to unnecessary stress. Using a bubble mailer reduces handling and thus the chance of the package and merchandise inside being damaged.
In addition, if you use PayPal or eBay shipping services to print shipping labels, you won't have to worry about buying regular postage stamps for standard security envelopes. The large envelope/package rate, with delivery confirmation, is included as one of the default shipping preferences in both eBay and PayPal's shipping services. You can pay for and print out a shipping label complete with a tracking number right from your home computer, without having to take extra steps to acquire separate postage. The large envelope rates are slightly higher than the standard letter First Class Mail rate, but in my experience it is worth the extra few cents.
6. Printing paper and/or adhesive mailing label.
You'll need this to print a packing slip and shipping label for your mailer.



8. Scotch invisible tape.
You'll need this to seal the toploader opening.
9. Packing tape.
To affix your mailing label if needed, and to seal the bubble mailer.
10. Scissors.
If needed to trim labels and tape.
Once you have all the above items in hand, follow these steps to prepare the card for shipment:
1. First, make sure you have clean, dry hands and a clean, clear work area.
If you have a can of compressed air, use it to remove any excess surface dust before you begin packing, as dust can inadvertently transfer from your work surface to the card.
2. Take the card you are shipping and place it in a single card sleeve.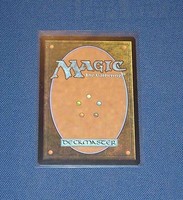 3. Take the sleeved card and carefully place it in a toploader.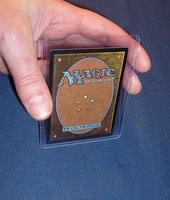 Try to avoid "stuffing" the card in—just gently work the card in by hand until you feel slight resistance.
4. If necessary, gently tap the toploader several times on a hard surface to get the card to settle to the bottom.
5. Take about a two-inch piece of scotch tape and place it over the open end of the toploader to seal it.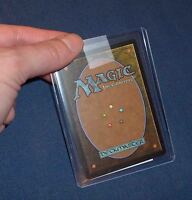 This will keep the card from sliding out during transit. Be careful that the sleeve and card are inside the case and do not touch the tape.
6. Place the taped toploader in a team set bag, then remove the adhesive strip and seal it.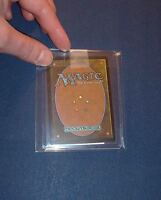 7. If you have printed a packing slip, neatly fold it into quarters and wrap it around the bagged toploader.
This is more for aesthetic purposes, but will also provide friction to help keep the toploader from sliding around inside the mailer.
8. Place the packing slip and bagged toploader into the bubble mailer.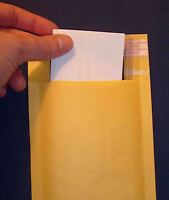 9. Seal the bubble mailer with the adhesive strip or with additional packing tape.
10. Affix the mailing label, complete with tracking number and code, to the back of the mailer.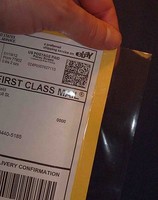 Try to avoid taping over the bar code of your label.
Your package is now ready to mail! You can give it to your postal carrier or drop it in the parcel drop box. Be sure and update your customer's shipping information so he/she has the tracking number and is aware of when it was mailed.
It may be tempting to cut corners when shipping a card in order to cut down on expenses. But keep in mind that there are risks to not making sure your customer's trading card is adequately protected. Trading cards are fragile. Spending a little extra time and money now will save you and your customers a potential headache down the road. The method outlined in this guide is one that I have found to be quite feasible, reasonably affordable, and is met with frequent customer satisfaction.
Thank you for reading this guide. I hope you will find it helpful.