Setting up an altar for your ancestors is a wonderful thing to do for a variety of reasons. An ancestor altar allows you to make a connection with those who have passed away, especially if you are still grieving. An altar to your ancestors can also be used to help them protect you, improve your spiritual workings and explore your own psychic gifts. However, in the end, it is an act encouraged by G-d, "Honor your father and your mother, that your days may be long in the land that the Lord your God is giving you." (Exodus 20:12)
Like many other altars, your ancestor altar will be something that grows as you grow, and expands as you expand. You will be guided to adorn your altar by those that you love and who were once with you. This guide will simply show you how to get started, the rest will come from your spirit.
You will need:
A place to set the items: A simple white handkerchief is fine. You may choose to use any other item or cloth that is fitting to you. I use an old round spice box.
A picture of those you wish to honor: Please do not put any pictures of living people on the altar, it is believe this may cause them to sicken and die. Also, do not put up any pictures of relatives who have abused or harmed you, you do not want to ask their spirits into your home.
A glass of water: In the future you may choose to offer your ancestors whiskey, coffee, Florida Water, Kanaga Water or some other drink they prefer. You may know this already, for example, my Grandfather preferred Wild Turkey. You may use any kind of glass, I tend to prefer shot glasses, small martini glasses or small wine glasses – they sell nice ones at World Market.
A white candle: You can use any kind of small white candle, a birthday candle, a tea light, a Sabbath candle, a white utility candle, or similar.
Lay out the cloth in a place safe from animals and children. Do not set the altar up in your bedroom as you have no protection when you are asleep, and some of your more recent ancestors may be offended. Arrange the pictures on the space, preferably upright in frames or propped against something else. Set out the glass out and add water to it, then light the white candle.
Open with a prayer to G-d or speak to the universe and ask them to bless and protect this space. Then one by one speak to each of your ancestors and invite them into the space and bind them with good intent.
Examples
:
Blessed are you, or lord our G-d. I ask that you look down upon this work that I set to honor my mothers and fathers before me. I ask that you protect this space from harm, and from doing harm to myself and my family. Thank you oh lord, amen.
I call upon all of my ancestors, known and unknown to me. I call upon all those who have kinship to me that wish to aid me and bare me to ill will.
Aunt Maggie I call to you. Aunt Maggie I ask that you hear me. I set this space for you and those of our family so that I may honor and respect those who came before me. I ask that you enter this space and be tended by me. I ask that you guard those I love and grant me your love and support to be all that I may. Aunt Maggie you are welcome into my home and my heart as long as you do no harm to me or mine. Welcome
Repeat the last part for each of your ancestors. It's okay to speak from the heart. When you are done, step back from the space and consider it a bit. If you feel an urge to put other things on the altar, go ahead and do so. You may wish to put out a favored object, or food.
Each week, on a day that seems suitable to you; Monday is traditional, set out fresh water (or other drinks), light a new candle and speak to your ancestors. You may ask them for help and guidance; remember to thank them for their help with special gifts of drink, food or objects.
Below is a picture of my ancestor altar and the items on it.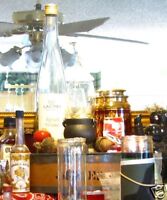 A picture of my aunt in the back (can't be seen)
A bottle of wine and a wine glass from my families' vineyard
Oolong tea for my 7th generation grandmother
A salt shaker from my mother's family (the tomato head)
A black mini cauldron to light Florida Water in
Two acorns my children gave me and I felt the draw to place up there
I set the water and candle in front of the space
By Lara Rivera, Professor C. D. Porterfield and Miss Starr