If your sewing machine was working fine and suddently stopped but the light stay on, many chances are the foot control (pedal) stopped working. Most of the time, it could be a wire disconnected. This happen often as foot controls are dropped or in stress condition.
The first thing to do is to unplug the wall plug and the machine plug. Opening most foot controls is very easy by prying both pivots as illustrated.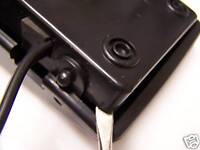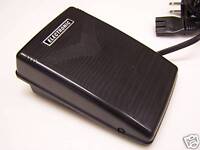 The next step consist to make a visual inspection of the 2 wires. Some are soldered in place, others are fitted with slide pins which can break with the time. In this case, one of the slide pin was broken: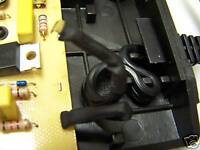 In this case, you will have to remove the small printed circuit board (PCB) as illustrated below. The 2 contact surface where the sliding pins were soldered will be used to solder the 2 wires directly.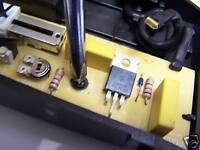 First, as for any soldering iron, clean the tip (when hot) by scraping it to remove any dirt and apply core flux solder. Then, after removing approx. 1/4" of insulation to both wires, apply a small amount of solder to the bare metal on each wire.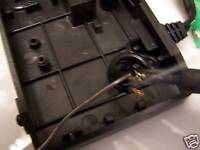 You are now ready to solder both wires on the PCB. I does not matter which wire is soldered in place first, alternating current has no polarity like for example batteries which use a positive and negative terminal.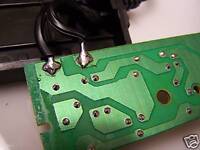 Replace carefully the PCB in place. Be sure the small control lever engage the spring actuator. It was in there before you removed the PCB.
Reinstall the spring in place and engage the 2 parts of the foot first being sure the spring is in place. On the cover is a kind of "stopper" (tab) that should be inside first. You will be able after to clip both pivots in their holes.
By holding the pivot side with one hand, it is easy to match the opposite part so the spring hold in place and the tab (stopper) is engaged.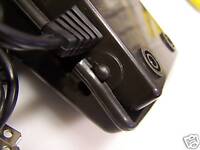 By pressing on top of each pivot, they will snap in place. Test the foot control with your machine, it should works well !
If you've enjoyed this Guide your vote would be appreciated !
Thanks for visiting,
Andre (alcnational)