You will also need several clear, plastic scrapbook sheets
such as you use in scrapbooks, and they should be about the size of a
scrapbook page as well as several heavy books..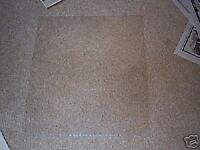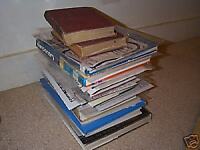 Fill the shallow pan with very warm to hot water and add
several drops of an antibacterial dish soap such as
Palmolive to the water, no need to agitate the water..
Fill the deeper pan with plain, cold water
Pick up your practice cards and throw them
into the shallow pan of hot water..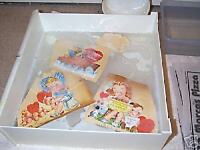 I know many of you will really think this is nuts, and you will recall
in my first guide, I stated how very bad water is for cards..
Well, that is still an accurate statement, AS LONG as the glue
AND/OR moisture REMAINS on the cards or in the scrapbooks!

The purpose of this procedure is to quickly remove the glue,
which the heat and soap from the water does, in as short a time as possible..
(this is what you will be watching for during the procedure)
and to eliminate the water as soon as the glue has come off
This sounds quite easy, but too short of a soak time will result
in a disaster of ripped or torn cards, with partially soaked glue residue
remaining on the cards..too long of a soak time, and you will have soggy cards
which will dry improperly
From experience, I ruined a $100.00+ valuable old postcard,
ripped several beautiful vintage greeting card backs..
and have messed up more Valentines than I care to think about..
This experience did teach me what does and does not work..
which I am happy to pass along to you
Once your practice cards hit the water, you are going to
be watching for them to separate or "lift" from the paper..
sometimes this happens immediately..and sometimes it takes awhile..
You may have to run your fingers gently around the perimeter
of the cards as shown in order to feel what is happening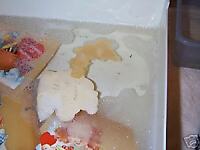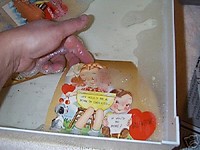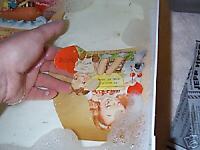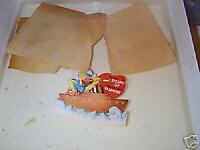 As they float off the paper, hold them carefully and
run your fingers across the backside, gently "scraping" or "rubbing"
any glue with your fingertips in a circular motion..
the glue will feel very gooey..gritty..sandy
or slimy depending on the type of glue that was used..
you need to be very sure that this
is off the card prior to rinsing..
move the card around in the water while doing this as the glue will
loosen into the water and not back onto the card
Once they lift completely or you can VERY gently tug them loose
from the paper..gather them in your fingers, carefully lift them out
and immediately place them into the cold rinse water