Finding authentic designer jeans on eBay. Updated June 30, 2007!

These days, the price of designer jeans can range anywhere from $100 - $300. Many of us don't want to shell out that much money for a pair of denim, but we also can't resist the amazing comfortable, soft, and durable texture of designer jeans. The solution?: We come on eBay to find some good deals on the bottoms that we love.
eBay is flooded with thousands of designer jeans and unbelievably cheap prices; prices that are almost too good to be true. How do some of these sellers not break the bank by selling hundreds of pairs of jeans retailed at $300 for a mere $75? The answer: Most designer jeans on eBay are counterfeit. That's right, produced in some sweatshop not in the beautiful US of A in some horrid conditions, with the poorest quality denim available in the world. Do you really want to spend almost $100 on a pair of "designer jeans" that are worth less than $20?
A lot of the time it can be difficult to distinguish between what's real and what's not. So what's the answer to this dilemma? Don't just be turned off because of the vast number of fakes here on eBay, but learn to find the authentic gems in the haystack. This is why you're reading this guide.
Nope, I'm not kidding. As a designer jean fanatic, I'm constantly buying jeans on eBay. But those purchases can rack up. So, I've discovered a way that I can earn a little bit of what I spend back. They pay you directly through Paypal, so you can easily spend what you earn on anything you want.
Visit my "about me" page to find out about this little gem of a site :)
Hopefully, this tip has helped some of you fuel your eBay and designer jean addition! Read on to find out how to spend your earned cash wisely on authentic jeans. Happy shopping everyone :)
Back to the Basics:

Easy things that you can notice that will give you a good idea of the authenticity of a seller's item.
Mutliple pairs:

If a seller has many pairs (2+) of the same brand of jeans, in the same wash and cut, with the same pictures, the same or different sizes, then it's a good idea to stay away.
Many of the counterfeit sellers purchase their fake jeans wholesale from companies in Asia for about $5 a pair. Then they try to rip off innocent buyers on eBay. It's rare that any high end designer jean company will sell their jeans wholesale in cheap prices to eBay sellers. They have enough buyers as it is; they don't need to rid themselves of their stock. However, there are still many unknowing sellers on eBay (non-wholesale) who buy fake jeans and then re-list them, believing they are authentic the entire time. Although it is not intentional, these fake jeans are just as bad. Be sure to keep reading to get the best ways of determining authenticity.

Stock photos:

If a seller only has stock photos (that is, pictures from a website) of the jeans they are selling, don't bid until you're able to secure some real photos of the jeans. Counterfeit sellers don't want to take actual pictures of the fake jeans because...


a) informed buyers (like you, after you read this guide) will be able to determine the authenticity and

b) they're incredibly lazy and don't care about their customers (that's why they're selling fake jeans, duh).

When you see listings with only stock photos, don't immediately click out. Be sure to request pictures from sellers. If they never respond to your requests, then it's best to forgot about those listings. Honest sellers of authentic items should be more than willing to provide you with more pictures. They've got nothing to hide after all.


Feedback:

Check sellers' feedback profiles. Have they received negatives in the past for selling fake jeans? Or did buyers leave comments saying that the jeans were authentic? Use feedback comments to your advantage. Not only that, see what previous buyers have felt about the seller's attitude and professionalism. Does the seller seem like a person who would refund your money if you found out the jeans you received were fake? Or is he/she a complete poop nugget who wouldn't feel a tad of guilt about selling you fake jeans?
Location:

Don't buy jeans from China and Hong Kong! Those are the most notorious places where fake jeans are manufactured.

Auction description:

Honest sellers will put some time into describing the jeans that are up for sale to assure authenticity. Has the seller written more than a sentence about the jeans? Honest sellers will provide lots of details - including the style, wash, cut and any other serial numbers. Does the seller offer a guarantee that the jeans are authentic? Good sellers are aware of the fakes out there and won't hesitate to advertise the authenticity of their jeans in

BOLD CAPITAL LETTERS.

But even so, some fake sellers will guarantee that their jeans are authentic, so read on

Intermediate:
Requires a little more effort on the part of the buyer, but still fairly easy ways to determine authenticity.
Cut numbers:

This method works best for

Citizens of Humanity

and

Seven for all Mankind jeans

. Cut numbers are numbers that manufacturers stamp on their jeans in order to label a certain batch. They can range from a 3 number sequence up to 10 numbers, or more. They can be amazing indicators of fake jeans, as counterfeiters usually take one authentic cut # that has known to be in production, and they make thousands of pairs of fake jeans using the same cut #. However, similar cut #s are very rare in authentic jeans, as only a few pairs are produced in each batch of the same cut #s. Every pair of jeans has a cut #, and sellers will usually either list them in their descriptions, or if not, you can always ask for the cut #.
Once you find out a cut number and you want to determine the authenticity of the jeans, just do a simple search on eBay. Enter the cut # in the search field, and be sure to check the box that says "search title and description". If only one or two (or three) pairs of jeans with that cut # shows up, then your jeans are most likely authentic. However, if a lot of listings pop up, then STAY AWAY. Another good way to check out your cut number is to compare it to a list of common fake cut numbers. You can find a link to common numbers in my about me profile.

Poor fading or distressing:

If a pair has terrible fading or whiskering, then you can conclude that it's fake. If a pair of jeans has abrupt fading (for example: light blue and then suddenly dark denim, without any gradual fading), then it is most likely fake. Authentic designer jeans will have very smooth and gradual fading. Unfortunately, there is no set formula to determine whether or not the fading is too abrupt to be authentic. You must simply use your instinct and common sense.

In addition, if the fading overall appears "dirty" or has a sort of brown/yellow tinge, then it's most likely fake. HOWEVER, certain pairs of jeans will have this "dirty" kind of vintage look that is intentional. You should always look up the style of the jean and the wash on a reputable website - such as shopbop.com and check to see if the fading is in fact that color. If you see any discrepancy between the stock photos (the photos on a website) and the photos in the auction (for example: if shopbop shows light blue fading and in the auction the fading is yellow - but make sure it's the same style) then the jeans are most likely fake. However, lighting conditions and poor camera quality can also play a part here. There is no other way to put this trick: if the jeans look ugly and cheap, then they are most likely ugly, cheap, counterfeits.

Searching for obvious defects in jeans:

Some jeans have very distinguishing qualities, and fake jeans are often unable to replicate these qualities. I'll go jean by jean for this one.
True Religion jeans:

The horseshoe detail on the back pockets are very hard to replicate, making it one of the easiest ways to tell fake jeans from real ones. At first it might be hard, but with time, you'll come to find how easy this method is. Take note of the two pictures below. The picture on the LEFT is of an authentic pair, whereas the picture on the RIGHT is of a fake pair: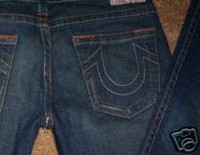 Note how on the left pair, the horseshoe is very nicely curved/rounded and placed exactly in the center of the pocket.
vs.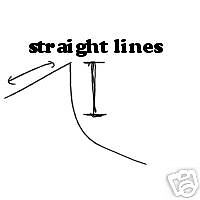 The uppermost points of the horseshoe are formed by two CURVING lines. Whereas in the right pair, the tips of the horseshoe are formed from two STRAIGHT lines (lo ok at the line connecting the point to the edge of the pocket and inner curve). This detail is very subtle, so look closely.
Now, back to the first pictures of the actual jeans: The horseshoe on the right is rather straight on the sides, and is positioned slightly to the top.
Common defects
include, but are not limited to: "fat" horseshoes, "skinny" horseshoes, horseshoes that are too long, horseshoes that are too short, horseshoes that are poorly proportioned (eg. the fake picture right after this).
All authentic jeans should have horseshoes that are curved throughout and placed EXACTLY in the center of the pocket.


True Religion JOEY jeans:

For this specific style of True Religion jeans (twisted hem with flare, flap pockets), there's an easier way to tell the fakes from the authentics. Once again, the left pair is authentic and the right is fake.
REAL FAKE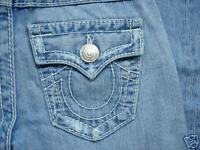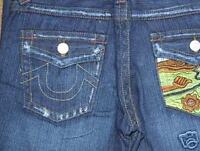 Hopefully, using your knowledge from above, you've noticed how ugly the horseshoe on the rightmost pair are. If you haven't, take a look at the flaps. On the authentic (left) pair, the flaps are very curved, and they end in a sharp point. However, on the pair on the right, the flaps are straight, and end in a rather blunt point. This is probably the most common flaw in True Religion joey jeans.
Always make sure your flaps are curved!
Another thing that can help you out is looking at the
coin pocket
(the tiny flap in the front pocket, under the waistband). The coin pocket should be curved as well - not a huge curve, since it's so tiny, but you should definitely see it. If its edges are flat, stay away!
Seven for All Mankind jeans - inner tag:

Using cut numbers (mentioned above) is a great way to determine fake/real pairs of Sevens. Aside from that, the easiest way to tell a real pair from a fake pair is to look at the inside tag (the one under the size tag). Take a look at the picture of an AUTHENTIC tag below: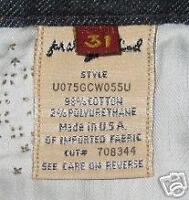 First off, look at the red tag (size number). The "3" has a flat top, not a rounded top. That's trick number one. If your 3 on the SIZE NUMBER ONLY! has a rounded stop, like this -> 3, stay away. Now, let's get to the juicy part. Look at the tan tag. Notice how two sets of numbers stand out from the rest. These are the style # (U075G ...) and the cut # (708344). These numbers are always PRINTED onto the tag. Look at the other lettering/numbers. These are all stitched/embroidered. Hopefully, we all know the difference between printed and embroidered. :)

Many fake tags make the mistake of embroidering all the information on the tag (of course, it can go the other way around - printing everything). Another number trick, this time for the TAN TAG: the "7" on the cut number/style number (printed parts) are always curved on the diagonal. If they're straight, like this -> 7, then the jeans are fake. Always ask for a tag picture (if it isn't provided) when you're buying SFAM jeans!

Note: Some jeans will have a white "paper" tag instead of the tan tag. Don't immediately think they're fake because they have the tan tags. They're just older jeans that were produced before they started tan-tagging everything. Most of the white paper tag jeans are authentic.

Seven for All Mankind jeans - white sticky tag:

I don't know what the real name for this tag is, but I'll just call it the white sticky tag. Look at the picture of a sticky tag from an AUTHENTIC pair of jeans below. The first picture is the whole sticker, the second is a closeup on the info part.

The sticker is supposed to be located above the tan tag on the inside of the jeans (the inner tag is the tan tag, look above). However, the sticker can be moved around, since it is after all, a sticker. However, most fakers make the mistake of putting the stick on the back waistband of the jeans, above the right back pocket.

In addition, make sure the style # and the cut # correspond to the numbers on your inner tag. The zeros on the tag ALWAYS have a slash through them (look at the pictures). If they're just plain "0" without the slash, they're fake!. The sticker is sort of shiny. If it's dull, it's probably fake.

Compare the jeans being auctioned with real ones:

Once you get good quality pictures of the jeans from sellers, you can use stock photos (company photos from the company's website: shopbop.com, revolveclothing.com, etc, or photos from online retailers of authentic jeans) to compare with the actual pictures. Check to see if these things are the same:

color of fading: are the jeans a "dirty" wash where the fading has a yellow tint, or is it simply just a lighter shade of the denim?

placement of fading on the jeans: is there fading at the butt? where does the fading begin and end?

intensity: is it just a subtle fade? does the auction have the fading as almost a white color, when the jeans are only supposed to be faded a slight bit?
back pockets: is there fading near the bottom of the pockets? look at the picture of the authentic pocket of a Citizens of Humanity jean below. At the bottom of the pocket, there are two faded rectangular pieces that join to make a very flat "v" shape. Most jeans that have fading in the thighs will have back pockets that have the faded "v" at the bottom.


what color is the thread of the jeans on the authentic photo? does the auction have a red thread while the real photos have a dark orange? check for thread brightness and thickness

Use common sense to determine the authenticity of jeans: if a pair has terrible fading or whiskering, then you can conclude that it's fake. Many pairs of designer jeans have very gradual fading, and intense fading (for example: very light, almost white at the thigh area, and dark blue at the legs and above thighs) is usually a sign of fake jeans. There is no other way to put this trick: if the jeans look ugly and cheap, then they are most likely ugly, cheap, counterfeits.

Ready to Become a Designer Jean Expert?:

Some of the tricks you can use that take a little more time to master.
Learning the jeans:

Although jeans such as True Religion have distinct qualities, other jeans, such as Hudsons or Citizens of Humanity do not. The absolute best way, and surefire way, in combination with the tactics above, is to learn the jeans. What do I mean by that? It means to study the washes and details of authentic jeans (you can look at stock photos, or pictures of AUTHENTIC jeans that people have posted on the web - visit my about me page or contact me for these links!). There is no other way than to memorize and get a feel of the jeans. This way, you'll know what authentic jeans are supposed to look like, and you'll be able to immediately tell if jeans you're looking at on eBay are real or fake.

Final Tips
Lastly, remember that counterfeiters are usually liars and scammers. Although you can get an amazing deal on eBay on an amazing pair of jeans, if something is too good to be true, than there is usually a chance that it might not be true at all. If you're unsure of whether a certain pair of jeans is fake or authentic, ask for a second opinion (again, contact me or visit my "about me" page for these thinks). It's always better to be safe than sorry!
If you happen to make a mistake and purchase a pair of fake jeans, don't just keep them and not say a word. You can still have a chance of getting your money back by talking to the seller and explaining the situation. Some sellers honestly do not know that they are selling fake jeans, and will give you a refund if you explain to them and provide proof that the jeans are fake. Other sellers simply do not care and will claim their jeans are authentic all the way. The best way to handle this situation is to file a claim with Paypal. Then go to Nordstrom or any other authentic jeans retailer and obtain written and signed proof that the jeans are fake. Send your documentation to Paypal and you should be able to get your money back.
I hope this guide was helpful to those who read it. Good luck and happy shopping! :)
If you found it helpful, please vote "yes" on it so it can get up to the top and hopefully prevent others from being tricked by counterfeiters!!
Expect a big revamping soon, with detailed info for most brands of jeans! Thanks for all your support in getting this guide out there. <3