Admit it. That Jewelry drawer you have is getting pretty packed. As your Jewelry collection keeps growing and growing that drawer just seems to get smaller and smaller. You could get rid of some things but you just never know if you might want to wear them again. The result is an overcrowded, disorganized jewelry drawer.
Several problems arise from this kind of disorganization. You may lose precious accessories, spend endless time untangling necklaces and chains, have an earring mysteriously disappear, or even break something in an attempt to find what you are looking for.
It doesn't have to be this way. For a fraction of what you might pay for one necklace, bracelet, or ring you could solve your jewelry organization problem once and for all!
Necklaces are one of the worst casualties of the jewelry drawer. Necklaces chains can become tangled to the point that they are not worth fixing. Large decorative necklaces that take up lots of space are often awkwardly shaped and vary in size. These can break if they are not stored properly. A good idea is to keep your necklaces separate like with this
clear necklace tower
.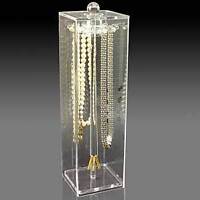 There are also several common problems to avoid when organizing your rings or earrings. One such problem is that they can easily become scratched. This issue is magnified if you own many rings or earrings. Again the best idea is to keep them separated. The
leather ring box
or the
fabric jewelry case
below are great, inexpensive solutions. Both can make it easier to find the ring you feel like wearing, while making sure they do not scratch.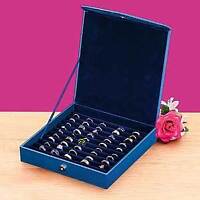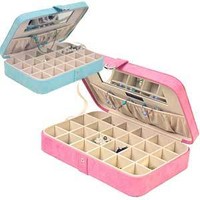 If you rarely wear jewelry, it still is a good idea to keep it organized. It can be easier to lose items or misplace them during infrequent use, but these concerns can be alleviated with an organization plan. A proper jewelry storage system can display your earrings and necklaces while serving as a decorative element of your room. These small, multi-purpose jewelry boxes are prefect examples of how you do not have to sacrifice beauty for utility: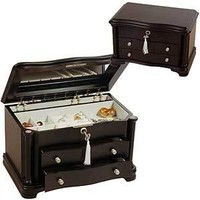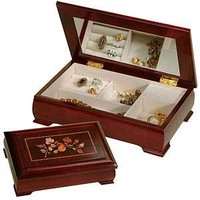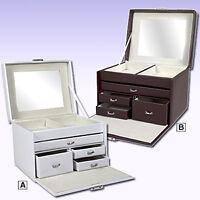 Java Jewelry Organizer
Cherry Wood Jewelry Box
Drawer Front Jewelry Box
Other jewelry storage solutions besides the traditional box can be quite stylish. Decorative holders for necklaces, rings, and earrings can really spruce up your bedroom while keeping your jewelry organized. For instance if you have a necklace or ring that really stands out, you may want to try displaying it on this
jewelry tree
: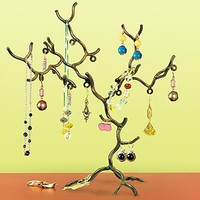 All the above solutions are great if you either don't have an inordinate amount of jewelry or if you do not mind having various organizers for different kinds of Jewelry. However for those of us who just love to buy jewelry and want to keep it all together, it may be time to invest in an organizer that goes beyond the drawer or a counter to store your jewelry. Well-designed jewelry armores come in a variety of shapes, sizes, and styles. This makes it possible for anybody to easily store all of his or her jewelry. Some models are very simple; a hinged mirror with a compartment to store the jewelry is one such example. However, elaborateness can go as far as a table with layered, fold out drawers that can store hundreds of items in a very attractive way. Models that are more casual mimic the hinged door mirror, but can have elements that are more decorative as well. For example, an armoire that is divided into separate frames for pictures can serve as a decorative item in the room, while storing your jewelry on the inside. Most of these products come with built in hooks and compartments to make it easy for you to divide your jewelry well. Several jewelry armoires, including the ones below, are available at the
ShopGetOrganized eBay Store
.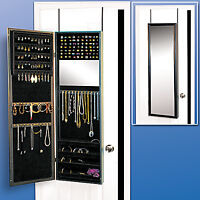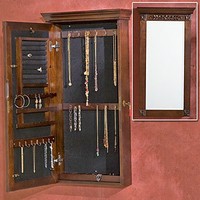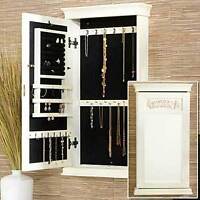 Getting your precious accessories organized and safe is a very important job if you are one that likes to wear or collect a lot of jewelry. A good system can help keep all of your items away from harm, untangled and easily accessible. Beyond that, jewelry storage can provide decorative elements to brighten any room. Be willing to invest in quality storage products and your jewelry display and organization dreams can come true.
Shop through a wide variety of jewelry organizers at the
ShopGetOrganized eBay Store