Measure the distance between the lugs (extended parts of the case that hold the watchband), in Millimeter. Place the cappilar at the place where the pushpens are seated.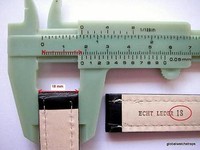 Or; check the current band on your watch, in some the size is inprinted. For conversion from Inch tpo Metric, click here: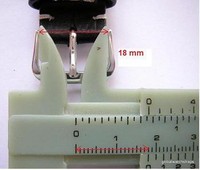 Measure the buckle size if you plan to re-use it. It's done the same way as measuring distance between the lugs. Nearly all buckles can be re-used and have Pushpins (springbars), so they can easily be removed from the old band. Deployment clips can also be re-used and are measured the same way as buckle-size.
Measure the length of the strap you need. You do that by placing both ends on a metric ruler and count the total length INCLUDING buckle. Regular gents length is 20 cm. Using a deployment clip or regular buckle does not make much difference in total length needed.