The best way to get a properly fitting snug hat is to measure the circumference of your head (in inches or centimeters). You will need a good tape measure to get an accurate measurement of your head. Ask someone to help you if you are unable to do it yourself. Take your time to ensure an accurate fit. The human head assumes many shapes and sizes. Even on an individual head measurements will vary if taken in different spots. Therefore, it is important to take the measurement at the right spot on your head. It is not sufficient to wind the tape around your forehead and assume that is the correct measurement for your head. You can determine exactly where to set the tape on your head by wearing a hat that you already own to see where it settles. Generally, the ideal spot to measure is just above the center of the forehead, about 1/8 of an inch over both ears, on the top slope of the lump at the back of your skull.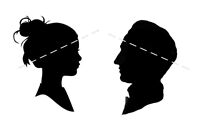 Our hats are adjustable. If the hat is a little too large you can make it smaller simply by tightening the silk bands on the inside.


Good quality natural fur is somewhat elastic and if your hat is a bit too small it will become slightly larger by stretching a bit as you wear it and it conforms to your head.