Jeans/Pants and the best way to measure them for your most accurate fit!
I buy and sell jeans every day! I have found that no two pairs of jeans will measure the same, regardless of their same brand/size/style etc. I learned the hard way by having my favorite pair wear out, going to the store to purchase the SAME exact pair without trying on, and getting home and them not even coming close to fitting!! How frustrating is that!!??!! This guide will help you when purchasing jeans or pants online to know how to measure your jeans/pants to ensure accurate fit! I've been selling jeans for over 7 years and have found that MAYBE 1 in 100 pairs will match up to their tag size exactly. RARELY will this happen. So don't be surprised when your favorite pair of size 28 jeans really measure a 30 or 31 in the waist. Very common!!
Size definitely doesn't matter in this case! ;)
Lay your jeans flat and have a measuring tape handy.
Rise: measure at the start of the crotch seam up to the waist of jeans. This will tell you if it's a low, mid, or high rise jean. So if you want mom jeans - then your rise will be over 10 inches! Low rise jeans will be approximately 8.75 inches and lower.
Inseam: Measure at the same start point as the rise - except you are measuring down to the hem of the jeans.
Hips: Measure at the bottom of the zipper all the away across the width of the jeans.
Leg opening: Measure across the hem of the jean. The width determines the cut - bootcut, straight leg, wide leg, flare..etc.
Waist: Measure straight across the top of the jeans. The number you get will then be doubled for accurate waist size. If your jeans are a 25 waist - then most likely they'll measure a bit larger in the waist.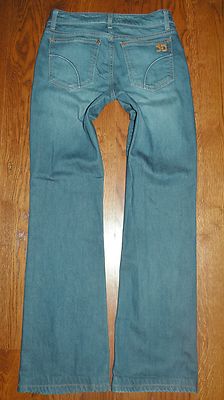 ZnZSecondTimeAround