How to Make a Sign Using a Vinyl Cutter
If you are new to vinyl sign-making, Specialty Graphics Supply Inc. has put together the following tutorial to help you see exactly how easy it is to make your own signs and graphics using a vinyl cutter. In the example shown below, we will make a simple "SALE" sign using a Roland STIKA SX-15 vinyl cutter along with Dr. STIKA Plus software that is included with each STIKA.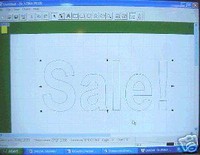 Step 1: Open the Dr. STIKA Plus design software that came with the STIKA vinyl cutter and type in "Sale!". If you have Corel Draw or Adobe Illustrator, you may want to design your sign in either of these programs with the CutChoice plug-in that is also included with each STIKA.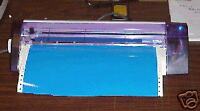 Step 2: Insert your vinyl into the STIKA using the friction feed rollers and the adjustment dial on the side of the machine. Press the "Cut" button within the Dr. STIKA Plus program and the STIKA starts to cut your sign. When the STIKA finishes cutting the vinyl, remove the vinyl from the machine using the adjustment dial.
If you are new to signmaking, there are two basic types of vinyl available on the market; calendered and cast. Calendered (also known as Intermediate) vinyl typically has an outdoor life of 3-6 years and an unlimited indoor life. It is best suited for flat or slightly curved surfaces. Cast vinyl (also know as High Performance) usually has an outdoor life of 7-9 years, an unlimited indoor life and is recommended for flat, curved and uneven surfaces such as those with rivets and corners. Roland STIKA vinyl cutters will cut both types of vinyl as well as paint masking vinyls, heat transfer vinyls (for decorating T-Shirts and apparel when used in conjuction with a heat transfer press) and many specialty vinyl materials.
All sign making vinyls are sold in rolls in various widths and lengths. The vinyl film has an adhesive on the back side and is attached to a paper backing sheet so it can be easily handled and run through the vinyl cutter without sticking to it.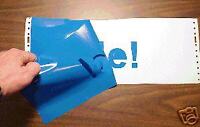 Step 3: The next step is to remove all the unwanted waste vinyl from the paper backing sheet. This process is called "weeding" the vinyl. Grab a corner of the vinyl and pull it back across itself until all you are left with is your "Sale!" graphic on the backing paper as shown below.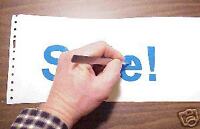 Complete the "weeding" step by pulling the vinyl waste from the letters that have centers spaces. It is easiest to complete this step using a pair a stainless steel pointed weeding tweezers. You should now be left with your completed sign as shown below.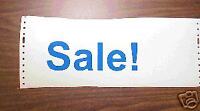 Step 4: The next step is to transfer your vinyl graphic to the intended surface or substrate. This is done using transfer or application tape. Transfer tape looks like a giant roll of masking tape and has a tacky backside. Unroll enough application tape to cover your graphic and cut it off with scissors.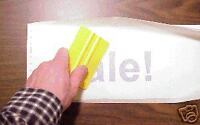 Smooth the application tape over the sign vinyl using a squeegee applicator as shown above. Once the application tape is fixed to the vinyl, carefully pull it off the paper backing sheet. Your vinyl graphic will now be attached to the application tape with the adhesive side out as shown in the photo below. Notice that the original letter alignment and spacing is kept intact by the application tape.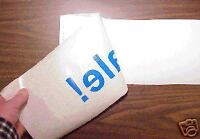 Step 5: Position the application tape containing your vinyl graphic over the intended sign surface or substrate. If you anticipate difficultly in positioning or aligning your graphic, you can spray the substrate with application fluid prior to positioning. The application fluid will keep the vinyl adhesive from sticking to the substrate for 20-30 seconds giving you more time to make positioning adjustments. Once your sign is in the proper position, apply pressure to the application tape and sign using the squeegee to force out all the air bubbles that may be trapped between the vinyl and substrate as shown below.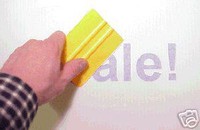 Step 6: Grab a corner of the application tape and gently pull it off the sign substrate containing your new vinyl graphic.
You're Done!
With a little practice, a simple vinyl graphic such as the one shown above can be completed in 5 minutes or less!
We hope you have found our tutorial to be helpful. Specialty Graphics Supply Inc. is an authorized Roland Dealer and we carry the full STIKA line (8", 12" and 15" vinyl cutters) plus the new 24" GX-24 model. Please contact us at 1-888-330-6172 toll-free if you have any questions. The Roland company does not allow their new products to be sold on eBay.
Questions about a Roland vinyl cutter or making vinyl graphics? Please call us at 1-888-330-6172 toll-free.