Phiten is one of the hottest current trends in sports and active wear. Many sellers on ebay offer it for a variety of prices. How can you tell if you are getting a good deal on REAL phiten?
First of all, Phiten does not allow selling it's product in a country that you did not buy it in. If the ebay seller is outside of the U.S. chances are it is fake. That is why they can afford to sell it for pennies on the dollar, it's fake.
2nd, Only AUTHORIZED dealers can sell real Phiten products online or in a brick and mortar store. Authorized dealers will have an official seal displayed in their store or online listings.
3rd, Phiten has a strict MAP policy, or Minimum Advertised Price. Regular necklaces cannot be sold for under $22.80, X30 necklaces have a MAP of $30.40, MLB necklaces have a MAP of 34.20, and Tornado necklaces cannot be sold for under $44.65. If you find one of these products for cheaper, the seller is for sure not an authorized dealer, and you run the risk of getting a product that has not undergone Phiten's titanium infusing Phild process.
4th, X45 and X50 necklaces are not allowed for sale in the United States.
Finally, Phiten has instituted an Authorized Dealer program, and implemented MAP pricing. The only way to GUARANTEE you are getting REAL Phiten at great price is to buy from an Authorized Dealer.
Ask to see the dealers authorized seal. It should look like this.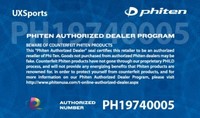 It should contain the name of their store. If they will not show you their seal, take your business elsewhere.