A well-designed and good looking bar can make an experience even more enjoyable. Nothing adds comfort and style to your bar like foot rails for your guests. Bar rails can really take your home bar to the next level of authenticity, and with KegWorks, they're easy to order and install.
Foot Rails
Adding foot rails to your bar is a big, but well worth step to improving your home bar. Foot rails, or bar rails come in many styles and finishes, to fit your bar and match your decor. They are very customizable, so they can be purchased in different lengths and paired with a variety of different mounting brackets

Tubing
The tubing is the actual metal rail which is used for the foot rest. Typical finishes come in polished brass, polished stainless steel, satin stainless steel and unstained wood. Choosing a finish is based on your own personal preference and it's best to choose a style the fits with your bar. Once you've decided on a finish, take some measurements to determine how much tubing you'll actually need for your bar.
Measure for Your Bar Rails
Measure each side of the bar that will have a foot railing. Then just sketch out what you plan for the bar to look like with the attached foot rails.
Create a visual for yourself by laying down some tape around the bar where you plan for the railing to go. This will allow you to get an idea as to how much railing and what kind of spacing you'll need.
Lay out your design on the floor and measure each section to determine how much tubing you will need. Tubing can be purchased from 2-feet to 8-feet. Bars longer than 8-feet, will require that you join two separate pieces of tubing together for the right fit. This can be done with a splice, an internal connector that you insert into the end of each tube. If you are unsure how to install a splice, read our splicing section at the bottom of these instructions.
If your project requires that you bar rail needs to round the corner, you will connect two rails to both ands of an elbow joint. Be sure to include the dimensions of the elbow joint in you measurements.
When ordering tubing, it's always wise to round up to the nearest foot. It's much easier (and cheaper) to cut off excess tubing than it is to connect more.
Brackets
In order to mount your foot rail to the bar you will need to use brackets. Brackets come in just as many styles and finishes as the foot rails. Bracket styles include ones that mount right to the bar face, floor mounting brackets and combination style brackets to choose from.
Brackets are the essential supporting component of a foot rail system. As a rule of thumb, you will need a bracket 6 inches from the end and an additional bracket for every 4 feet of tubing for optimal support. For example, if you have 8-feet of tubing, you'll need 1 bracket on each end and 1 in the center, for a total of 3 brackets.
Based on your measurements and these guidelines, determine how many brackets you will need to complete the installation.
End Caps
End caps complete your foot rail system and really give it a professional feel. They are available for purchase in rounded, flat or decorative and all come in a variety of finishes.
If you're looking to use metal end caps with a wooden rail, just make sure to select end caps that are marked as "external fittings". External Fittings are components that fit around the outer diameter the tubing and our wooden rails are solid, so your end caps need to fit around the wood.
Before You Order
Planning is important to ensure that you purchase the correct components needed for your foot rail.
Remember that you will need three main components: tubing, brackets and end caps. You may also need tube splices, elbows or wall flanges, depending on your bar's layout.
Here are simple steps to take before your order, to ensure that you get exactly what you will need
Step 1: Select the finish
• Polished Brass
• Polished Stainless Steel
• Satin Stainless Steel
• Unstained Wood
Step 2: Determine how much bar rail you will need
Step 3: Select the type of bar brackets you will use
Step 4: Determine how many bar brackets you will need
Step 5: Select the type and number of end caps
Tools for Installation
• Electric Drill/Electric Screwdriver
• Hack Saw/Cut-off Saw
• Phillips Screwdriver
• File
• Channel Lock Pliers
Preparing for Installation
Preparation is the most important part of the installation process. This will help eliminate waste and mistakes.
Follow these prep instructions for an easy installation.
Our tubing is sent to you wrapped in plastic to protect the metal finish. The plastic will protect the rail from scratches and dings which could happen during the installation, so keep it wrapped as long as possible.
Lay out all of the pieces where they will be mounted after the install to make certain you have everything that you need.
If tubing needs to be lengthened with a splice, connect the pieces before mounting to the bar.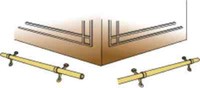 Once your tubing is the ideal length, gently assemble the foot rail by sliding the tubing through the brackets. Don't rush, you might run the risk of scratching or scuffing the tube surface.
Using a pencil, mark where your brackets will go on the bar face. To hold the screws in place, the bracket needs a backing at least 3/4-inch deep.
Installation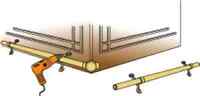 Once you are comfortable with the placement of your brackets and rails, you're ready to attach them to your bar or wall.
Attach the brackets to the wall with the mounting screws provided along the first straight section of your bar.
If you're installing your rail around a corner, you'll need to securely attach the elbow to the installed foot rail first. Then, attach the second loosely assembled foot rail section to the elbow.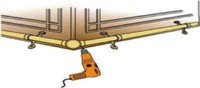 Once all of your brackets are firmly installed, secure the loose tubing to the brackets with set screws.
To finish, just attach your end caps and secures any other elbows or fittings. Some end caps require setscrews while others simply slide into or over your tubing. If your end caps do require setscrews, it is possible that you may need to drill pilot holes to attach them.
If this is the case, see the How To Drill Holes section at the bottom of these instructions
Special Circumstances
• Splicing
• Drilling Holes
Splicing
To join two pieces of tubing together, you will need to insert internal connectors called splices. Splices are typically metal pieces that are inserted into the end of each tube. We're fond of brass splices, as brass is softer and easier to bend and insert into tubing.
To insert a splice into a tube, compress the splice with a pair of channel lock pliers and push the splice into the end of the first piece of tubing. Then, do the same with the other end of the splice and insert it into the second piece of tubing that you want to connect.
For the best look, you'll want to make sure that that the not-so-good looking joints are concealed inside of a fitting.
Drilling Holes
We're all about convenience here at KegWorks, so when you buy foot rail components from us, the setscrews that come with them are self-drilling/self-tapping.