Can't figure out how to fix your gallery image thumbnail? SEE HOW to do it in under a minute right here!
The most recent change to the eBay's STORE, AUCTIONS, MOTORS and FIXED listings was a marriage of Gallery and First Item's pictures. This change is something you see right now as a message "Good news! Gallery Picture is free. Add a picture and we'll show your item to buyers in search results." Well, not quite.....
The problem occurs when you try to change or update that "good news" picture and it fails to update the image shown in the search results. Following eBay's official help page on How to fix a listing's gallery image will not help you, even if you try to change this listing a thousand times, it will still show the old image. And after getting frustrated and infuriated you would have to write a nasty letter to customer support and wait. Most likely you letter will be replied to with "
How to fix a listing's gallery image
".
There is nothing to purchase and no need to stop and relist the image! The advise is free =) and You can fix gallery image even when you have bids on your item!
Here is what you need to do to fix your item's gallery image:
NOTE: before you do anything- sign in into your eBay account!
1. Open your listing in a new window, don't close this guide yet
2. Copy item number to the clipboard. Don't close item's window yet!
3. Click
Change Your Item's Gallery Picture
4. Paste item's number into the text box:

5. the ONLY more or less complicated part:
eBay expects you to have added more then one picture to the listing (Extra $$). DON'T add more then you need, you can fix the listing with what you got.
What you need to do, is
switch back to your item's window. If the picture is not right, go through "revise item" process and submit the changes with corrected picture. Open revised item link and refresh the page to make sure that correct picture is shown in the description.

Right click on it and copy image's location from image properties

.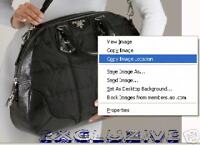 **Note: If you have just 1 picture- scroll to the very bottom of item's detail, right click on image you uploaded for the item and copy its location from Properties window
6. Switch back to "Change Gallery page"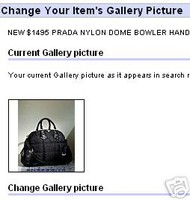 and paste the link into "Gallery picture source Web address" box.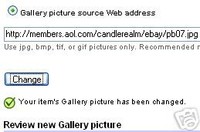 If its grayed out, just slick on "eBay source" first and it will become available.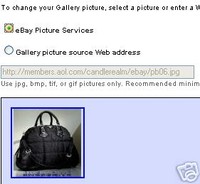 Click Change button. Review the picture,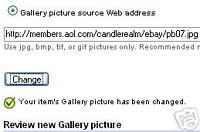 7. Click DONE. Thats it.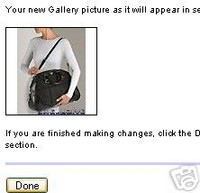 Refresh the list of items for sale, your gallery image should be fixed!
Hope this guide worked for you. Give me a "YES" if it did =)
Please visit me at my Excluzive-Couture store
and feel free to ask for help at any time!