The most possiable problem when we access the IP camera by IE at first time is the "Can not find object" problem, This guide will tell us how to fix up this problem.
How to enable ActiveX Controls in Internet Explorer?

Step 1: Go to the Tools menu, and select Internet Options.
Step 2: Once the Internet Options window appears, select the Security tab, and click Custom Level.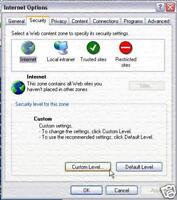 Step 3: Scroll down to the ActiveX controls and plug-ins group, and ensure that all ActiveX options are set to either "Enable" or "Prompt". Since the remote viewing software is published in an unsigned state, please make certain that the options "Download unsigned ActiveX controls" and "Initialize and Script ActiveX controls not marked as safe" are set to "Prompt". This way, when you visit the demo, you will be asked if you want to install the software.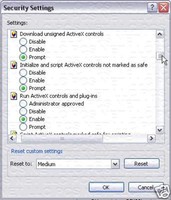 Step 4: Click "OK" until you return to the browser.
Step 5: Direct your browser to the target demo system (DVR, IP Camera/Module, etc), and click OK/Install when prompted. As soon as your computer finishes downloading and installing the ActiveX remote viewing software, you should see video streaming from the system. If you only see a black area, with numbers, click your browser's refresh button or press F5 on your keyboard.
Step 6:Do the same setting for "Local Intranet" in step 2,stpe3,step 4.
Any further question or problem, please feel free to contact me by: